In line with our busy and connected culture, there is an increasing demand for a multi-tasking aesthetic treatment. The dream aesthetic treatment is to provide:
brighter skin,
help with wrinkles, pores and blemishes,
enhance the moisture of your skin.
Botox still remains the top aesthetic treatment. It prevents and treats sagging skin and wrinkles, with an increasing number of use cases. But despite the preventive capabilities of botox, botox treatment does not reverse existing skin damage. It has limited collagen synthesising capabilities.
Read more: Botox Costs In Singapore: The Inside Scoop From An Aesthetic Doctor
With more advanced technology, we now have a greater number of aesthetic treatments available. Luckily, Rejuran Healer is a new option when it comes to multi-tasking aesthetic treatment.
In my clinic, there has been an increasing trend of patients coming in to do Rejuran Healer. My patients often ask me questions such as:
So what treatments will yield the best results?
What is Rejuran Healer?
Why is there so much hype around Rejuran Healer?
What exactly does it do for your skin?
What is Rejuran Healer treatment?
Approved by the South Korean Ministry of Food and Drug Safety (KFDA), Rejuran Healer is popular in Korea!
It is nicknamed as 婴儿针 (baby skin injections). Why baby skin injections? Well, it involves microinjections of DNA fragments (polynucleotides) into your skin. These fragments are compatible with your skin and are thought to restore youth, hence "baby skin injections".
The healing DNA-building blocks were first introduced as a topical cream. Used to improve skin elasticity and hydration, the penetration was poor as a cream. Did you know that penetration for some creams is only less than 1%?
You must be wondering, "can I get Rejuran Healer in Singapore"? Well, yes! It is also approved by the Singapore Health Sciences Authority (HSA) for facial treatments. This treatment is easily accessible in Singapore.
Read more: How safe is Rejuran Healer and who is suitable for it?
So, what does Rejuran Healer do?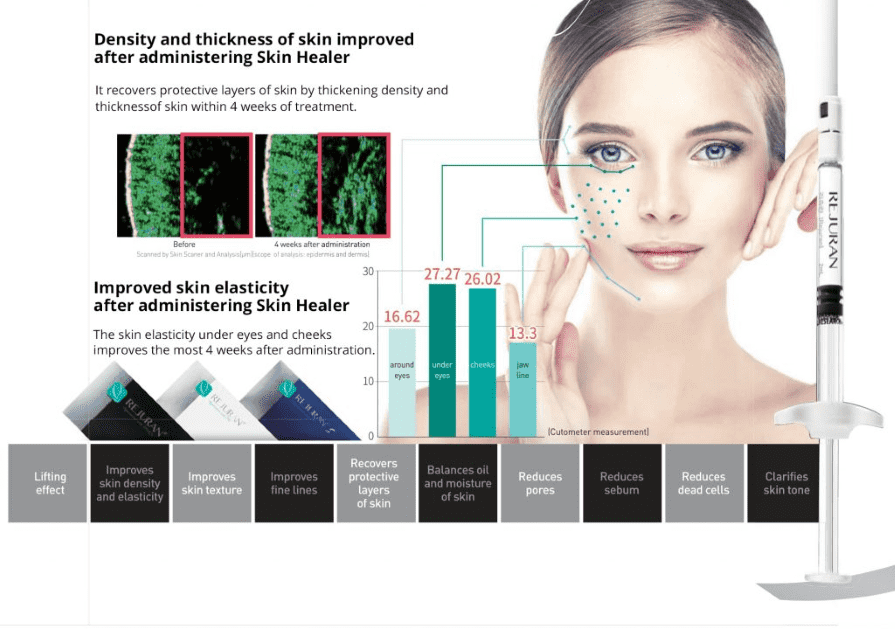 The main effect of Rejuran Healer is tissue regeneration. Ladies especially love the tissue regeneration effect of collagen as well as certain sugars (glycosaminoglycans) responsible for skin moisture.
Despite that, polynucleotides have been proven to help fasten the process of healing. Here are some examples:
Topical application sped up the healing of ulcers by 2 times [1]
Reduction of pain and inflammation for those with osteoarthritis [2] [3]
Ability to bring back blood flow in dead tissues [4]
Fasten the wound healing process,
Decrease the formation of scars.
This is why Rejuran Healer is a big part of my scar treatments [5].
Also read: Is Rejuran Healer as effective as it's made out to be?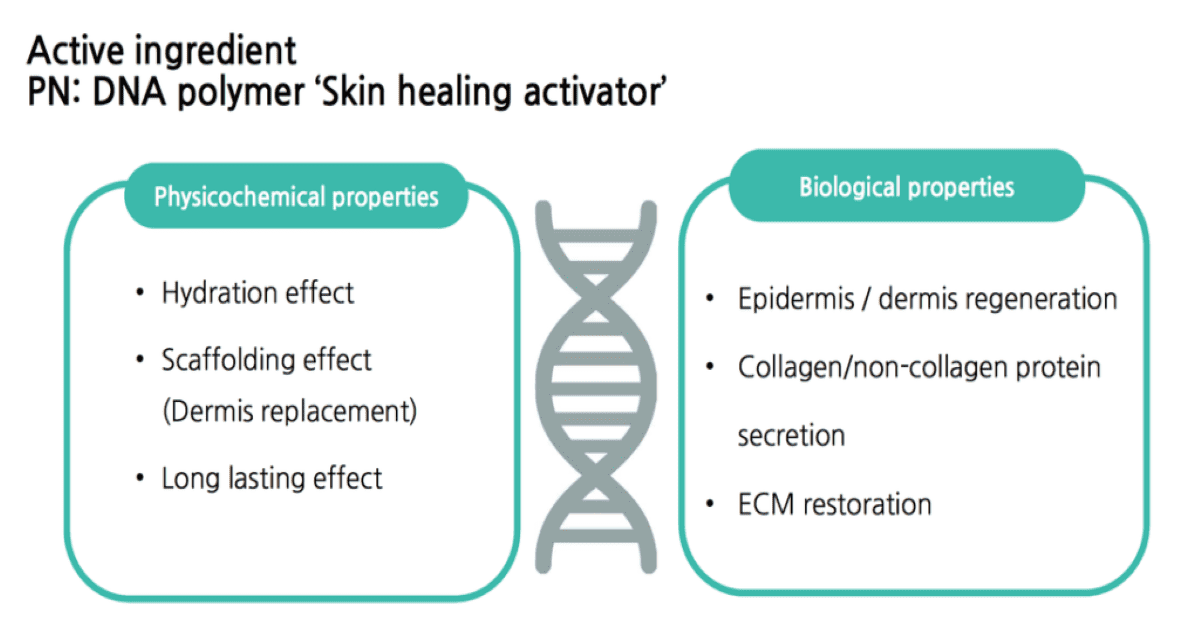 Also, Rejuran Healer has been proven to help with anti-ageing in many aesthetic aspects [6] [7]. Here are some examples:
Increase hair counts and thickness in female pattern hair loss [8]
Improved hydration (hydration from inside is the most effective way) [7]
Reduced wrinkles and sagging [7]
Even out the pigmentation
Improved texture and skin tone, including dark eye circle
Skin repair and normalisation (thickening of the skin and improved skin function)
Also read: Will Rejuran further improve my skin if it is already in good condition?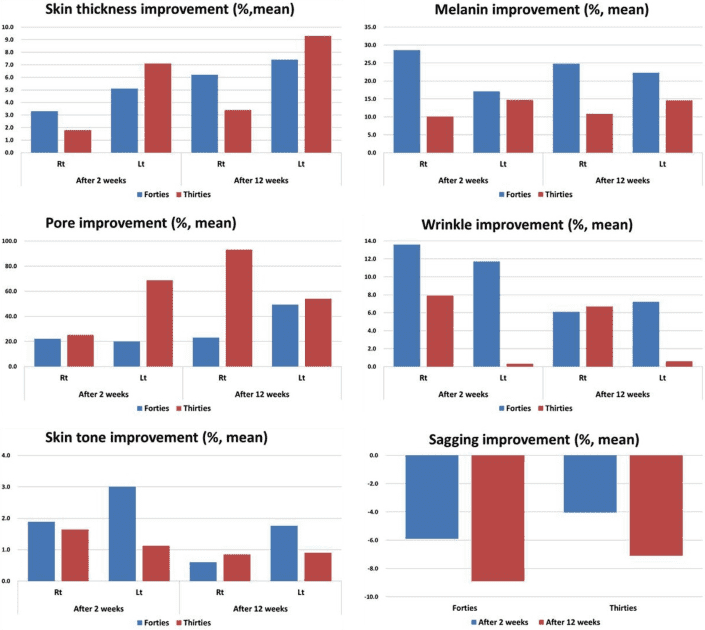 Rejuran Healer vs. laser treatments for pigmentation
Given the differences in our skin type, skin colour and medical history, pigmentation treatment can be quite complex.
Lasers are becoming the mainstay of pigmentation treatment and I have personally given multiple local and regional lectures on the use of combination laser treatments for pigmentation.
Yet, Rejuran has a special place in pigmentation.
Also, read more: A Complete Guide To Laser And Skin Treatments In Singapore
Rejuran Healer improves pigmentation and melasma with a regenerative approach.
Hence, it promotes skin healing (without damage or inflammation) - downregulating cell proteins that are in charge of skin pigmentation and also preventing their recurrence [10].
This is useful as a standalone or complementary treatment.
While lasers are usually an extremely effective solution, cellular regeneration can help the problem with minimal damage and provides several benefits, like:
Fewer side effects and faster recovery
Better suitability for individuals with sensitive or inflammatory skin
Increasing the extent of improvement from conventional treatment
Other similar cellular regenerative treatments are on the rise and will form the next trend of medical aesthetics. These include:
PRP treatments
LDM-Med Cellular Massage
Sylfirm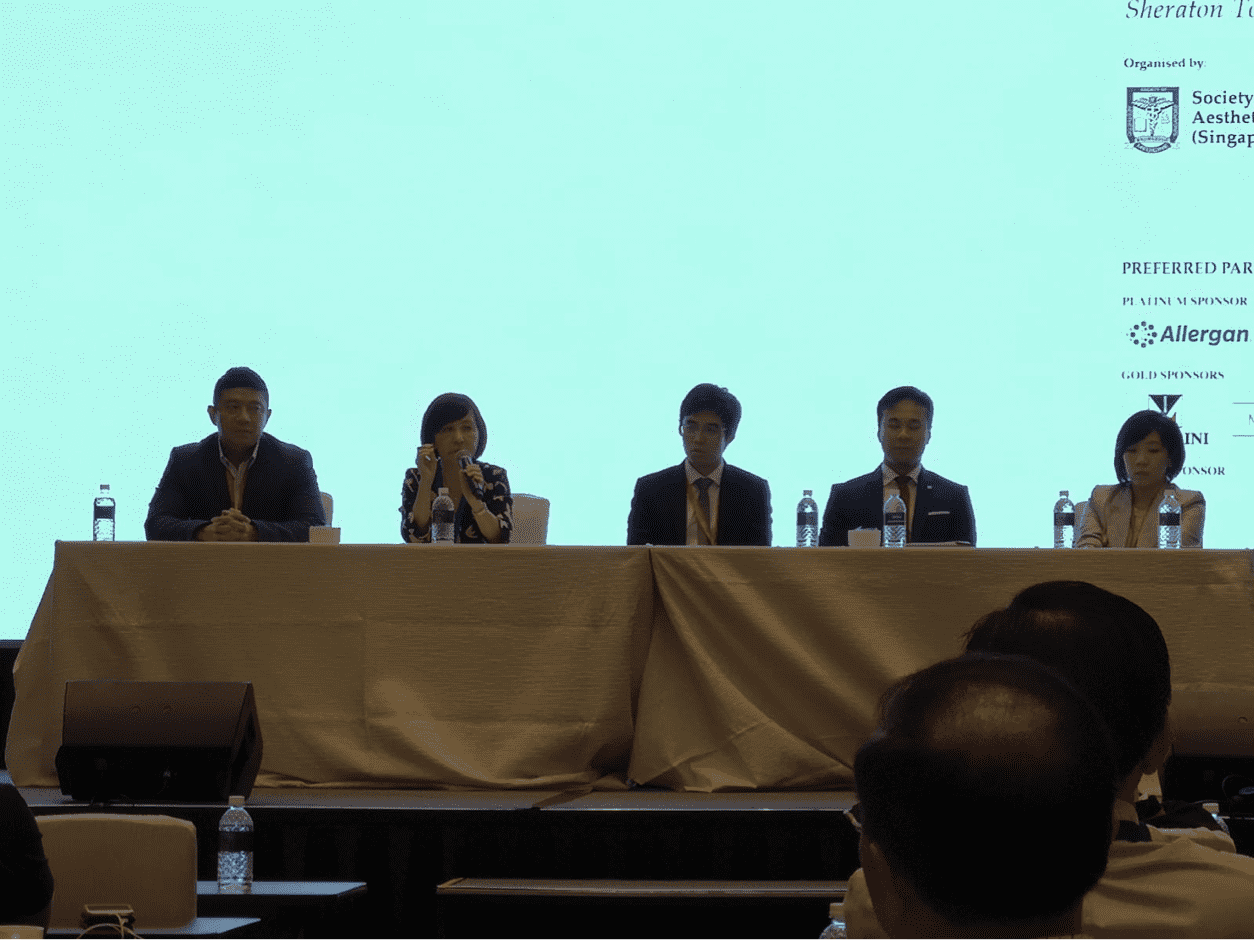 Dr Chua speaking at SAM 2018 on melasma with Dr Joyce Lim and her esteemed colleagues
What are the different types of Rejuran Healer treatment?
There are 3 types of Rejuran that are available in Singapore. They are:
Rejuran I
With a lower viscosity, Rejuran I helps to get rid of wrinkles around the eyes. It is able to diminish the appearance of crow's feet as well as improve skin elasticity [11].
Rejuran HB (Hydro Boost)
This type of Rejuran Healer helps to strengthen the skin's regeneration ability. It has a medium viscosity and is able to provide intense hydration. Hence, helping to repair the skin.
Rejuran S
Lastly, Rejuran S has the highest viscosity as compared to the other 2. Used to treat and improve the looks of scars, it is great for depressed and sunken acne scars. It increases the volume around the depressed area. Thus, helping to remodel the skin.
---
Looking for acne/scars treatment? Read more:
Guide To Best Acne Scar Treatments In Singapore
The Ultimate Guide to Acne Removal in Singapore (2021)
---
Your doctor should be able to correctly advise you which type of Rejuran Healer is more suitable for your condition.
Is Rejuran Healer treatment painful?
Rejuran Healer is actually tolerable. Applied numbing cream can help with any discomfort that may result from the injection.
If you are very sensitive to pain, please let your doctor know before the treatment. For these cases, I always offer my patients the option of local anaesthesia as well.
How should Rejuran Healer be done?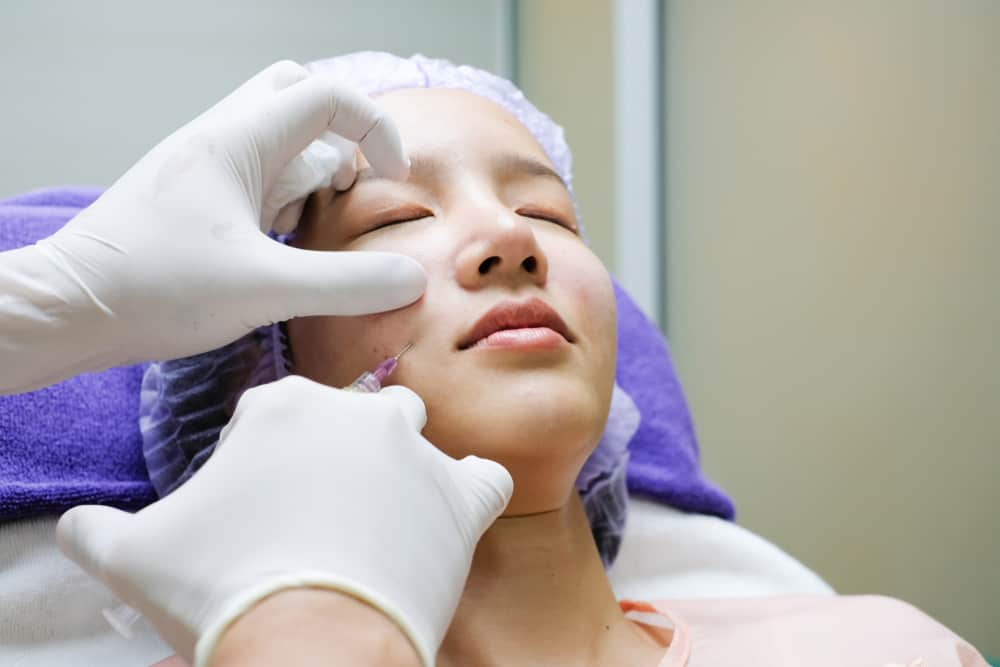 Freehand manual serial injection technique is the gold standard of delivering skin boosters and other similar skin treatments [12]. Experts who invented this treatment do recommend that doctors use the manual technique.
Related: Rejuran Healer Versus Skin Boosters: An Aesthetic Doctor Explains
In other words, the manual technique should be the only way Rejuran Healer is injected. It will reduce the chance of bruising and provides maximum absorption. Read on to know why it needs to be done by manual technique rather than with an injector gun.
Related: How effective is "needleless" Rejuran Healer?
Here's why you should go for manual technique instead
When the injected gun plunges the needle in straight, it is harder to get to the proper and correct layer. The correct layer that should be targeted is the superficial dermis. Each injection spot is located 0.5cm - 2cm from one another. Also, when done without using the manual technique, it will cause leakage.
Often, to prevent leakage, the needle will be plunged deeper. But when this happens, it may end up injuring the deeper vessels and causing more damage. To ensure that my patients understand the choice of my technique, I often explain in detail during my consultations.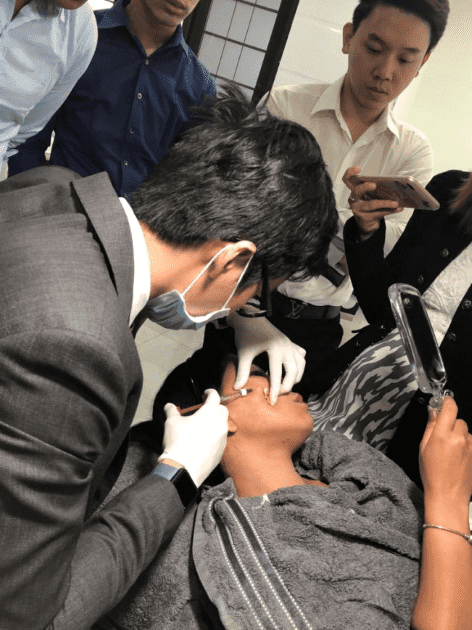 Dr Chua showing how the manual injection technique is done using Rejuran Healer
In the majority of the cases, patients go for the ease and speed of an injector gun. Many also think that an injector gun would be more precise. The diagram below illustrates why the injector gun is actually less precise. Injectors that plunge the needles straight down into the skin will be able to get into precise layers, without either leakage or damaging deep blood vessels.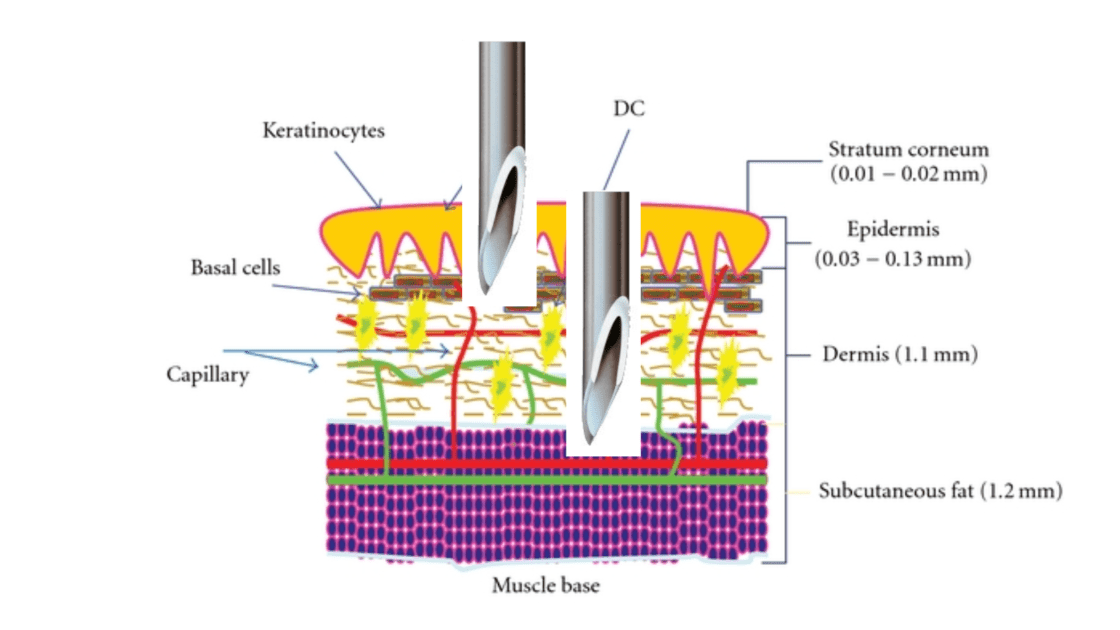 What should I expect after treatment?
If your treatment was effective, you would notice multiple, even bumps on your face. Do not be alarmed as these bumps often last for only 1-2 days. That said, you should not be experiencing any bruising. In fact, did you know that bruising is a sign of improper treatment?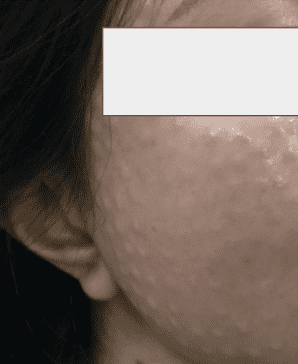 These even bumps show the proper placement of the product in the skin
(no bumps= wrong layer and no effect!) and should be done without any bruises as shown here.
What should I do after the treatment to maintain the best results?
After the Rejuran Healer treatment, it takes up to 4 weeks to see visible improvements in your skin. That's because it will take about 4 weeks for Rejuran Healer to repair the skin from the inside. I often suggest that patients go for 3-4 sessions, 2-4 weeks apart to see better results.
Only after the last session, you will be able to see the best results. For maintenance, you may choose to go once every 6-9 months. This ensures that the results are long-lasting and sustainable.
Also read: What skin care product ingredients should I avoid after Rejuran Healer treatment?
How much does Rejuran Healer cost?
The price varies for each clinic. However, you may expect the price to be around $600 to $1,400 per session.
Cost/Session
$600-$1400
Can it be used with other treatments?
Actually, yes! You can combine Rejuran Healer with other aesthetic facial treatments.
Why?
Repeated Rejuran injections can stimulate and optimise the vitality of certain cells (fibroblasts) that produce collagen and stabilise physical and chemical conditions (homeostasis) of your skin system. Hence, Rejuran seems to be suitable for combined therapy with other medical or surgical procedures. [7]
However, it is crucial to inform your doctor if you plan to get Rejuran Healer with another treatment. Potential adverse-effects or complications of cross-reactions should always be assessed by your doctor!
---
Also Read: The Ultimate Guide to Seeing an Aesthetic Doctor in Singapore (2021)
---
In short
Rejuran Healer can be done on both the young and old. I have noticed more and more patients coming into my clinic wanting to go for a Rejuran Healer treatment. Despite it being safe for the majority of people, it is still best to consult your doctor to know if you are suitable. This groundbreaking technology yields the best results and least side effects in experienced hands.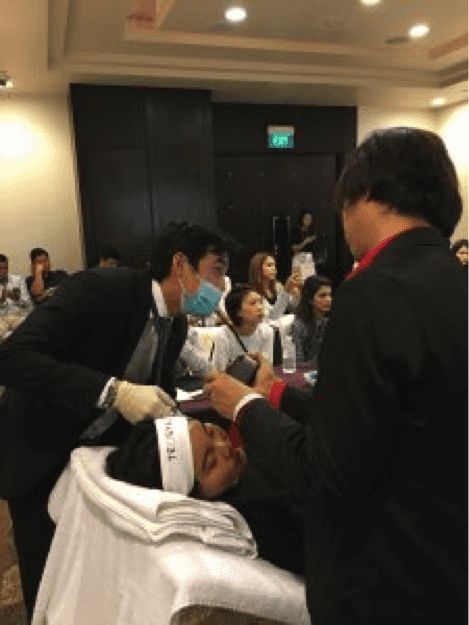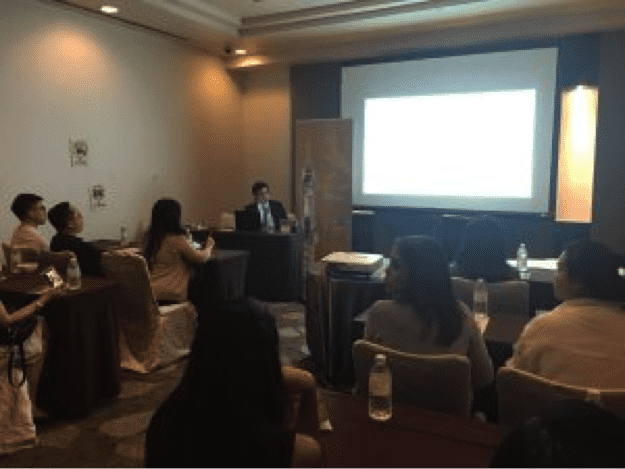 Dr Chua at the American Academy of Aesthetics Medicine (AAAM) 2017
---
Dr Chua Cheng Yu (Veritas Medical Aesthetics) is a frequent trainer at medical seminars. He often shares his knowledge on multiple aesthetic technologies, including the Ultraformer HIFU and Teosyal fillers. Besides that, his clinic mirrors his philosophy of functional aesthetics: holistic health and beauty. Also, in his spare time, he plays the piano, dabbles with amateur photography, and maintains a personal blog.