Just like how you can tell how old a tree is by its rings, your skin can reveal your age. Unfortunately for us, as we age, everything starts to sag and droop, and our skin just doesn't stay in place the way it used to anymore!
If the thought of going under the knife worries you, fret not! You don't have to undergo surgical skin tightening and there are many non-invasive surgical procedures available. Modern medicine and advancements in technology have come up with non-invasive skin tightening treatments, methods and technologies to cater to the common quest amongst people towards a more youthful appearance with firmer skin.
In this article, aesthetic doctor Dr. Lim Luping from Eeva Medical Aesthetics Clinic will take you through all you need to know about skin tightening treatments in Singapore. This comprehensive guide tells you all you need to know about various skin tightening options available, insight on the effectiveness of these procedures, costs, and practices to adopt, amongst many other relevant topics.
What is Skin Tightening treatment?
Collagen formation reduces by 1% yearly from the age of 25 years old and ceases by the time we are in our 50s. If we factor the external causes that contribute to aging such as
UV sun exposure
Stress
Poor diet
Smoking
Our collagen loss is further accelerated. Therefore, as we age, our skin thins due to the progressive reduction in collage production and eventually increased collagen loss. Collagen arrangement in the skin also becomes less regular and compact [1], the skin progressively loses its elasticity and lengthens resulting in sagging of the facial structure [2].
Related: The Ultimate Guide to Getting a V-Shaped Face in Singapore (2021)
Contrary to popular belief, you do not have to go under the knife to tighten your skin for a more youthful appearance. There are numerous non-invasive and effective medical aesthetic treatments available to enhance collagen repair and new collagen production to tighten and lift your skin to reverse the signs of aging.
These skin tightening treatments include the use of medical aesthetic technology such as HIFU, micro needling RF, RF skin tightening and injectables such as Rejuran Healer to improve the skin's elasticity and bioremodelling to promote skin tightening and lifting.
How effective are Skin Tightening procedures in reversing sagging skin?
Most non-surgical and non-invasive skin tightening procedures are effective in reversing sassing skin. It can consistently make the person look younger by 5 years.
HIFU, Radio-frequency-based (RF) skin tightening procedures have been shown through research to provide benefits to the skin through stimulating collagen formation [3]. Rejuran Healer an injectable consisting of polynucleotide DNA extracts has been shown to be effective in improving wrinkles and visibly reverse signs of aging [4].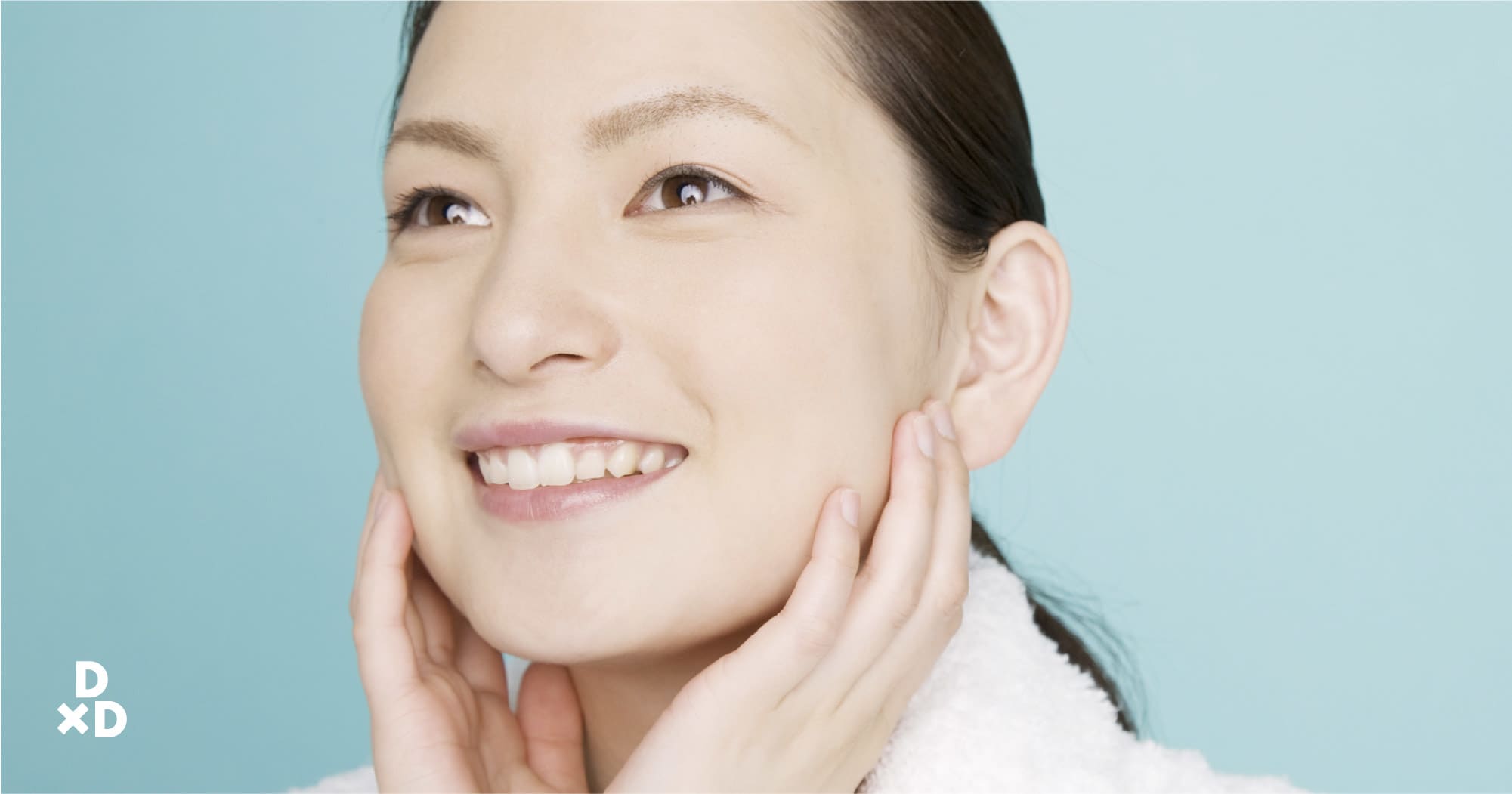 Who should go for skin tightening treatment?
Anybody who feels that they are aging and their skin is not as taut and firm as before and want a more youthful and lifted face!
Read also: The Complete Guide to Facelift Options in Singapore (2021)
Generally, the best age to begin non-invasive skin tightening treatments is from 35 years old. This is a good age to begin treatments as at this age there are already subtle signs of aging and mild skin laxity. By undergoing non-surgical treatments early, you will definitely experience optimal collagen repair and regeneration in comparison to someone who is older. You are able to reverse your aging process quicker, achieving enhanced and sustained youthful appearance more effectively.
For non-invasive treatments, good results can be achieved in men and women between the ages of 35 to about 60 years old. This age group have an adequate active collagen cells in their skin to benefit from the collagen stimulatory effect of these non-surgical devices .
What are the types of skin tightening options available?
1. Ultracel Q+ Linearfirm HIFU technology
This is the latest generation of HIFU performed by doctors that is able to deliver visible skin tightening and lifting results without the pain.
There is no numbing cream required and is the fastest HIFU currently available in the market .
It targets the different levels of the skin to deliver long-lasting results.
Skin tightening and lifting
Tightening of jawline for definition and contour
Fat reduction around the jawline and lifting of saggy skin
Tightening and lifting of heavy cheeks
Reduction of double chin
Lifting of nasolabial fats and diminishing of the folds
Lifting of droopy eyelids and brows
Crowfeet reduction
Tightening and lifting of saggy abdominal wall
Immediate skin brightening and pore reduction
Immediate tightening is evident and the results continue to improve over the next 2-6 months.
2. Multipolar radio frequency skin tightening device
The Venus legacy couples radiofrequency and magnetic pulsed energy synergistically to effectively stimulate collagen formation and remodelling for visible skin tightening and firming.
Read also: How effective is the Venus Legacy for firming up loose skin around the tummy?
3. FDA-approved Ultrapulsed microneedling radiofrequency Sylfirm
This advanced Silicon Valley technology repairs the basement membrane and various layers of the skin. Sylfirm activates the fibroblast and elastin cells regenerating more collagen to restore the integrity of the skin, promoting skin tightening and remodelling. Your skin elasticity and texture is enhanced and there is sustained visible skin brightening and reduction of facial pigments and melasma.
4. Clarity Long Pulsed laser
This device delivers laser energy effectively to target collagen remodelling and skin rejuvenation, reducing fine lines and fine wrinkles
Other non-invasive treatments without the use of energy devices would include injectables that are able to achieve improved and more youthful skin appearances.
5. Rejuran skin Healer
This is a Korean FDA approved injectable, consisting of concentrated Polynucleotide DNA extracts when injected into the skin promotes collagen healing, repair and regeneration. The benefits are:
Healthy, supple, smooth skin
Firmness and tightening
Enhanced skin elasticity
Reduction of fine lines and wrinkles
Pore size reduction
Fairer skin
More hydrated and smoother skin
6. Dermalift
Micro doses of botox or dysport into the skin along the jawline and sides of the face to relax the skin from the downward pull of the facial muscles resulting in immediate tightening and lift of the skin. Promotes collagen synthesis.
Read also: Botox Costs In Singapore: The Inside Scoop From An Aesthetic Doctor
The above treatments can be combined to synergistically enhance and augment your skin tightening effects.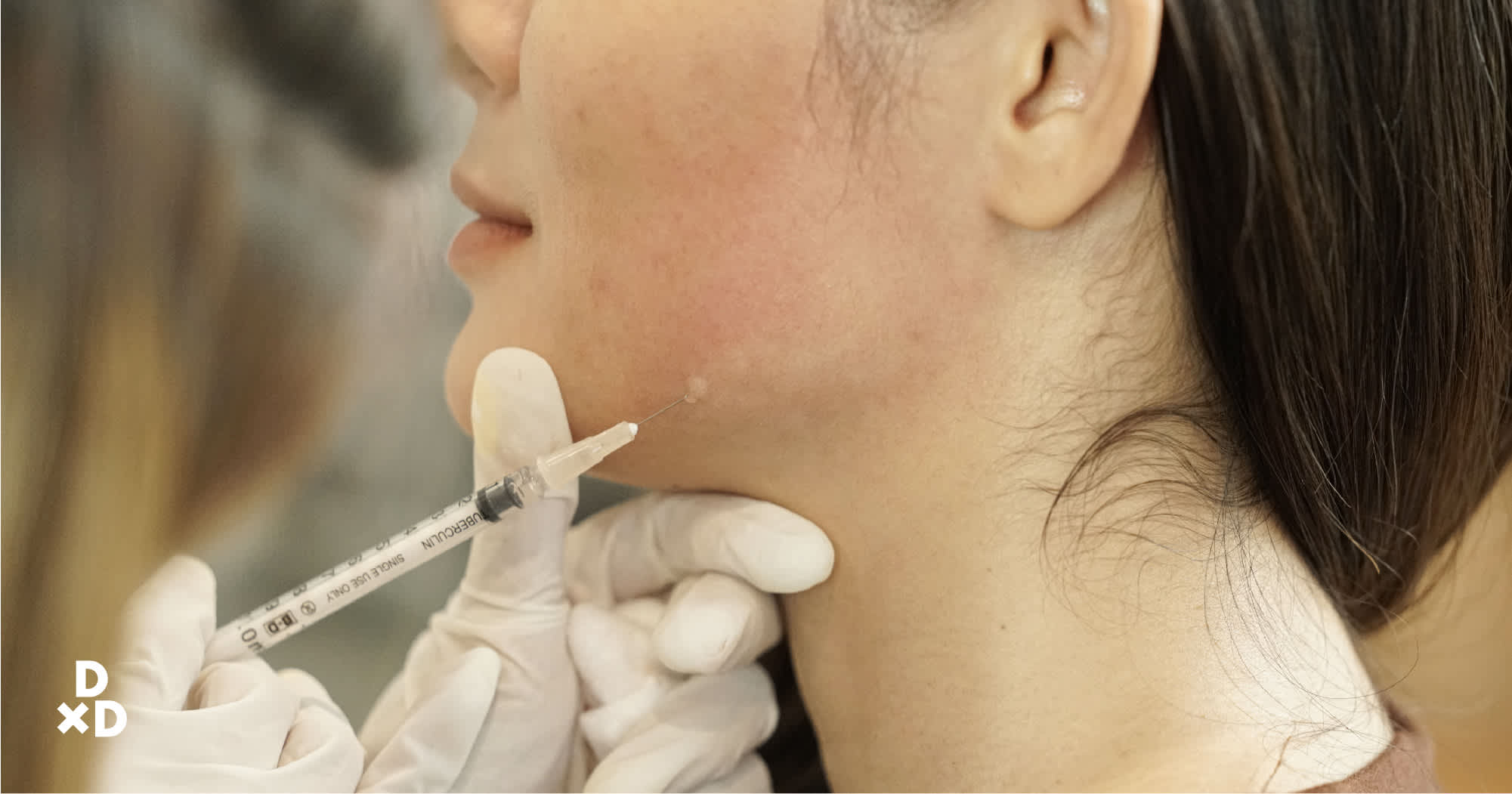 Does that mean one has to go for several sessions of Skin Tightening?
Generally, a person would have to go for several sessions at regular intervals for sustained improved and augmented results, and to reverse the aging process.
If you desire to look younger and maintain your youthful appearance, depending on the devices and procedures, a series of skin tightening treatment sessions are recommended.
If you've missed a session or two, don't worry. You may notice mild sagging skin on your face, however, you will definitely still look more youthful than when you first embarked on your skin tightening journey. However, there is nothing a trip to your aesthetic doctor can't help you with.
Which Skin Tightening procedure is best for you?
That would depend on a few factors relating to the individual patients, namely:
Age group of the patient
Patient's budget
Current structural quality of the patient's skin
Patient's goals for treatment results
This information helps determine which medical devices and treatments would be best suited to the patient. Sometimes, different types of treatments may be combined to achieve even better skin tightening results. Your aesthetic doctor would know best, so communication with them is important.
How long do Skin Tightening results last?
In theory, skin tightening treatments always give permanent results because the devices used stimulate new collagen formation and remodelling in the skin. This new collagen in your skin structure is permanent and there is definitely age- defying effect.
However, the appearance may not be sustained indefinitely because of our natural ageing process, which is why regular treatment is required to keep the skin tight and lifted.
Are there any side effects to Skin Tightening Treatments?
Generally, most non-invasive skin tightening treatments are very safe. Some minor side effects, discomfort or slight pain may occur with some treatments.
Some conventional medical devices used for aesthetic procedures may be slightly uncomfortable during treatment. For instance, HIFUs, radiofrequency treatments may require a topical or oral anaesthetic to ease the pain. [5] However, our advanced medical devices are sophisticated and able to administer pain-free treatments that are comfortable for the patient.
Additionally, conventional HIFU treatments also tend to be painful despite the use of numbing creams. Our latest generation Ultracel Q+ HIFU apparatus resolves that issue. It can carry out the procedure while ensuring the comfort of the patient without the need for numbing creams. In fact, it is more comfortable than undergoing the conventional HIFU treatment with numbing cream.
Some of the other minor side effects that may appear would be temporary redness post-treatment. Dermalift treatments or botox injections may sometimes give rise to mild bruising and injection marks. However, they do subside quickly after one or two days.
Across the board, injections may be slightly painful but the treatments carried out with devices are generally pain-free. Trust that your aesthetic doctor will inform you of these side effects before the procedure so you are prepared and she will definitely ensure that your treatment and experience is comfortable and pleasant.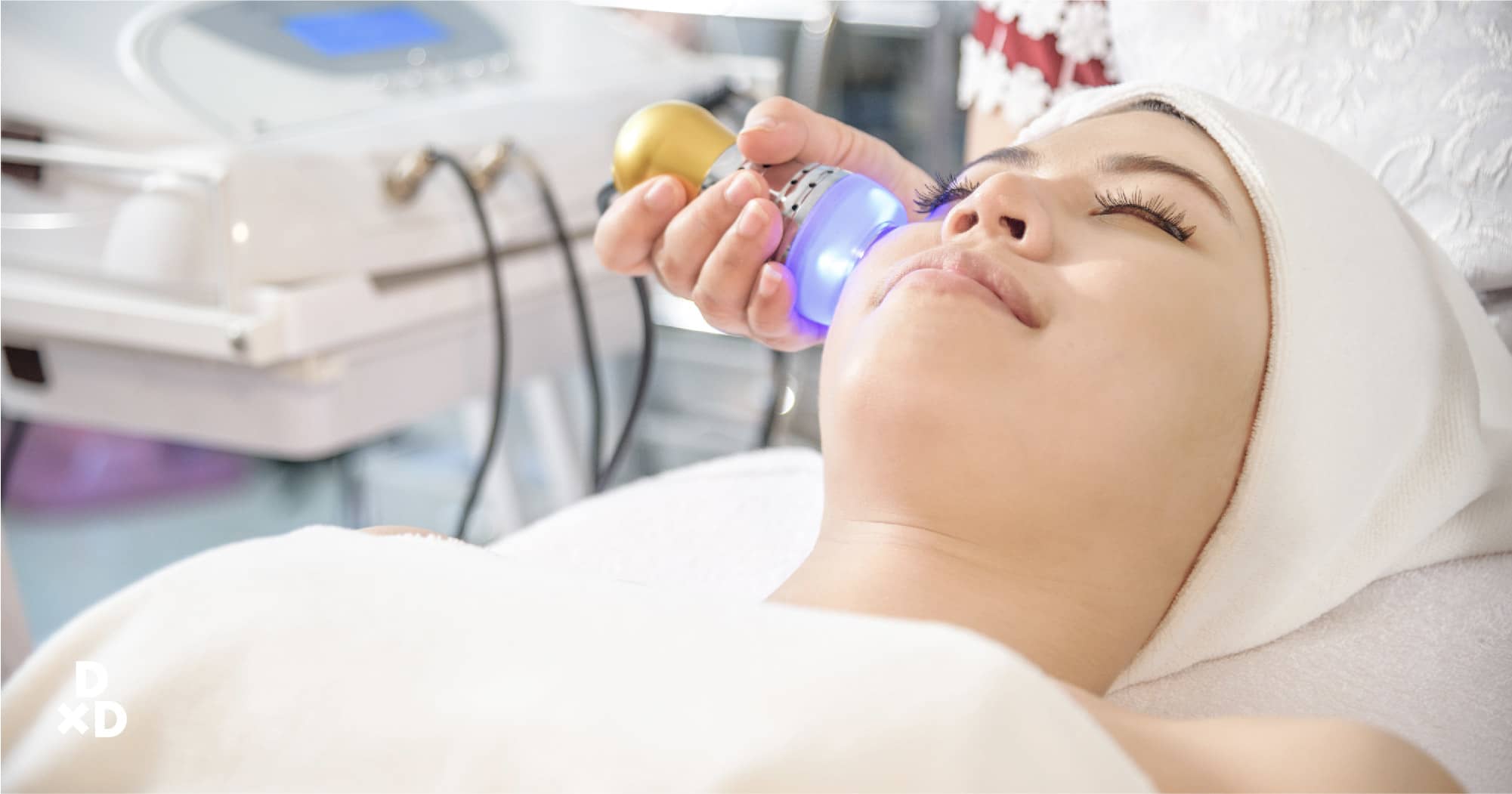 What is the best Skin Tightening Treatment for sagging facial skin?
I believe the most effective non-invasive treatment for sagging facial skin would be the use of UItracel Q+ HIFU technology. It is able to target the deeper layers of the skin — all the way into the superficial muscular aponeurotic system (SMAS) layer that is 4.5mm deep from the outermost layer of the skin.
The SMAS layer is made of collagen, elastin fibres and fat cells that extend from the neck to the forehead. This is actually the scaffolding structure that the external skin layer sits on. The HIFU can target the SMAS structure for more effective collagen formation, remodelling and tightening. When the structure is tightened and lifted, the skin structure will be lifted as well.
Additionally, the HIFU targets different layers of the skin as well, the dermis and deep dermis. The whole skin structure is treated globally to ensure its targetted and uniform tightening, lifting and regeneration for effective long-lasting results.
That way, we can achieve great results and reduce the sagging quality of the facial skin quickly and painlessly, with minimal downtime.
What is the best Skin Tightening Treatment for sagging stomach skin?
I would recommend two non-invasive options for treating sagging stomach skin: HIFU or multipolar radiofrequency.
Ultracel Q+ HIFU technology. Ultracel Q+ HIFU has various hand pieces which allows deep and uniform penetration of heat energy into the different layers of the abdominal skin for effective skin tightening and lifting.
Multipolar combined radiofrequency and pulsed magnetic energy technology is an alternative method that can achieve abdominal skin tightening and firming results. Radiofrequency treatment also helps reduce wrinkles and cellulite, contributing to skin and body contouring efforts. [6]
To achieve even better results, both technologies can be used as part of a synergistic treatment plan.
Related: The Essential Guide to Body Shaping in Singapore (2021)
What are the costs of Skin Tightening procedures?
Most HIFU procedures for the face from $700.
Read more: How much does HIFU cost in Singapore, and what affects the costs?
Are these treatments Medisave-claimable or covered by insurance?
Unfortunately, no.
Skin tightening treatments are elective cosmetic procedures which means they are neither Medisave-claimable nor covered by insurance.
What are the home remedies for Skin Tightening?
There are many options in the form of different topical applications. A plethora of skincare products in the market contain stem cells and growth factors that can help progressively improve the skin surface complexion and firmness. However, it is a point of note that these topical applications do not have significant effects compared with in-clinic technology.
There are also handheld skin tightening home devices that one can buy to gently stimulate some skin lifting, but they are definitely not as effective as in-clinic treatments. On top of that, in order to see subtle results from the use of handheld devices, you would probably have to use them consistantly daily.
You can, however, use these remedies concurrently with medical technology to enhance your in clinic treatments.
How do you prepare for a Skin Tightening procedure?
Generally, one week before treatment, we will advise you to avoid suntanning or application of strong acid peels on the face.
As we are using non-invasive procedures, there are usually no major activities to avoid besides those mentioned.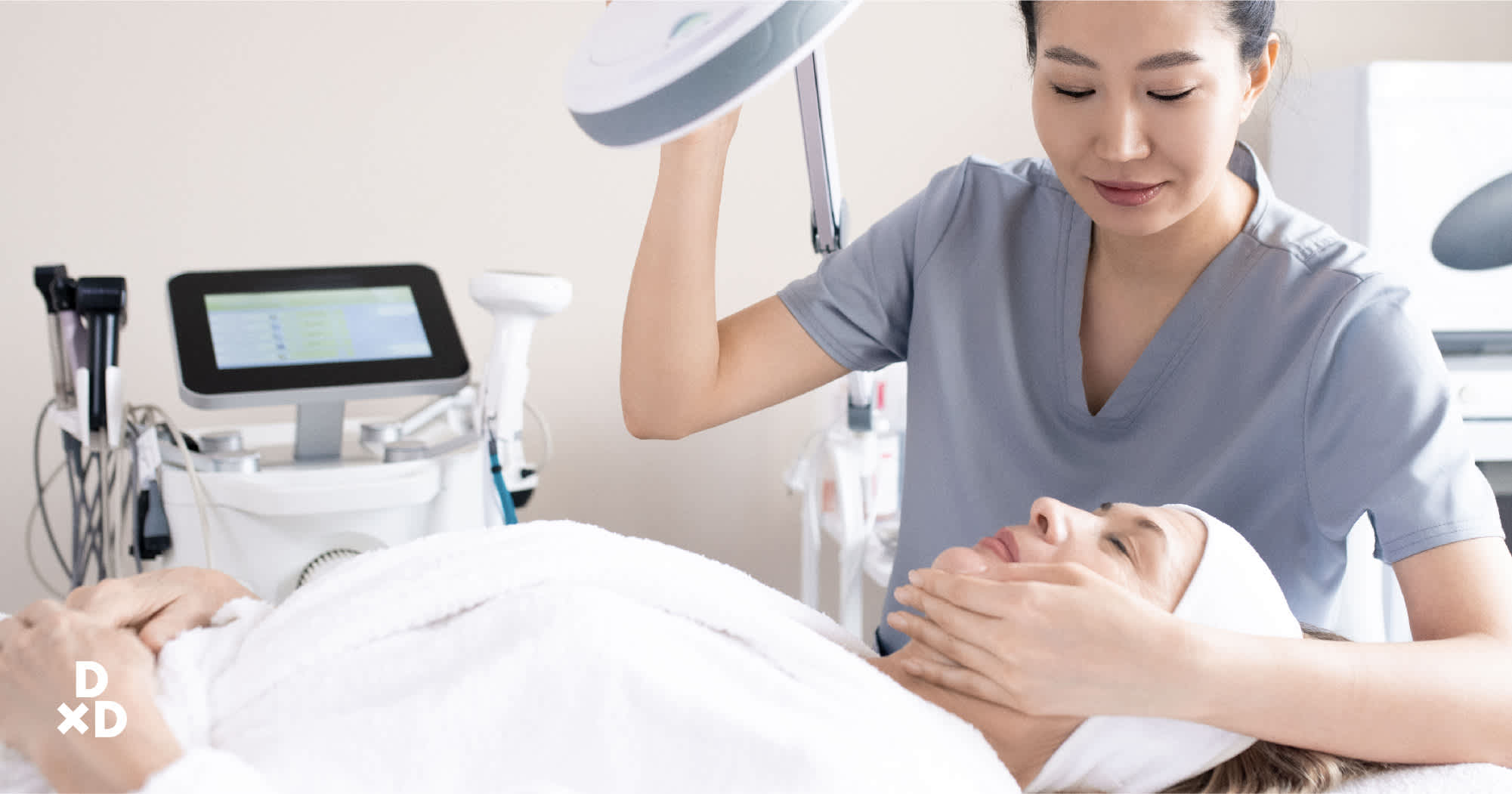 What can I expect during my first Skin Tightening consultation?
During the first skin tightening consultation, the doctor will assess your facial structures to take note of areas of concern, as well as provide an objective view of which are the areas that require tightening treatments, discuss the options available and the most appropriate treatment plan for optimal results.
There will be a medical questionnaire to ensure that the patient is medically fit, not suffering from any medical problems which deem you unsuitable for the treatments.
The doctor will mark out the area that he or she will focus on for skin tightening treatment. Generally, most people who come in will expect the whole face to be treated. Some people may want to undergo treatment for the neck as well especially if they are above 45 years old since the neck skin may wrinkle more at that age.
What can I not do after a Skin Tightening procedure?
No makeup for 24 hours after the treatments.
Please use sunblock for UV protection.
We will advise the patient to avoid the sun when possible for at least a week and other activities that may be too heat-intensive. That means no saunas and hot facials for a week as well.
Use gentle skincare and more hydration of your skin for at least a week after treatment.
How to make Skin Tightening effects last longer?
To enhance the skin tightening effect, we encourage the patient to take good quality oral supplements that contain collagen with high bioavailability which can help to enhance the effect of the skin tightening treatments.
We also encourage them to use skincare products that have growth factors and stem cells to enhance the collagen-stimulating effect in the skin.
How do you select a doctor for Skin Tightening procedure?
It is important to get a doctor who is experienced in skin tightening procedures with interest and expertise that is also focused on skin tightening procedures.
Doing due research on the doctor at his or her clinic's website can show the treatment services they offer for you to make your decision.
Related: The Guide to Seeing an Aesthetic Doctor in Singapore (2021)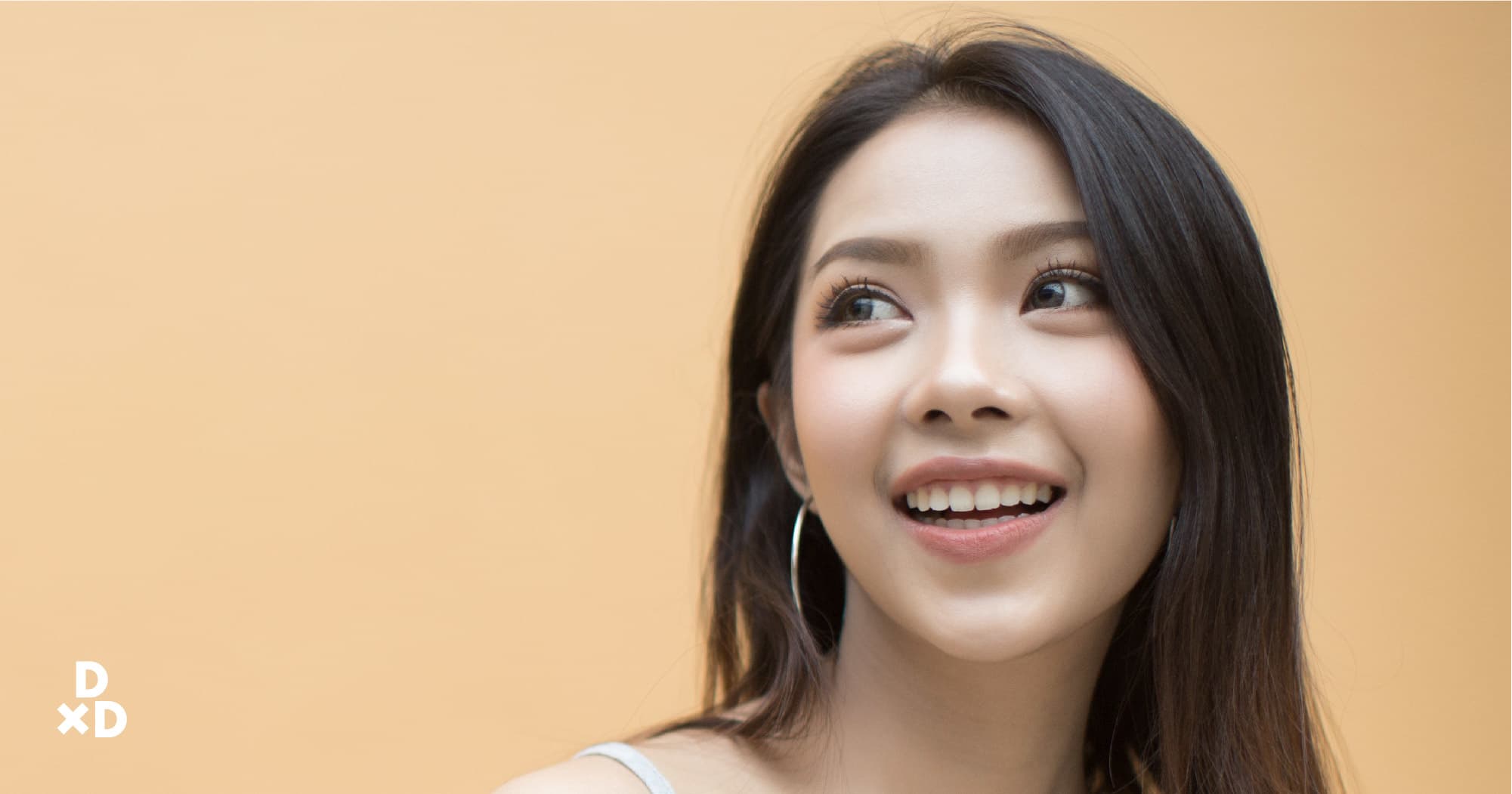 Summary
Stay young at heart — both inside and out!
They always say you're only as old as you feel, and if skin tightening treatments help boost your self-confidence and enhance how you feel about yourself, go for it! You don't have to go under the knife; all you need is the right treatment and aesthetic doctor for a younger-looking face.
These treatments are designed to improve the embedded structures within the skin layers to help achieve a more youthful appearance on the outside. Communication is key! So it is paramount to find a trusted aesthetic doctor who understands both your desires and concerns for a pleasant and fruitful skin tightening experience.
I would love to aid you in your journey towards younger-looking skin! Head on down to Eeva Medical Aesthetic Clinic's website to see the range of services that we provide.
To book a consultation with us, click here.
---
Head over to aesthetic doctor Dr Lim Luping's profile to ask any further questions!
To learn about acne removal treatments, check out Dr Lim Luping's Ultimate Guide to Acne Removal in Singapore (2020)!