I've noticed a trend as a medical aesthetic doctor over the last 5 years - surgical facelifts are waning in popularity amongst Singaporeans, mainly for the following 2 reasons:
Prolonged downtime is not an option for most patients in Singapore. Facelift surgeries result in a lengthy recovery period of 2 - 4 weeks (sometimes up to 3 months).
Society attaches a big taboo to "plastic surgery". The number of people who tell you that they've done plastic surgery on their faces is probably less than the number of times that you've won 4D.
Also read: Everything You Need To Know About Ultherapy In Singapore
Hence, it's no wonder that the number of options for NON-SURGICAL face-lifts and skin tightening have increased drastically in recent years.
In this comprehensive 2-part guide, I cover the pros and cons of all the most popular non-surgical facelifts and threadlifts, as well as what you can expect to pay for each treatment in Singapore.
In between, I sprinkle some of my insight and personal experiences with performing these treatments over the years.
1. Thermage CPT
How Thermage works:
Uses a radiofrequency (RF) device to heat the deep, collagen-rich layers of your skin. The heat helps remodel existing collagen and produce new collagen, which improves skin smoothness and texture.
Pros of Thermage:
Face-lift effect is subtle and gentle (if you don't want to look like you had something "done"). I'd recommend it for younger patients between 25 - 40 years old.
No needles or injections (ideal if you are fearful of injections but want some sort of facial rejuvenation).
Cons of Thermage:
Thermage can't lift moderately saggy tissues and skin in older patients. Not suitable for moderate to severe signs of facial aging, and if you want a very visible improvement.
Chance of skin burns.
Burning discomfort during treatment (slightly alleviated by the latest Comfort Pulse Technology).
Thermage cost in Singapore: $2800 to $4500
Thermage is one of the pioneers of non-invasive face-lifting - even Gwyneth Paltrow swears by it. However, its technology hasn't improved or changed much since its invention.
Collagen production takes around 6 - 12 weeks, so don't expect obvious results before 6 weeks. It utilizes mono-polar radiofrequency (RF) energy to remodel the aging collagen structure of the face and neck, and also stimulates the skin to produce more collagen.
2. Ultherapy (Original High-Intensity Focused Ultrasound)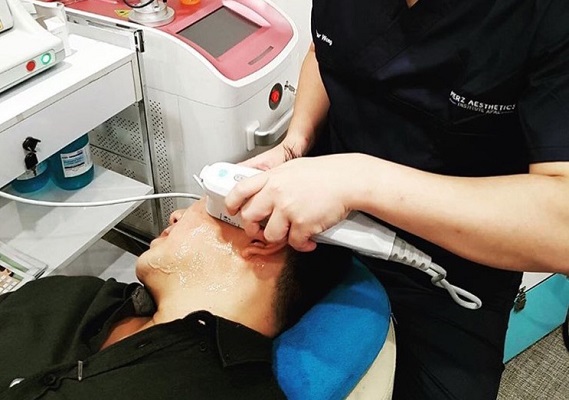 How Ultherapy works:
The machine delivers focused ultrasound energy to the skin's foundational layer, stimulating collagen production without cutting the skin surface.
Pros of Ultherapy:
Instantly visible lift seen (forehead, eyebrows, cheeks, jowls, neck) with further improvement over 3 months.
No needles or injections needed.
The only FDA-cleared, non-invasive procedure that lifts and tightens the neck, chin and brow, and improves lines and wrinkles on the chest.
Able to reduce the size of chubby cheeks.
Cons of Ultherapy:
Treatment is pretty painful, although a pain score of 5 - 8/10 can be brought down to 1 - 2/10 with a nerve block – which I always highly recommend to patients.
Efficacy of treatment is variable due to energy level and shot count having variations between different doctors. I prefer high energy and high shot counts in my practice for the best results, but other doctors may have different philosophies of treatment.
Not suitable if you are thin-skinned and don't have much fat on your face.
Ultherapy cost in Singapore: $2800 - $4500
Ultherapy is the original High-Intensity Focused Ultrasound (HIFU). I've been working with it since my very first aesthetic practice, and there's been no turning back since. Ultherapy was the go-to for non-invasive face-lifts, before threadlifts became more popular.
Ultherapy provides an instant and immediate lifting effect, followed by collagen stimulation over the next 3 months. Both effects are induced by the ultrasound energy. It's also very safe because the machine allows ultrasound visualization of the different structures and layers under the skin. This allows doctors to precisely target the right tissue - there's almost no chance of burns with this treatment.
It was the first device to utilize ultrasound in a bullet-like manner to cause instant tightening of the Superficial Musculo Aponeurotic System (SMAS) layer of the face. The SMAS is the muscular layer that all plastic surgeons pull and tighten in a surgical facelift. As testament to this ground-breaking technology, many Korean copycats have flooded the market since. Nowadays, HIFU (or a generic form of Ultherapy) is a common name thrown around when it comes to non-surgical facelifts. Always insist on the ORIGINAL – It's FDA-cleared for a good reason!
3. Dysport Dermalift (Intra-dermal skin tightening & facelift)
How Dysport Dermalift works:
Dysport Dermalift utilizes tiny injections of Dysport into the skin layer to stimulate skin tightening and increased production of collagen.
Pros of Dysport Dermalift:
Instantly visible lift seen (forehead, eyebrows, cheeks, jowls, neck) with further improvement over 1 week. Good for last-minute lifting before big events.
Cheaper than other procedures.
Able to reduce the width of your face.
Best effects are seen if you have mild facial sagging.
Cons of Dysport Dermalift:
Highly-skilled doctors required as side effects like ptosis, asymmetrical smile may occur in less-experienced physicians.
Intra-dermal injections can be quite painful for some patients.
Small chance of urticaria after treatment (rare but easily managed).
Dysport Dermalift cost in Singapore: $700 - $1200
This unique way of using Dysport (a brand of Botox) originated from Korea when Dr Lee Young Seob, a renowned plastic surgeon, wanted a better alternative to injecting Botox into facial muscles (which is what the majority of doctors worldwide and Singapore are doing). Many Korean celebrities were getting frozen looks as a result, and it was impossible for them to work as they could not make facial expressions freely.
Instead of injecting Dysport into the muscle layer, Dr Lee experimented with injecting Dysport in the skin layer (or intradermally). He found that this caused a contraction effect of the skin layer for 6 months, causing an immediate face-lifting effect without the frozen results of intra-muscular Botox!
It was a big breakthrough in the medical aesthetic industry and since then, Dr Lee has popularized and taught this technique to many Asian doctors in his travels. I'm a huge fan of using Dysport for facelifts, having already trained more than 15 doctors in Singapore for this technique.
---
I hope you enjoyed reading Part 1 of this non-surgical facelift guide. In Part 2, I compare filler lifts with threadlifts in Singapore.
Dr Israr Wong is an aesthetic doctor and trainer at The Knightsbridge Clinic. Known to patients for his friendly, jovial, and humorous personality, some past and present interests include supporting Man United FC, playing regular 11-a-side competitive football and singing for a hip-hop/R&B acapella boy band called the "H-Soul Brothers" during his JC days.
Would you like to ask any related health questions?
You can Ask A Doctor right away, or view the complete list of Human Sessions.
---