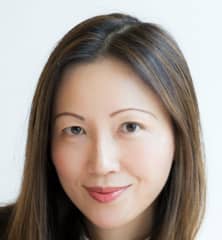 Dr Stephanie Ho
BSc (Hons) in Psychology, MB ChB, MRCP, CCT Dermatology, FAMS Dermatology
Skin specialist with over 20 years of experience
Dr. Stephanie Ho graduated with a degree from the University of Edinburgh and attained her post-graduate degree in Internal medicine in the UK. Following after, she completed her Dermatology training in London and went on to practice and undertake research at the University of Hong Kong, publishing many articles in journals and peer-reviewed journals.
Currently, she has set up her own private clinic - Stephanie Ho Dermatology and was formally a Consultant Dermatological Surgeon at National Skin Centre, Singapore. Her clinical interest includes surgery and lasers.
Having published over 20 publications in journals and book chapters, Dr Ho is a strong believer in research and education. She is an invited reviewer for several international dermatology journals. Furthermore, she presents at local, regional and international conferences as well as public forums. She has also been actively involved in the teaching of medical students and other fellow doctors throughout her career.
---
Contact Dr Stephanie Ho
Phone: 62620880
Education
BSc (Hons) in Psychology
MB ChB
MRCP
CCT Dermatology
FAMS Dermatology
Dr Stephanie Ho offers the following treatments
Skin lumps and bumps removal
Skin Excision
Pincer or Ingrown Nail Removal
Age Spot Removal
Superstar Treatment
Laser for Redness, Acne Marks and Scars
Laser for Pigmentation and Rejuvenation
Laser for Mole Removal
Laser for Hair Removal
Laser for Birthmarks
Laser for Acne scarring
Injectables - Botox and Fillers
Essential Skin Care
Customized Rejuvenation
Diaper Rash
Cradle Cap
Skin Infections in Children
Moles and Birthmarks
Eczema in Children
Allergies in Children
Screening for Skin Cancer
Nail problems
Hand rashes
Facial Rashes
Dandruff
Corns and calluses
Skin Tag Removal
Surgical
Hyperhidrosis
Scar Treatment
Skin Biopsy
Wart Removal
Fungal Infections
Paediatric
Cosmetic
Urticaria
Vitiligo
Warts
Medical
Cyst Removal
Allergies
Psoriasis
Hair Loss
Skin Cancers
Eczema
Rosacea
Scars
Acne
Mole Removal
Skin Tightening
Moles & Skin Cancer
Dr Stephanie Ho is a British trained Consultant Dermatologist who is registered as a skin specialist both in Singapore and the United Kingdom. She has over 18 years of medical experience, and has practised in Edinburgh, London, Hong Kong and Singapore. She seeks to offer personalised strategies for each individual patient, bridging the gap between traditional dermatology and beauty.
Peer-Reviewed Journals
Sharma N, Ho SG, Bing TK, McCormack C, Scolyer R, Lee J. Eruptive disseminated Spitz naevus (EDSN) in a young girl of Indian origin. Australasian Journal of Dermatology, 2015 May; 56(2): 134-6
Ho SG, Goh CL. Laser tattoo removal: A clinical update. Journal of cutaneous and aesthetic surgery, 2015; 8(1): 9-15
Ho SG, Yeung CK, Chan NP, Shek SY, Chan HH. A retrospective study of the management of Chinese melasma patients using a 1927 nm fractional thulium fiber laser. Journal of Cosmetic and Laser Therapy, 2013 Aug; 15(4):200-6
Ho SG, Chan NP, Yeung CK, Shek SY, Kono T, Chan HH. A retrospective analysis of the management of freckles and lentigines using four different pigment lasers on Asian skin. J Cosmet Laser Ther. 2012 Apr; 14(2): 74-80
Chan NP, Shek SY, Yu CS, Ho SG, Yeung CK, Chan HH. Safety study of transcutaneous focused ultrasound for non-invasive skin tightening in Asians. Lasers Surg Med 2011 Jul; 43(5):366-75
Chan NP, Ho SG, Yeung CK, Shek SY, Chan HH. The use of non-ablative fractional resurfacing in Asian acne scar patients. Lasers Surg Med 2010 Dec; 42(10): 710-5
Chan NP, Ho SG, Yeung CK, Shek SY, Chan HH. Fractional ablative carbon dioxide laser resurfacing for skin rejuvenation and acne scars in Asians. Lasers Surg Med 2010 Nov; 42(9): 615-23
Chan NP, Ho SG, Shek SY, Yeung CK, Chan HH. A case series of facial depigmentation associated with low fluence Q-switched 1064 nm Nd:YAG laser for skin rejuvenation and melasma. Lasers Surg Med 2010 Oct; 42(8): 712-9
Ho SG, Yeung CK, Chan, NP, Shek SY, Chan HH. A comparison of Q-switched and long-pulsed alexandrite laser for the treatment of freckles and lentigines in Oriental patients. Lasers in Surgery and Medicine 2011 Feb; 43(2): 108-113
Ho SG, Yeung CK, Chan NP, Shek SY, Kono T, Chan HH. A retrospective analysis of the management of acne post-inflammatory hyperpigmentation using topical treatment, laser treatment or combination topical and laser treatments in Oriental patients. Lasers in Surgery and Medicine 2011 Jan; 43(1): 1-7
Ho SG, Yeung CK, Chan HH. Methotrexate versus traditional Chinese medicine in psoriasis: a randomised placebo controlled trial to determine efficacy, safety and quality of life issues. Clinical and Experimental Dermatology 2010; 35(7): 717-722
Ho SG, Chan HH. The Asian dermatologic patient: review of common pigmentary disorders and cutaneous diseases. American Journal of Clinical Dermatology 2009; 10(3): 153- 68
Patel S, Basketter DA, Jefferies D, White IR, Rycroft RJG, McFadden JP, Ho SG. Patch test frequency to p-phenylenediamine: follow up over the last 6 years. Contact Dermatitis 2007; 56: 35-37
Ho SG, Yu RC. A case of multicentric reticulohistiocytosis with multiple lytic skull lesions. Clinical and Experimental Dermatology 2005; 30: 515-518
Ho SG, Basketter DA, Jefferies D, Rycroft RJ, White IR, McFadden JP. Analysis of para-phenylenediamine allergic patients in relation to strength of patch test reaction. British Journal of Dermatology 2005 Aug; 153(2): 364-367
Ho SG, White IR, Rycroft RJ, McFadden JP. A new approach to patch testing patients with para-phenylenediamine allergy secondary to temporary black henna tattoos. Contact Dermatitis 2004 Oct; 51(4): 213-4
Ho SG, White IR, Rycroft RJG, McFadden JP. Allergic contact dermatitis from para-phenylenediamine in Bigen powder hair dye. Contact Dermatitis 2004 Aug; 51(2): 93-4
Sutherland FW, Ho SGY, Campanella C. Pneumomediastinum during spontaneous vaginal delivery. Annals of Thoracic Surgery 2002;73: 314-5
Book Chapters
Chan HHL, Ho SGY. 2008. Special Considerations in Asian/Far Eastern Skin. In: Alam M, Bhatia AC, Kundu RV, Yoo SS, Chan HHL, eds. Cosmetic Dermatology for Skin of Color, 1st edition, Chapter 21. United States: McGraw-Hill
Ho SGY, Chan HHL. 2013. Laser treatment of ethnic skin. In: Hruza GJ, Avram MM, Dover JS, Alam M, eds. Procedures in Cosmetic Dermatology: Lasers and Lights, 3rd edition, Chapter 10. United States: Elsevier
Goh CL, Ho SGY. Tattoo book chapter - pending publication