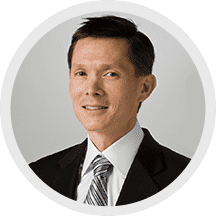 Dr Andrew Tay
FRCS (Edinburgh) Fellow of Academy of Medicine, Singapore (Plastic Surgery) Registered Specialist Plastic Surgeon, Singapore Medical Council
In 1990, Dr Andrew George Tay studied medicine at the National University of Singapore (NUS) and in 1995 proceeded to the Fellowship of the Royal College of Surgeons of Edinburgh. It was in his time at NUS, during basic surgical training, that he discovered the fascinating world of Plastic Surgery. This led him to join the advanced specialty training program in Plastic Surgery at the Singapore General Hospital (SGH).
Subsequently, a Health Manpower Development Programme scholarship gave Dr Tay the exceptional opportunity to advance his technique in the craniomaxillofacial surgery subspecialty at the University Hospital Basel, Switzerland.
In 2002, Dr Tay was admitted to Singapore's Register of Specialists and the Academy of Medicine. At SGH the following year, he was appointed Consultant Plastic Surgeon. Even after moving to private practice in 2006, he continues to serve public healthcare needs as Visiting Consultant to Changi General Hospital and SGH. Dr Tay also teaches medical students at his alma mater, NUS.
Dr Tay provides cosmetic surgery (both face and body) and craniomaxillofacial surgery, which is facial skeleton reconstructive surgery. He has a special interest in managing facial trauma, having served with the AO Centre Executive Committee (Craniomaxillofacial Surgery). Dr Tay also was actively engaged as a member of the AO international teaching faculty for craniomaxillofacial courses. Other memberships include The Singapore Society of Cosmetic (Aesthetic) Surgeons, The Singapore Association of Plastic Surgeons, as well as The International Society of Aesthetic Plastic Surgery.
Active in clinical and lab research, Dr Tay has been involved with research into skin regeneration, cartilage regeneration and craniomaxillofacial trauma. He has been invited to present this work at medical conferences throughout the world, and published in peer-reviewed journals Plastic and Reconstructive Surgery and Tissue Engineering.
---
Contact Dr Andrew Tay
Phone: 63976618
Education
FRCS (Edinburgh) Fellow of Academy of Medicine
Singapore (Plastic Surgery) Registered Specialist Plastic Surgeon
Singapore Medical Council
Dr Andrew Tay offers the following treatments
Management of facial trauma
Craniomaxillofacial surgery (reconstructive surgery of the facial skeleton)
Cosmetic surgery of the face and body