Want to know how to get 20/20 vision through minimally invasive refractive procedures? Check out our webinar as we explore two minimally invasive refractive procedures, TransPRK and SMILE, and how it can help you achieve the perfect vision you desire.
Title: Beyond LASIK: Minimally-Invasive Laser Vision Correction Techniques
Date: 24 Feb 2021
Time: 7pm
Register Here: http://bit.ly/2LwQu9o
---
Though spectacles and contact lenses can aid in correcting your vision temporarily, nothing beats vision-correcting surgeries such as LASIK. However, the high costs of LASIK procedures may be a huge deterrence to you.
Fret not, in this article, I will walk you through the dense jungle of information required for you to make an informed decision regarding your next LASIK procedure-
How much does LASIK cost
The different types of procedures
The various payment options,
Useful advice to achieve your desired sight!
What are the different types of LASIK procedures and how much do they cost in Singapore?
Across the board, the table below shows the main vision correction procedures, how they work, and lastly, their respective cost.
Vision correction procedures
How it works
Cost range
(For 2 eyes)
LASIK (Laser-Assisted Stromal In-situ Keratomileusis)
Using the first laser, a flap is made on the surface of your cornea.
A second laser is then used to correct the refractive error
The flap is then folded back
$3,500 to $4,500
Advanced surface ablation, (ASA):
EpiLASIK
(Epithelial LASIK)
TransPRK (Transepithelial PRK)
ASA is a no-flap, no-incision, surface-based procedure. It involves:
Removing the thin layer of cells on the surface of the cornea
A laser is used to sculpt the cornea tissue and correct the refractive errors
A protective contact lens is placed over the eye until the surface cells grow back within a few days
$3,600 to $4,000
ReLEx SMILE
(Refractive Lenticule Extraction, Small Incision Lenticule Extraction)
ReLEx SMILE is a minimally-invasive procedure. It involves:
Using a laser, a small incision is made (instead of a flap) on the surface of the eye.
The refractive lenticular is removed from the micro-incision
The resulting cornea curvature is altered as the cornea collapses into the empty space.
$5,000 to $6,000
Do note that for LASIK procedures performed on just one eye, the cost will not be proportionately halved.
This is because the number of consumables used during surgery is the same regardless of whether you perform surgery on one or both eyes.
Find out more about the different LASIK procedures in this complete guide here: https://www.human.com.sg/complete-guide-lasik-singapore
Comparing LASIK Cost in Private vs Public Eye Health Institutions in Singapore
Public clinics that offer vision correction services include Singapore National Eye Centre and National University Hospital.
Between private and public institutions, LASIK procedures have similar costs.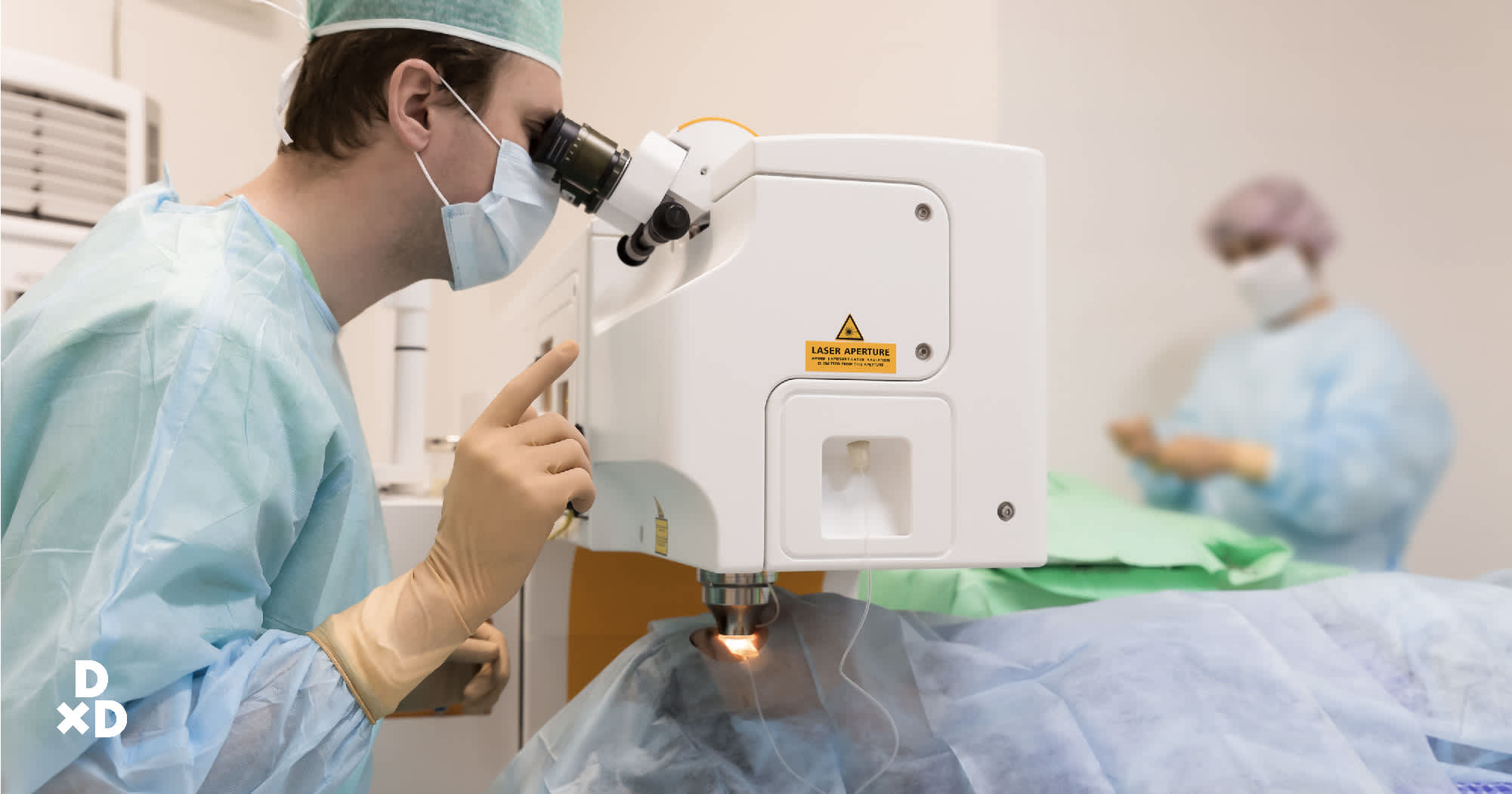 What factors contribute to the difference in cost of the various LASIK procedures in Singapore?
The high costs of LASIK operations can be jarring to many. However, most of my patients who have gone through it do find it worth it.
There are several factors that can influence the pricing of the procedures. Mostly, the price variation of LASIK procedures is due to the different ways clinics package their services to make it more attractive.
Below are 4 other factors that affect the prices of LASIK surgery:
pre-operative eye evaluation services
post-operative consultation services
cost of post-operative LASIK medication
type of technology used for LASIK
Pre-operative Eye Evaluation
Before your LASIK surgery or any other vision correction procedure, there is a standardised process for you to go through.
This process includes a range of pre-surgery evaluation tests to determine if your eyes are suitable for LASIK. These tests are crucial in determining the recommended LASIK procedure that is best suited for you.
Such tests include:
measuring your corneal dimensions
measuring your visual acuity.
In total, it usually takes around 2 to 3 hours to complete all the tests and it makes up the bulk of the time you spend at the clinic.
With the results from the evaluation tests, the doctor can then decide if you are a suitable candidate for LASIK.
In general, the cost of the pre-operative eye evaluation can range widely between $5 to $300. However, it is very important to note that although some pre-operative services seem outstandingly cheap, it may be because they have not included the doctor's consultation fee. This consultation usually happens before the various eye evaluation tests are done.
In a similar vein, some clinics may price the cost of the actual surgery at a very attractive price, but charge a huge amount for the pre-operative evaluation test.
Always clarify the prices before committing to any clinic!
Post-operative consultation
The main LASIK operation takes less than half an hour for both eyes. With a quick check after your surgery, your doctor will prescribe you with the relevant medication and you are ready to head home!
However, for the next 3 to 6 months you will need to come back in for follow-up appointments with your doctor. The number of appointments differs for every patient.
Some clinics include these follow-up appointments into the surgery cost and advertise it as one single package.
Across the board, these post-operative reviews can cost between $50 to $200 per visit.
Cost of post-operative LASIK medication
The medication prescribed to you will mostly be different types of eye drops, such as antibiotics and steroid.
As most patients need to wear eye protection while they sleep, some may find it difficult to fall asleep. Hence, depending on the patient, some doctors may prescribe oral medication such as sleeping pills to help.
Generally, the fees for these prescriptions would be included in the surgery package.
Despite that, some clinics may not include the cost of medication you bring home. For instance, the eye drops may cost from between $10 to $30.
Type of technology used for LASIK
Depending on the technology that the clinic is using to perform the LASIK treatment, prices may vary. Some clinics may use less advanced machines which may cost less for patients.
Our clinic uses high-quality apparatus such as the Schwind Amaris machine for the TransPRK procedure which provides excellent vision correction results.
It is important to note that the most expensive procedures may not be the best. It all boils down to finding the most suitable procedure for your eyes and what your desired lifestyle is.
It is crucial to find a doctor that you trust and feel comfortable with.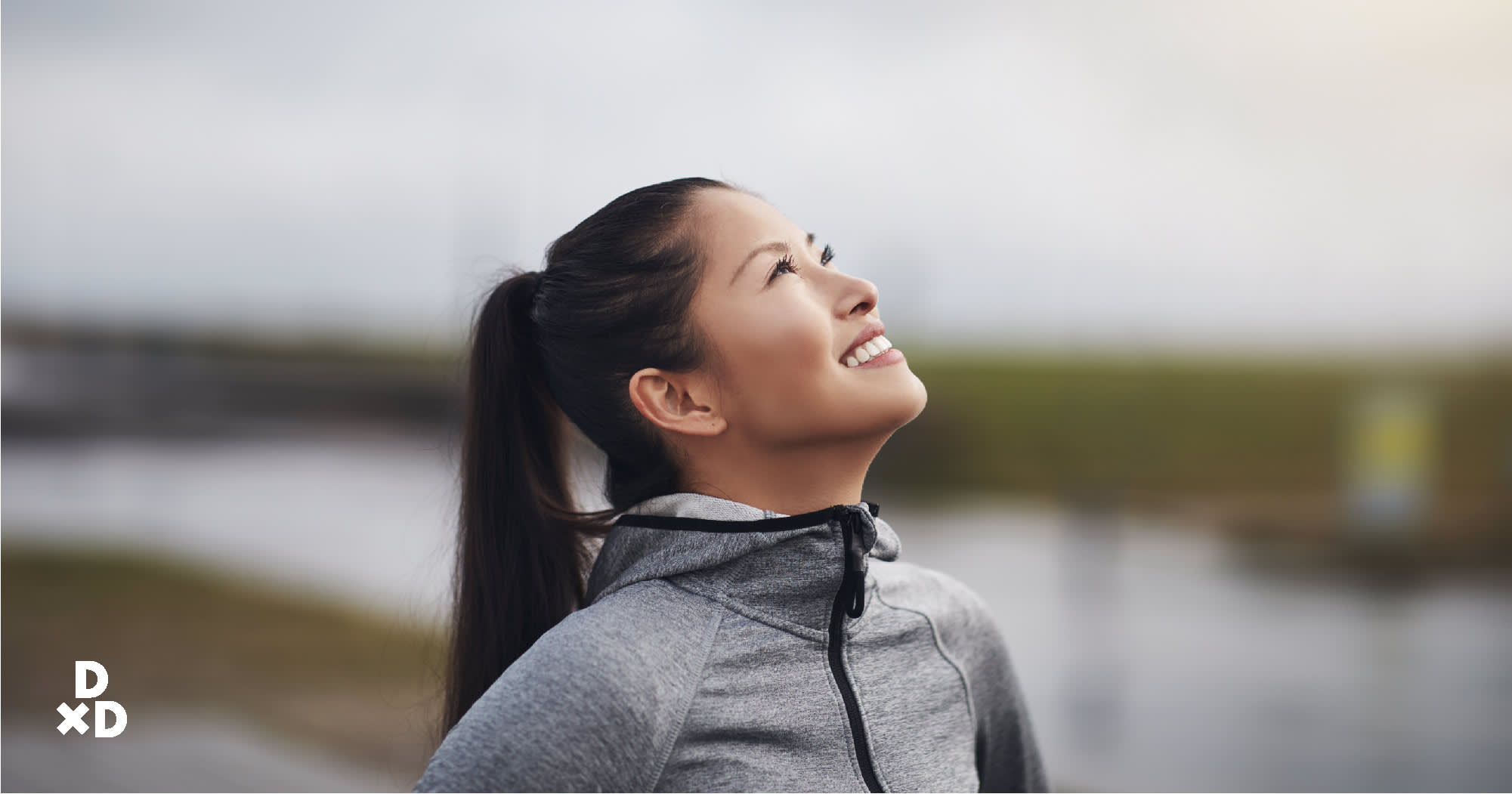 How long will my LASIK results last?
It is a permanent correction. For most people, it lasts a lifetime.
In uncommon cases, it may only last about 10 years.
This is because although the cornea has been reshaped to provide better vision. the eye however continues to age just like the rest of the body. As you grow older, your eyes may decrease in visual acuity and develop other problems like cataracts.
What if I need to go for LASIK enhancement or follow-up treatments?
Many clinics cover the costs of additional LASIK treatments. On the other hand, some clinics may even charge it in full as a separate LASIK treatment.
At Clearvision, it costs $600 per eye for returning patients in the rare event that it is required.
Be sure to check with your clinic before you get treated!
Financing your LASIK treatment in Singapore
Across the board, most clinics offer similar payment methods. However, it would be prudent to ask questions and clarify what you are paying for.
Insurance and Medisave
Unfortunately, since LASIK and other vision correction treatments are considered elective surgery procedures (non-essesntial), insurance and Medisave cannot be used to pay for these treatments.
Installment plans to pay for your LASIK treatment
Your LASIK procedure can be paid in full or you can choose to go for the installment plans.
For most clinics, they do offer a monthly installment payment option with 0% interest over 6 - 12 months. This tends to be a popular option. A LASIK procedure of about $3,800 can be split into more manageable monthly installments of about $300+.
You can pay for your LASIK procedure via cash, NETS, debit, or credit card. However, it is important to note that NETS only has a $2000 withdrawal limit per day.
Are there any subsidies or discounts for LASIK treatments in Singapore?
Everyone loves discounts. However, according to MOH (Ministry of Health) guidelines, doctors are not allowed to give discounts for medical procedures. This is to prevent patients from taking up unnecessary treatments.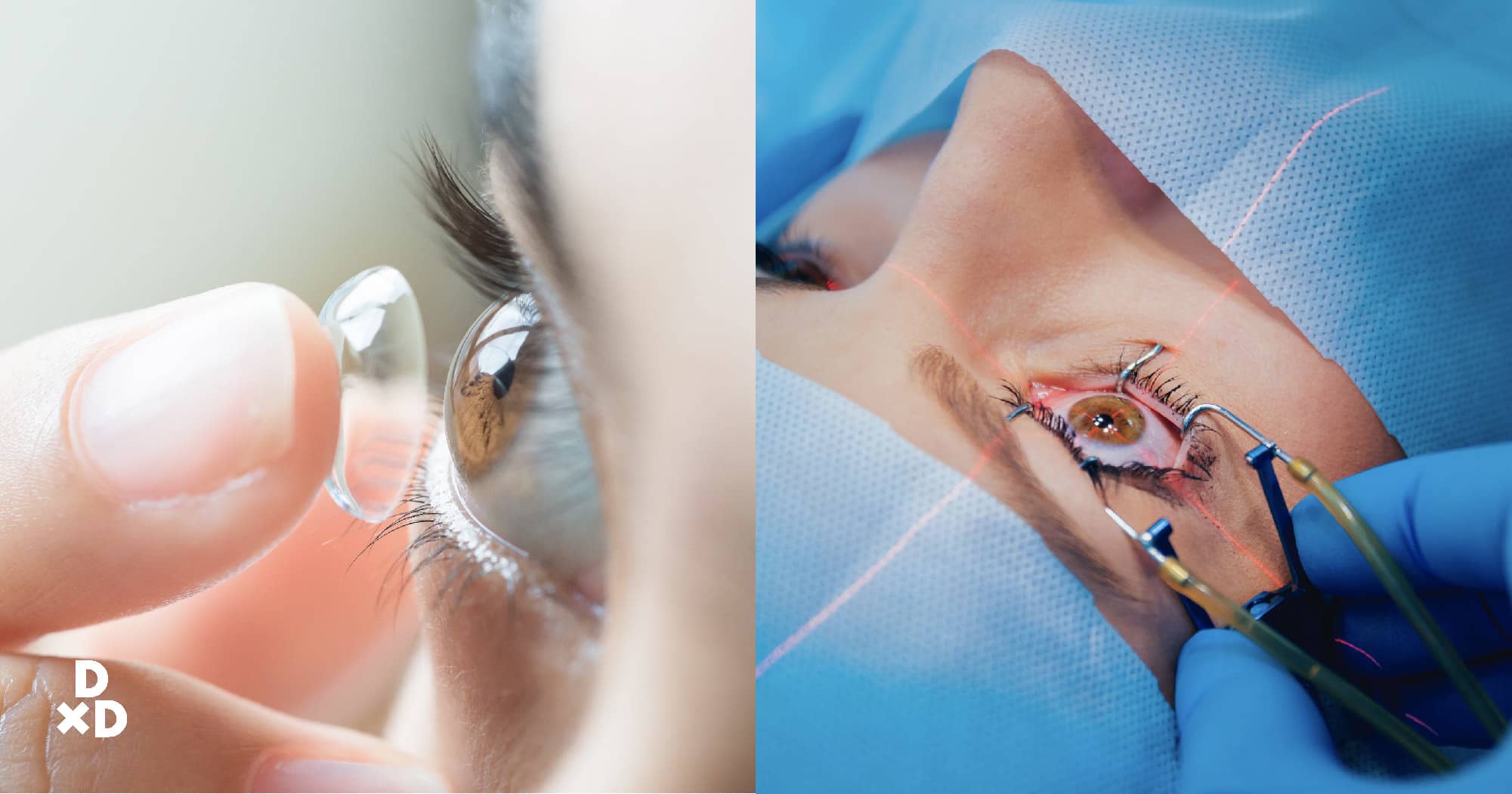 LASIK vs. Contact lenses vs. Spectacles
Are you still in a dilemma? Think about your current lifestyle and then decide whether LASIK can allow you to do the things you love better.
Here is a simple table that assesses the benefits of LASIK in comparison with other ways of vision-correcting methods.
Price (over a decade)
Sustainability
Comfort and Quality of Life
Risk
LASIK
Medium
A high upfront cost of $3,500 to $6,000.
High
Lasts indefinitely.
High
No more fogging of your glasses and maneuvering with your contact lenses.
Even the LASIK process poses only slight discomfort.
Medium
Due to the availability of highly sophisticated technology and treatments, LASIK procedures today are extremely safe.
Contact lenses
High
For the cheapest option, a monthly box of 3 pairs can cost about $30.
Contact lens solution costs about $12 to $100 that lasts a month. [1]
Over a decade of continual use, it can reach up to
$5,040
Low
Lasts for a month.
Low
Requires the most care.
At times you would have to take them out or wear them in. With that, you may have to apply eye drops or prepare the solution.
High
Without proper care, complications may arise. It may pose a risk of eye infections and corneal ulcers. [2]
Spectacles
Low
For a pair of spectacles, it can cost between $70 to $300.
Over a decade, it can cost only $1,200
Medium
Lasts for about 3 years
Medium
Low maintenance. However, it could get uncomfortable at times and so you may adjust your glasses occasionally.
Low
Generally safe.
How do I choose my LASIK doctor?
The goal is to find a doctor you can fully trust. If you are looking to undergo a vision correction procedure like LASIK, you would want to find an ophthalmologist who is more experienced or a leader in that field.
A number of eye doctors have had more years in training to sub-specialise in refractive surgery. For example, they can sub-specialising in LASIK or Advanced Surface Ablation techniques.
On the other hand, some ophthalmologists may not have an official sub-specialisation but may have undergone fellowship training for refractive surgery. These doctors are equipped with the necessary training and experience to administer the procedure safely.
Some general advice:
Ensure that you find out how the clinic you are considering is charging their procedures and if there are any hidden costs that you should know about.
Do not fall prey to "bait and switch" sales tactics that advertise an attractive price that is perhaps only relevant to patients with lower refractive errors and may not apply to you.
Getting LASIK or any other refractive surgery can be a life-altering experience. The way you live your life may no longer be the same. Spare no effort to do your due research and find a doctor you can absolutely trust.
To sum up…
Now that you have better insights into the prices and factors affecting the cost of LASIK procedures in Singapore, why not get a free quote from doctors in Singapore to get a more specific price for your situation?
Head over to Dr Ho's Complete Guide to LASIK in Singapore if you are interested to learn more!