Dental implants are the ideal replacement for lost and missing teeth. Implants are stable and strong and they look, feel, and function similar to natural teeth.
Usually any adult who is well enough to undergo routine dental work can get dental implant surgery. In comparison, teenagers may have to wait.
What is a dental implant?
A dental implant is an artificial replacement for a missing natural tooth [1]. Once your dentist puts the implants in your jawbone, the implants combine with your natural bone and forms a sturdy foundation to support one or two fake teeth, known as crowns.
A connector or abutment is then placed on top of the implant to hold the crowns and protect the implant. The crowns are custom made to match your teeth and mouth. The aim is to support the fake teeth without affecting the remaining teeth, through grinding, in the mouth [2].
For over 30 years dental implants have been used safely. They are certainly the strongest devices designed to support new teeth. A dental implant is also one of the safest and most reliable dental treatments.
Are dental implants safe for teenagers?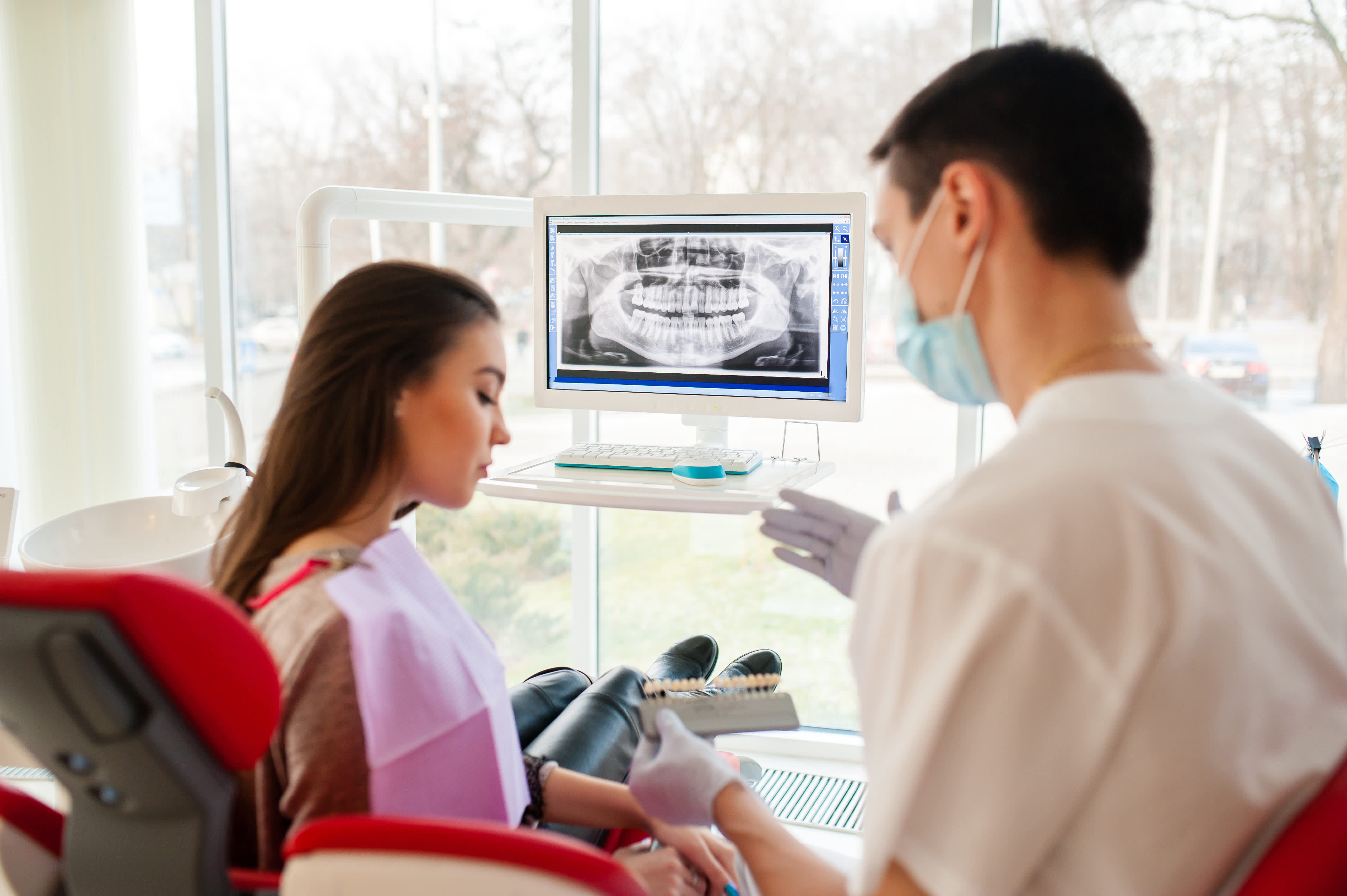 Age is a restriction, so teenagers cannot get dental implants until they reach a certain age. People can consider dental implants when they have adult teeth. Dental implants can only be done for teens with jaws that have finished growing.
Natural teeth can move and change position along with normal growth and jaw development. On the other hand, implants do not. Since implants connect with the jawbone to replace tooth roots, their location is fixed.
It is highly recommended that your teenager wait until they are above 21 years old to get implant surgery. By this age, the jaw would have likely finished growing or would have least reached a point where dental implants will not adversely affect future growth.
Are there any alternatives besides dental implants?
Having missing teeth as a teenager can lead to significant loss of self-esteem. Missing teeth can worsen a teenager's insecurity and might discourage them from socialising. However, even if they cannot have implants, there are other ways that can replace a missing tooth until your teen is old enough for an implant.
Removable partial denture
One of the most common choices for a teenager is a removable partial denture. A removable partial denture consists of a plastic gum-coloured base with an attached fake tooth matching the missing tooth's type, shape and jaw position.
Bridge
Another common choice is a bridge. The adult version needs permanent alteration of the teeth on either side of the missing tooth to support the bridge. However, the teenager's bridge, known as a "bonded" or "Maryland bridge", uses little tabs of dental material. These dental materials are bonded to the back of the fake tooth with the extended portion then bonded to the back of the adjacent supporting teeth.
Orthodontics
Getting treatment through braces and clear aligners can move your remaining teeth in certain ways that close the gap your missing tooth made. Both dentists and orthodontists can apply either type of treatment, but dentists have a more limited scope than orthodontists do. If your case is simple, a visit to your dentist to put on braces is all you need. If your case is complicated, an orthodontist is trained to tackle problems that your teeth may have. Even though they are more expensive as specialists, remember that you are paying for expertise and years of practice!
---
How can you make sure your teenager's teeth and gums are healthy during Covid-19? What steps can you take? Find out with this handy guide!
---
Dr Gerald Tan is a past president of the Aesthetic Dentistry Society of Singapore and Global Head, Novena Global LifeCare Dental Division and Founder of Elite Dental Group Singapore. Besides that, he has a special interest in bespoke cosmetic dentistry, dental implantology and digital smile design. In addition, he enjoys basketball, tennis and looking after his pet cockatoo in his free time.
Also, read more from Dr Gerald Tan in his Q&A here.