What happens when you combine peak period international travel with a highly infectious disease? The recent Wuhan virus joins the previous SARS, MERS and Ebola outbreaks to tell us the same answer.
A disease outbreak spreads at the speed of sound when highly infectious and unknown diseases hitch transnational rides during peak seasons.
The Wuhan virus, or 2019-nCoV, is today the hot topic in the news and on everyone's lips. We bade 2019 farewell and ushered in 2020, unbeknownst that a novel virus, one filled with mysteries and lethality, has been making its way across the globe.
Good news: we now have the knowledge and technology to quickly identify, prevent and manage the spread of this new coronavirus. A vaccine seems to be on its way to deployment too.
SARS v2.0? Not so, yet.
People have been comparing the Wuhan virus to the SARS outbreak of 2003. They share a few similarities since they both belong to the same family of virus called the coronavirus.
The good news is that since then, we have learnt much and are now far more prepared. The SARS outbreak pushed medical technologies forward, necessitated robust outbreak response plans and conditioned society preparedness. We also know what precautions to take to prevent the disease from spreading into the community.
What's more, the relatively well-managed Ebola and MERS outbreaks served as periodic reminders.
Massive travel allows for massive spread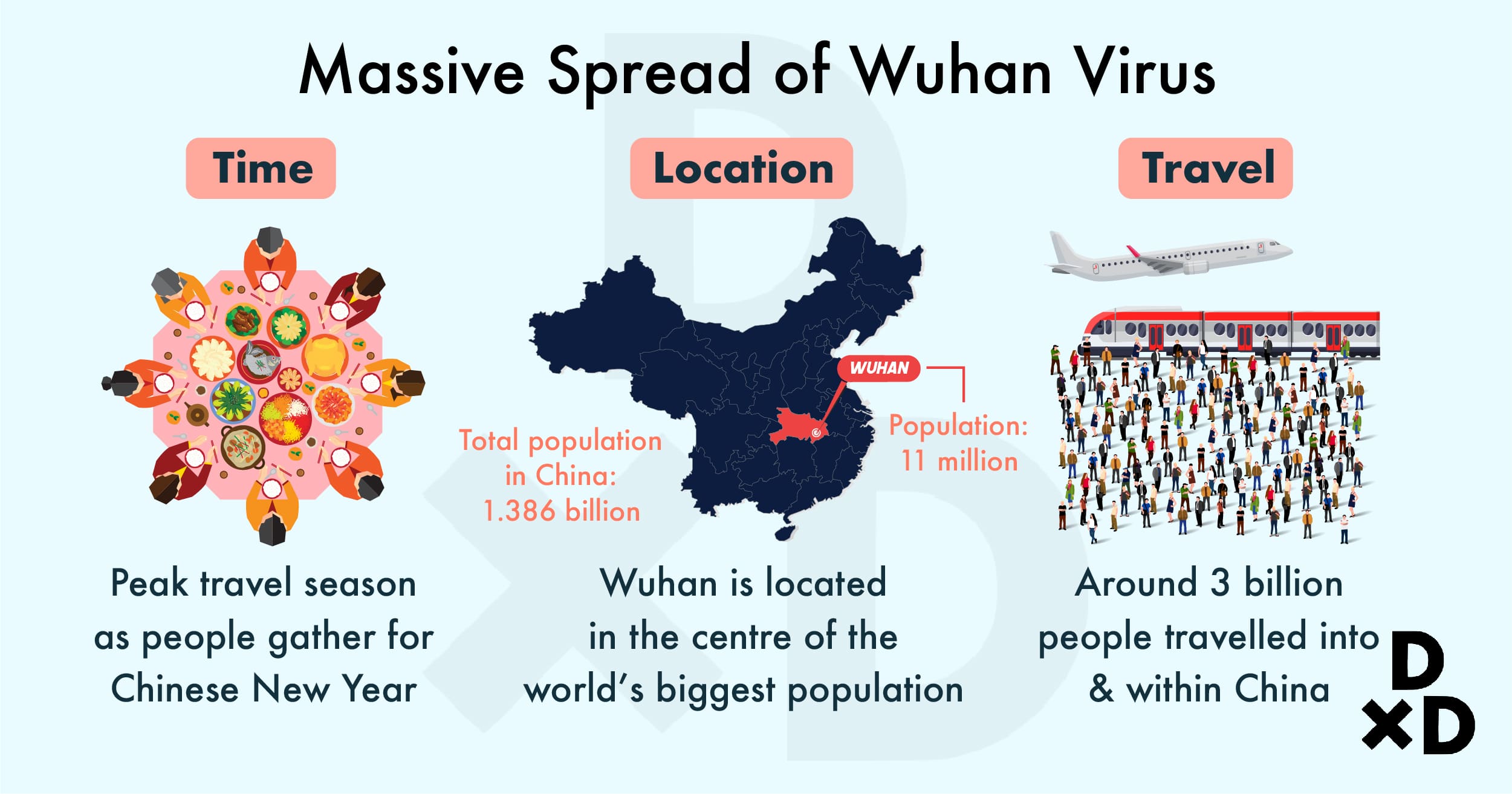 We can be quite sure now that the Wuhan virus is not as deadly as SARS, but the scale of its spread has been one of the fastest in recent times. That is because of time, location, and travel [1].
The outbreak happened in Wuhan, China, just before the 2020 Chinese New Year, when it is peak travel season. The following factors create the perfect conditions for a mass public health emergency:
People able to reach new human populations in hours
Festive seasons, in this case, CNY, are undoubtedly peak periods for travel. People have large gatherings with their family members and friends.
The Chinese population is far from small. It is expected that around 3 billion people travel into and within China during this period [2] -- that is almost half of the world moving and travelling at the same time.
Current numbers for Wuhan virus
As of 31 Jan, there are 9,821 confirmed cases worldwide and a death toll of 213 people, all in China. The disease has been found in 23 countries with a few other countries having suspected cases [3].
WHO has declared the Wuhan virus outbreak as an international emergency. During their emergency committee meeting on 30 Jan, they mentioned that there are 7,711 confirmed cases in China alone and 18 other cases in other countries. Comparing it with the current numbers, you can see that there is a huge jump. Experts are also expecting that the numbers will continue to increase [4].
According to the WHO, the fatality rate of Wuhan virus is 2% [5]. When we take cases in Wuhan out of the equation, the fatality rate is at 0.3%. As a comparison, the fatality rate of dengue is 1% [6], 10% for SARS and 34% for MERS.
In short, the Wuhan virus is less lethal as compared to other public health emergencies. But with the increasing numbers, it is still a huge concern.
Cases here are linked to Wuhan, not within Singapore
The spread extends further as people return from their travels. As of 31 Jan, there are 13 confirmed cases in Singapore, all of which are people who just came back from Wuhan. This means that the virus is not spreading within our communities.
In contrast, in Germany, Japan, and Vietnam, there are already confirmed cases of the coronavirus found in people who never visited Wuhan [7].
Be alert, but do not panic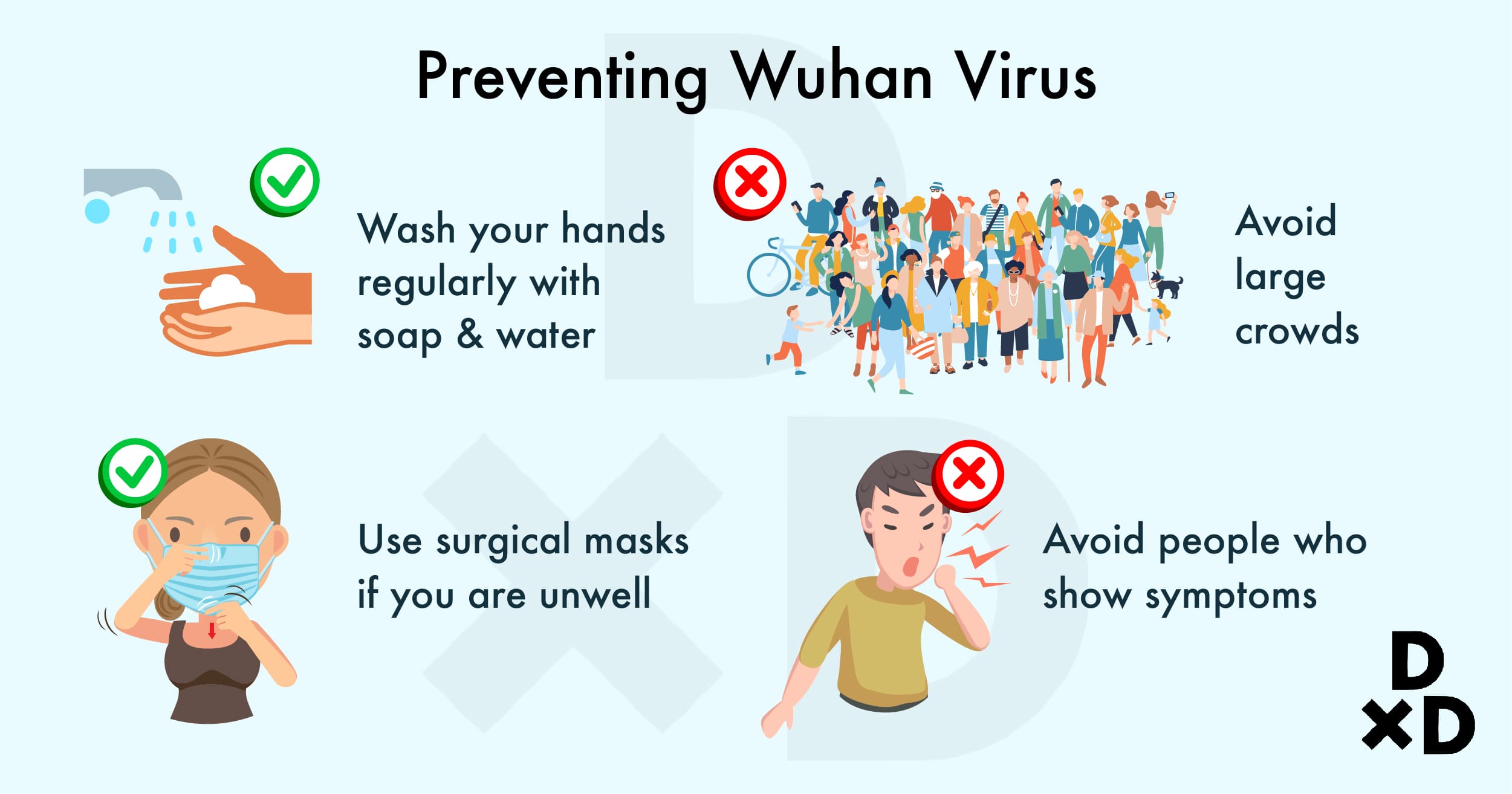 Times like this are concerning indeed. You have probably seen people lining up to buy masks and hand sanitisers. Perhaps you are one of them too. You should ensure you have the appropriate resources to protect yourself but do not panic.
Masks are generally only needed if you are unwell [8] and water and soap provide better protection than hand sanitisers [9].
That said, you should still be alert, follow precautions and practise good hygiene. The best way to avoid the Wuhan virus is to:
Wash your hands regularly with water and soap - if not available, use hand sanitisers
Use surgical masks if you are unwell
Avoid large crowds
Avoid people who show symptoms of the Wuhan virus or are generally unwell
Meanwhile, do visit a doctor as soon as possible if you are feeling unwell. Everyone needs to play a part in stopping the virus from spreading even further.
Click here for updates regarding the Wuhan virus.
---