Friends and family often ask me how to find the best dentist and dental clinic in Singapore for their needs, be it for braces, Invisalign, root canal treatment, dental crowns, dental implants, or teeth whitening.
As a clinician who's headed a dental group over the last 10 years, I've also seen many patients who are frequently confused over their dental treatment options. For example:
How come dental treatment costs can vary so much from one clinic to the next?
What's the different "kinds" of dentists and dental clinics in Singapore?
When should you see a GP dentist, versus a specialist?
In addressing these issues, I hope to share some of my personal insights as an "insider" to help you receive the best dental care for your condition (if you are seeking a particular treatment)
You can head to this link if you want to find and book dentists in Singapore, as sorted by patient reviews or location.
Editor's note: The final section of this article compiles the best dentists and dental clinics in Singapore for 2020, as reviewed by patients.
Training to be a dentist and dental specialist in Singapore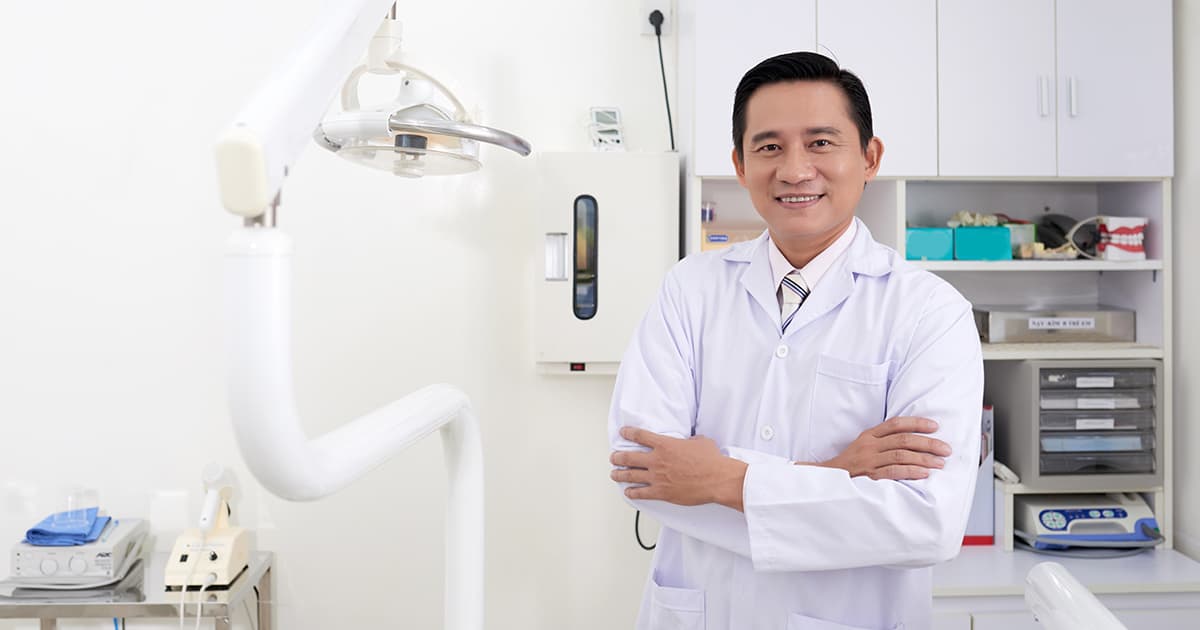 To become a qualified GP dentist (general practitioner) in Singapore, you have to undergo a 4-year course at NUS Dentistry.
You can read what dental school life as a first-year NUS dentistry student is like in this post.
To become a dental specialist, a GP dentist can apply for a 3-year specialist course after at least two years of practice. There are seven recognised dental specialities in Singapore, ranging from orthodontics to paediatric dentistry. [1]
Is there any difference between foreign-trained dentists, and local dentists?
The main difference is in the level of supervision required, and whether they are allowed to practice independently.
Conditional registration (needs to be supervised): Foreign-trained, or foreign dentists. They are required to practise under supervision for at least two years, before progressing to full registration.
Full registration (no need for supervision): Dentists who are allowed to practice independently. Local NUS graduates are automatically "full reg" upon completion of their course.
What's the main difference between public and private dental care in Singapore?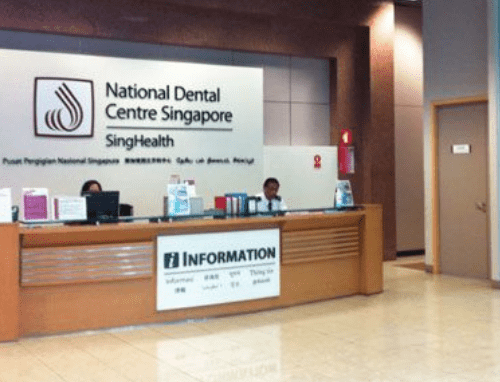 Similar to seeing a doctor in Singapore, the tradeoff between choosing the public and the private route is primarily one of time and convenience, versus costs.
1. Public dental clinics tend to be cheaper but have longer wait times.
Examples: Polyclinic, National Dental Centre
You are generally encouraged to make an appointment before seeing a dentist at a public institution.
However, there are some exceptions to this. For example, the Paediatric Unit at NDCS offers a walk-in clinic for new patients from 8 am to 11.30 am. The Singhealth Dental polyclinics also have a loose arrangement to slot in a certain number of walk-in patients each day.
Dental emergencies will always be seen, even if you do not make an appointment. Emergencies include:
Bleeding from extraction
Facial swelling
Intense pain (arising from advanced tooth decay or other conditions)
Trauma
To see a dental specialist at a public institution, you'll need to obtain a referral letter from a polyclinic. The wait time from referral letter to appointment can be variable, depending on the specialist whom you are seeing. Certain specialities may take between 4 – 6 weeks, while others (eg. orthodontic services ) may only require a wait time of 1 - 2 weeks.
Do note that you can also see a dentist in public without a referral letter. However, you will be charged as a private patient.
2. Private dental clinics are more expensive but have shorter wait times. Examples: Orchard Road town practices, heartland mall clinics, neighbourhood clinics
It's usually quicker for you to see a dentist or dental specialist in private practice. Clinic front desks can give you an appointment within 1 to 2 days, and most accept walk-in patients too.
Is private dental care in Singapore always more expensive than public dental treatment?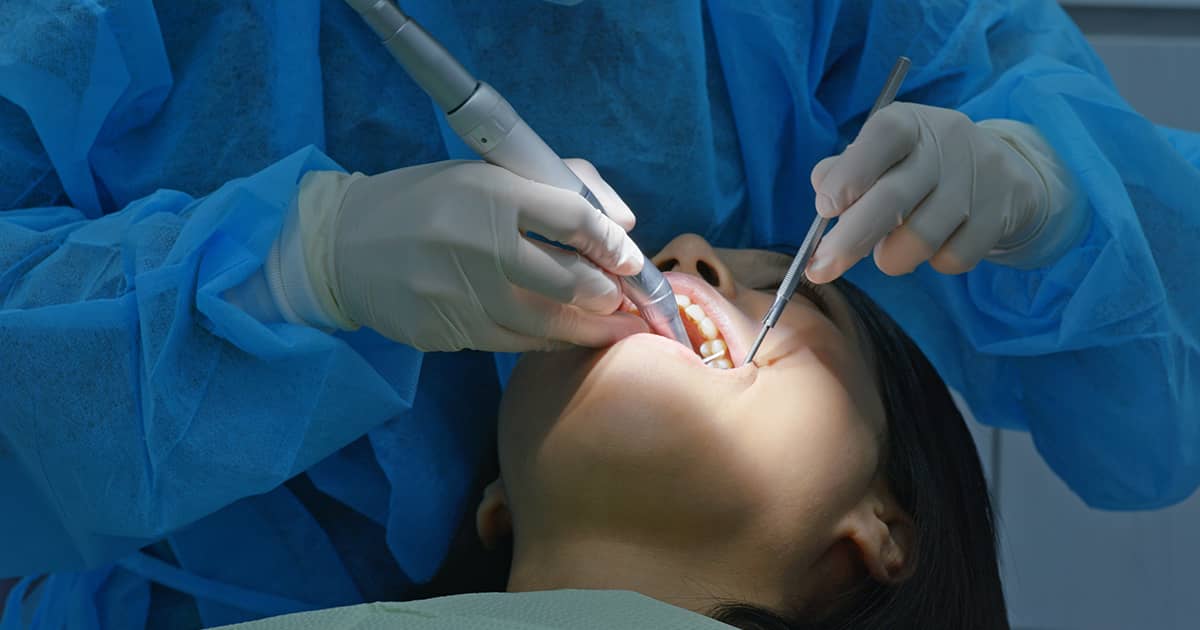 In general, dental treatment tends to be cheaper in the public sector because Singaporeans enjoy subsidised dental care.
However, there are exceptions to this rule. With the implementation of healthcare subsidies such as CHAS and Pioneer Generation benefits, the cost of private dental treatment can be relatively cheap. These subsidies mainly aid the lower-income and elderly.
Private dental clinics in heartland locations can also offer rates that may be comparable or just slightly higher than that of public institutions as well.
How much does it cost to see a dentist in Singapore?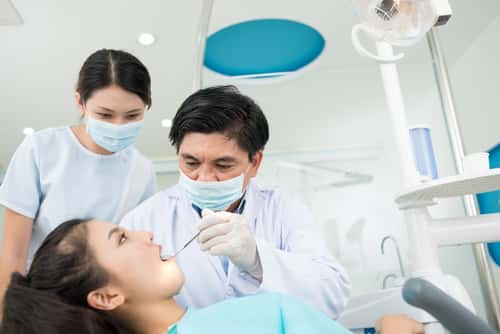 At a polyclinic, subsidised dental examination fees for Singaporean citizens range from $15.00 to $27.00.
Scaling and polishing in the public sector costs around $40 - $130. In private institutions, it can range from $60 - $150+.
Here's an updated list of dental treatment costs in public and private:
Dental procedure
Unit
Average Fee in Public Institutions
Average Fees in Private Clinics
Crowns
Single Unit
$650 - $786
$400 - $2,140
Full Dentures
Per Arch
$521 - $707
$150 - $2,140
Impacted Wisdom Tooth Surgery
Per Tooth
$600 - $825
$400 - $2,140
Dental Implants
Per Unit
$1,600 - $1,944
$2,000 - $4,815
Orthodontics (Braces)
Two Jaws, NonSurgical
$3,000 - $4,870
$2,000 - $10,700
Root Canal Treatment – Anterior Tooth*
Per Tooth
$272 - $353
$400 - $856
Root Canal Treatment – Molar Tooth
Per Tooth
$678 - $815
$400 - $1,605
Root Canal Treatment – Pre-molar Tooth
Per Tooth
$424 - $501
$400 - $1,284
How much should you be paying for your particular dental treatment?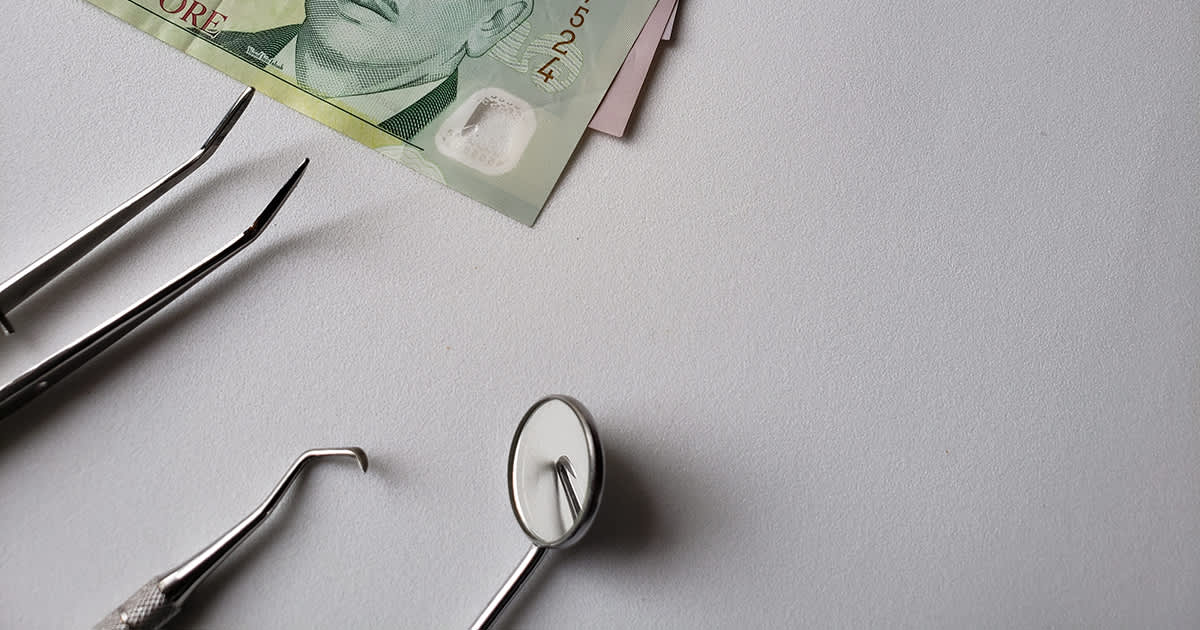 The dental fees charged in Singapore vary according to:
1. Whether your dentist is a specialist or GP
A specialist with three extra years of training will justifiably charge more than a general practitioner doing the same procedure. Do note that this should only apply to their specialised fields.
For example, an orthodontist typically charges more for braces treatment. However, he should NOT be charging more than a GP for root canal treatment because both the GP and orthodontist would have had precisely the same amount of training in root canal treatment.
2. The type of procedure, and how complex it is
Dental implants and orthodontic treatment is expensive, simply because they are time-consuming and complex procedures.
3. Your dentist's amount of experience with a particular type of dental treatment
A dentist with 20 years of experience will simply have seen more patients than one who is newly qualified. The analogy is that a Senior Counsel's fee will always be higher than a rookie lawyer.
Other indicators of experience in Singapore are:
Dentists who teach at public institutions
Opinion leaders in their speciality
Advisors on advisory boards
There are some exceptions to the "years of experience" rule: a younger dentist may have a particular interest in one area, such as in doing veneers or aesthetic work. Consequently, he may accumulate more experience in this one area over a shorter period than a more senior dentist.
The materials and costs used by your dentist in Singapore can vary greatly too!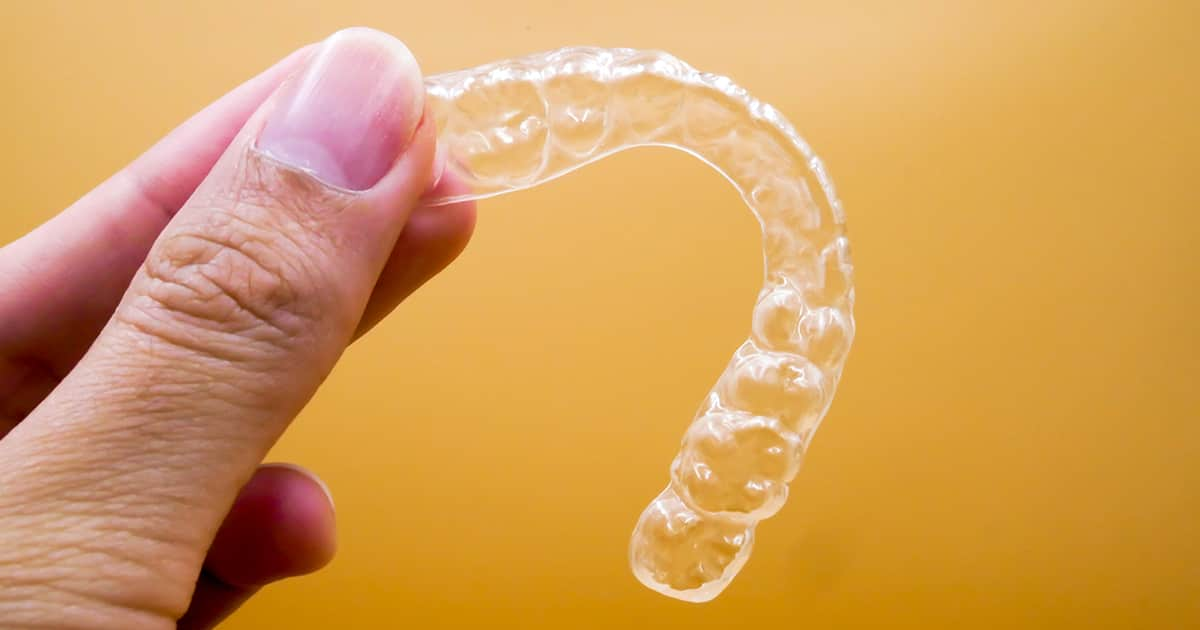 Many of my patients are surprised to find that the materials used by dentists have vast differences in quality and associated costs. I don't blame them at all because dental clinics will never reveal if they are using "cheaper" material. For example:
Dental crowns: The cost of a crown varies according to whether it's made from precious metal or non-precious metal. If you're quoted a lower price, it may be because you're getting a non-precious metal crown.
Dental implants: The price and quality of dental implant materials range widely. In general, European manufactured dental implants tend to be pricier than those made in Asia.
Braces: Metal braces are cheaper than clear ceramic braces. There are also clear PLASTIC braces which discolour with time, and will NOT look nice. They do not have inbuilt torque and angulations, and hence may not be able to move your teeth in certain ways. So when you're offered "clear braces", be sure to ask if it's plastic braces or ceramic braces.
Clear aligners: Many Singaporeans assume that all clear aligners are Invisalign. However, there are many newer and cheaper brands. You should ask your dentist which brand is being used, as I've had patients complain to me that they had been charged "Invisalign-pricing" for a non-Invisalign brand!
What if you have a limited budget for dental treatment?
If your budget is tight, you can request for your dentist to prioritise procedures. He or she can then advise you on the urgent dental treatment that needs to be done first, while the less urgent treatment can be carried out at a later date.
You can also send an enquiry to a few dental clinics to get some idea of the costs involved. Most dentists are happy to directly advise you on an approximate range for your dental treatment needs.
How do you claim Medisave for your dental treatment in Singapore?
First of all, your treatment has to be a Medisave claimable procedure. Dental procedures you can use Medisave to pay for include :
Surgical removal of a tooth/teeth
Dental implants
Drainage of dental and gum abscesses
Certain types of bone grafting surgery
Surgical root canal treatment
After treatment, just fill in a Medical Claims Authorisation Form, and your dental clinic will help you to submit the claim. Once approved, the claimable amount will be sent to your clinic.
The whole process usually takes no longer than two weeks.
How do you get subsidies on dental treatment in Singapore?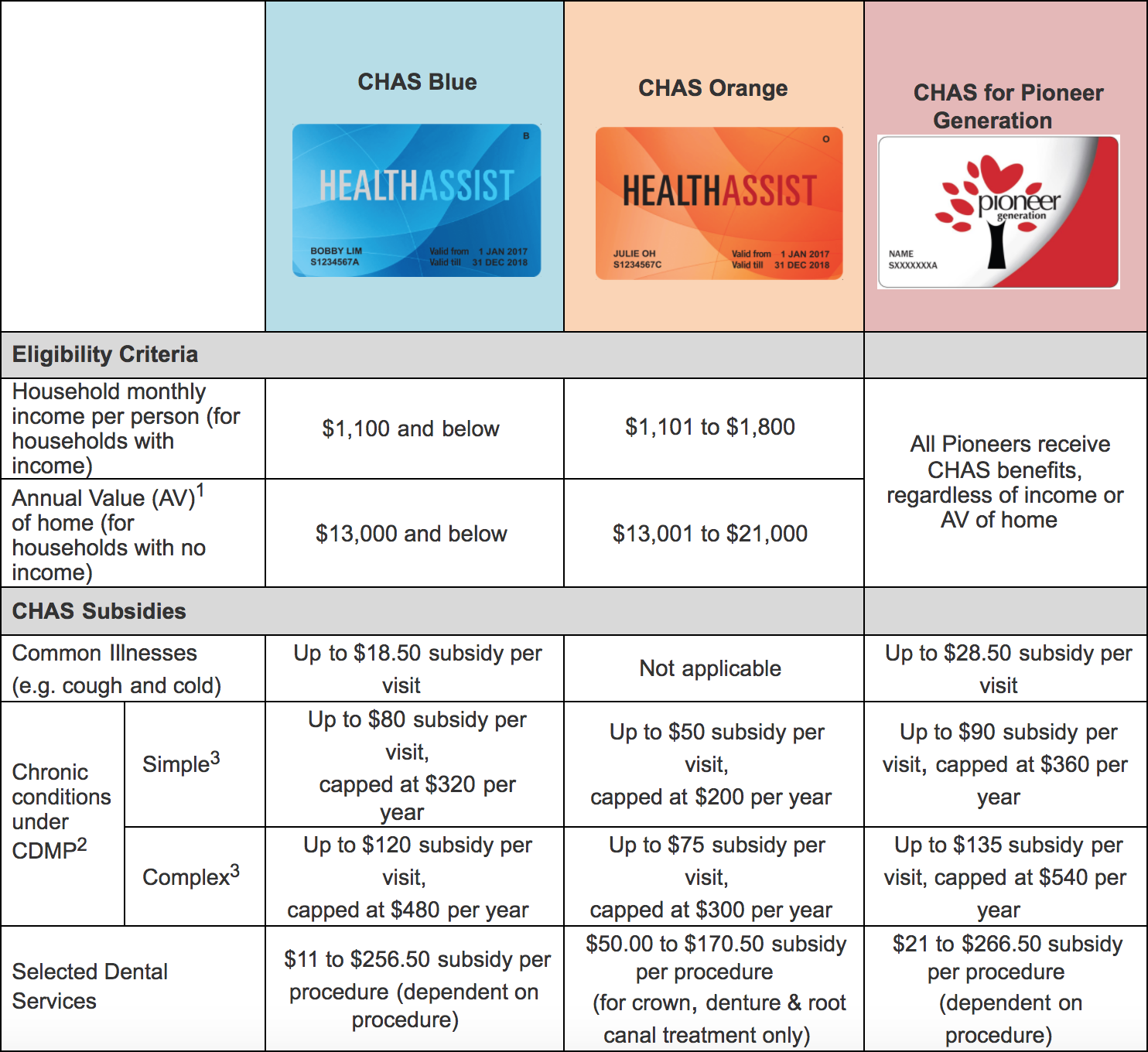 The Community Health Assist Scheme (CHAS) helps lower and middle-income groups. All participating CHAS GPs and dental clinics will display the CHAS stickers.
There are various categories of CHAS beneficiaries:
Blue tier: Household with monthly income per person below S$1,100. Subsidies range between S$11 and S$256.50 per dental procedure.
Orange tier: Household with monthly income per person of $1,100 to S$1,800. Subsidies range between $50 to S$170.50 per dental procedure.
The [Pioneer Generation scheme](https://www.pioneers.sg/en-sg/Pages/Overview.aspx#eligib le) helps Singapore citizens born before 1st January 1950. This group is entitled to receive benefits regardless of income level.
What are the different "kinds" of private dental clinics in Singapore?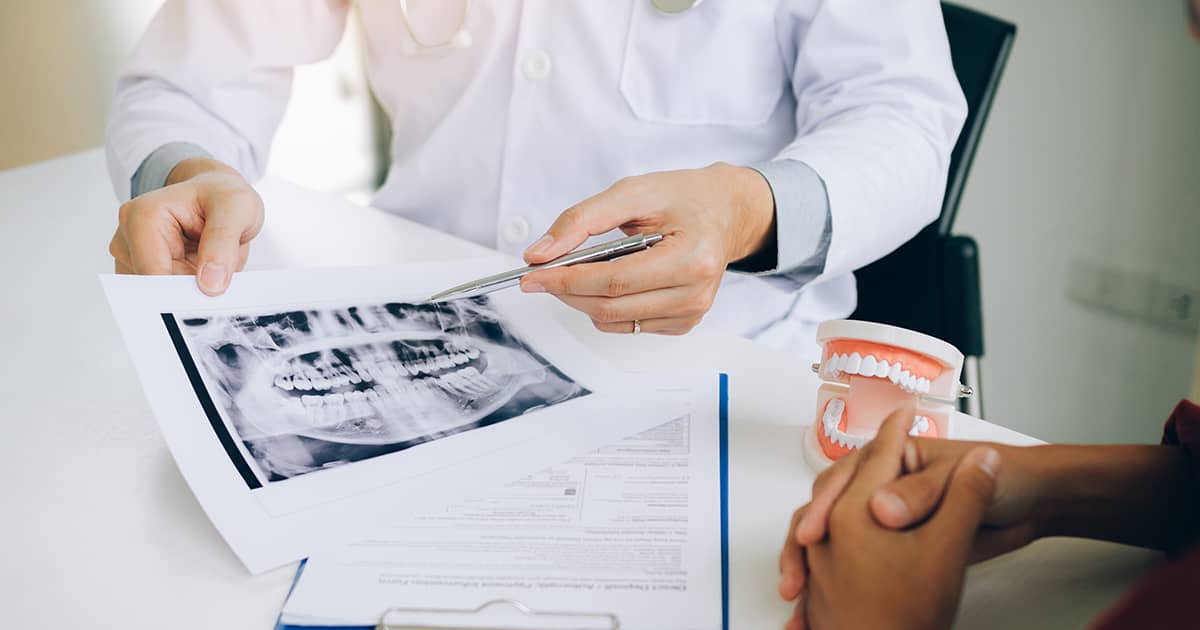 There are two main "types" of private dental clinics in Singapore. The single dentist practice, and the bigger group practice.
1. Single dentist practice
The most significant advantage of a one dentist practice is that you'll be sure that the same dentist will see you each time. The dentist can either be a general practitioner or specialist.
The disadvantage of a solo practice is that if your problem is more complex, he/she may not refer you to a specialist in a timely fashion, but instead attempt to manage the problem himself.
Of course, most solo dentist dentists are extremely responsible and will refer you to see a specialist if necessary.
2. Bigger group practice
A group practice often comprises both specialists and GP. The advantage of this arrangement is that GPs can easily refer complicated problems to an in-house specialist.
Obtaining an appointment tends to be much easier in a group practice as there are more dentists. These types of practice are also sometimes able to offer emergency on-call services - dentists take turns to be on duty, which means that you can phone them up if necessary, and they will attend to you after hours.
The flip side of group practices is that you may not always get to see the same dentist that you prefer.
How can I use reviews to find the best dentists in Singapore?
You can find reviews for dentists or doctors here at Human. Just click 'find a doctor', click on any one of the professionals you wish to see and click the 'review' tab for patient reviews! If you end up seeing that dentist, be sure to leave a review afterwards so you can help others decide whether to see them or not.
You can find reviews online on forums, such as Hardware Zone or 'mommy forums' like Singapore Motherhood Forum where parents gather to discuss health issues. Other resources include Google. Scroll down to find the reviews that others have left.
Here's a comparison of some online review locations:
Hardware zone: Don't let the title fool you, Hardware Zone is a forum where you can find other Singaporeans to ask questions. However, you will have to scour the forum pages for the information you need, and even then it might not be as complete as you want. If you decide to start your own forum page to ask about dentists, you might not get a relevant answer when you need to.

Singapore Motherhood Forum: A forum for online parents, mostly mothers, to meet and ask questions. Similar to the Hardware Zone, you may find a smattering of information here and there. You will find it difficult to find more specific information like asking for a dentist in Yishun. Finally, the advice is tailored towards mothers with children, so the reviews may not be useful to you.

Google: Google has its own set of reviews where you search for clinics on Google maps and find 1 to 5-star ratings for each clinic. There does not seem to be many reviews at any one time though and bad star ratings might be given for irrelevant reasons.

Human: Searching on Human gives you the advantage of letting you search by speciality, area of medicine, and regions of Singapore. You can even get a quote by describing what you need! This allows for quick comparisons and allows you to take action quickly.
What's the difference between seeing a GP, and seeing a specialist for dental treatment?
The main difference between a GP and specialist in Singapore is that the latter undergoes an extra three years of postgraduate training. Hence, they are better equipped at handling the complex cases within their speciality.
Having said that, GPs in Singapore are competent in handling your general dental treatment needs. Most of them also continuously "upskill" themselves through continuing dental education courses. However, there exists a wide variation in the type of cases that GPs can comfortably handle - this depends on the individual practitioner's level of competence.
A good GP will know when to refer you to their specialist colleagues for your dental treatment.
What are the types of dental specialities in Singapore?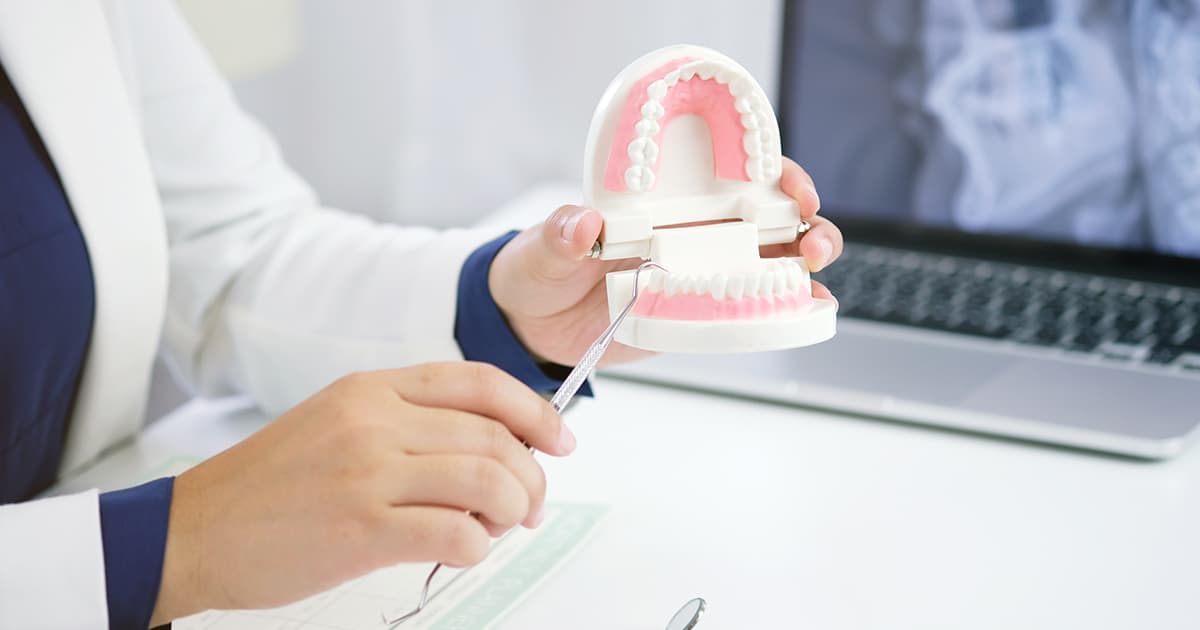 There are seven recognised dental specialities in Singapore:
1. Orthodontists: specialists with expert knowledge in the development of your teeth and bite. They straighten your teeth using different types of braces (e.g. metal braces, ceramic braces, or clear aligners).
2. Pedodontists: specialists who treat children. They care for a child's oral health from birth to adolescence, diagnosing and treating a range of dental issues unique to childhood. Treatment is done with the utmost consideration of the child's safety and well-being, ensuring minimal fear and anxiety.
3. Periodontists: specialists who treat your gums. Peri = around Odont = tooth. Periodontists are also called gum gardeners as they "tend to the soil that supports your teeth" - their job ensures that you've got good bone and gums to anchor all your teeth.
4. Oral surgeons: specialists who perform surgeries around your mouth (e.g. wisdom tooth extraction).
5. Endodontists: specialists in root canal treatment. They take out the nerves of your infected or dead teeth to make them functional again.
6. Prosthodontists: specialists in dental crowns, bridges, and dentures.
7. Oral medicine: specialists in lesions in and around your mouth.
How can you find the best dentist in Singapore for your needs?
Here are four essential factors to take into consideration when choosing your dentist in Singapore:
Communication skills and objectivity: A good dentist will listen carefully to your requests and concerns, advice on all your treatment options, and carefully explain the pros and cons of each treatment. He will also patiently address all your questions about each procedure.
Training and qualifications: If your dental condition is complex, you may want to consider seeking the opinion of a specialist in the field.
Experience: You should consider asking the number of procedures the dentist has performed for a particular type of dental condition.
Clinic capabilities: If you require several different procedures, do ask your dentist if they can all be provided by the same clinic. Otherwise, you may incur more inconvenience in terms of liaising between different clinics and dental teams.
Finally, you may also want to send an enquiry to a few dentists to find someone who can answer all your queries, and who will discuss all the possible treatment options available for your condition.
Once you find a good dentist, and especially one who is comfortable co-managing complex cases with specialist colleagues, do stick to him or her! Besides being familiar with your dental history, the clinic will also have access to all your records (e.g. X-rays, and previous dental work).
Dentist-hopping is unwise as it can be commonplace for unethical clinics to criticise previously performed dental work, and to suggest many unnecessary dental treatments.
On a final note, don't forget to schedule at least one dental check-up a year!
Paying $60 once a year for prevention is the best way to save thousands of dollars on expensive root canal treatment, dental crowns, implants, and dentures down the road.
11 best dental clinics in Singapore for 2020, as reviewed by patients
Editor's note:
Have you ever asked your friend to recommend a good dental clinic? The Human Editorial Team has compiled the best dentist and dental clinics in Singapore, as reviewed by patients in 2020 for your easy reference.
Most of the clinics below are on the pricier end due to their location.
Note: This list is strictly not in order.
1. TP Dental Surgeons
TP Dental Clinic offers: Specialist dentistry, complex dental cases, aesthetic dentistry, veneers, braces, implants, root canal treatment, gum contouring.
Cost: $$$$
Address: 391b Orchard Road #26-01, Ngee Ann City, Tower B, Singapore 238874
Phone: 6737 9011
Opening hours: Mon-Fri 8.30AM-7PM | Sat 8AM-5PM | Sun & PH 9.30AM-1PM
TP Dental are renowned for working on complex cases. Such cases frequently require the combined efforts of a team of specialists.
Most of the specialists at TP Dental (Dr Hwang Yee Cheau, Dr Ong Eng Yau, Dr Loh Hong Sai) are concurrently senior lecturers at NUS, so their skills and knowledge are always kept up to date.
Thanks to a large team of 25 dentists, they are open 363 days a year and also have their very own in-house laboratory; meaning you can expect fast turn-around times as a patient. TP Dental covers pretty much all the specialities between themselves, ranging from gum disease to aesthetic dentistry and veneers.
Of notes, Invisalign and braces treatment is carried out only by specialists, as they have 4 full-time resident orthodontists.
The clinic is posh, and their service standards are high - the front desk greets you by first name once they get to know you.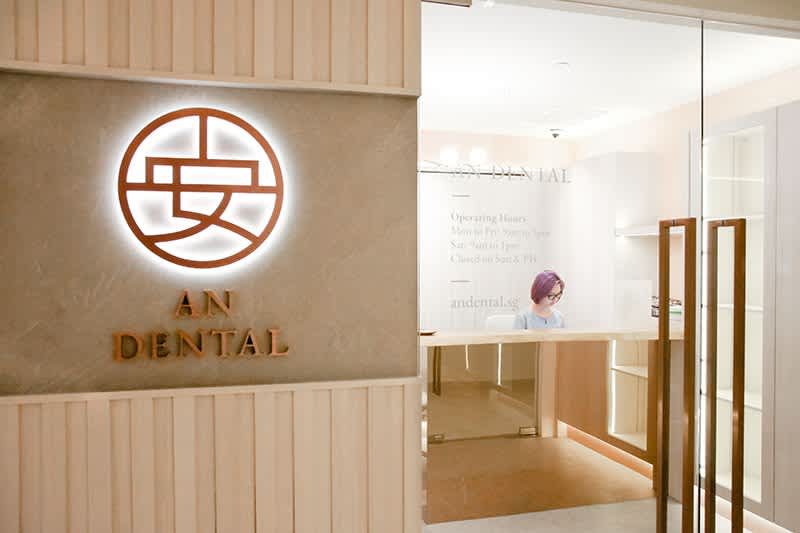 An Dental Clinic offers: Dental implants, gum disease treatment, aesthetic smile design, wisdom tooth removal.
Cost: $$$
Address: 360 Orchard Road #03-06/07, International Building, Singapore 238869
Phone: 6513 9549
Opening hours: Mon-Fri 9AM-5PM | Sat 9AM-1PM | Sun & PH Closed
With their name meaning 'peace and safety' in mandarin, An Dental is committed to providing you with a holistic dental treatment plan and is equipped with advanced medical technology to ensure a comfortable treatment experience.
An Dental's consultants and dentists each have more than a decade of experience under their belt, with Dr Willy Chang having seen more than 30 years (!!) worth of cases.
P.S. Dr Marlene Teo (a periodontist) is a bit of a legend within the dental circles for graduating with honours. The dentistry faculty only produces 1 honours student every 10 years or so!
Dr Teo is also very passionate about treating people with a strong dislike for going to the dentist and incorporates findings from the latest research in her treatment approaches for gum disease and inflammation!
3. Elite Dental Group
Elite Dental offers: Management of (severe) dental anxiety, dental implants, root canal treatment, children's dentistry, Invisalign, Ceramic inlays/onlays, smile makeovers, managing sleep apnea, biological removal of mercury fillings.
Cost: $$$$
Address: 1 Grange Road #12-03, Orchard Building, Singapore 239693
Phone: 6333 4456 (24-hour hotline)
Opening hours: Mon-Fri 9AM-6PM | Sat 9AM-1PM | Sun & PH Closed
Elite Dental Group was started to combat dental anxiety. The team's procedures revolve around this core mission, using things like noise-cancelling headphones to block out drilling sounds during a procedure.
If you are very anxious, you have the option of using a range of anaesthesia options. Examples range from simple sedative medication to full general anaesthesia for more complex procedures.
Dr Gerald Tan heads the practice and his recognitions speak to his accomplishments. For example, The Joint Dental Faculties, Royal College of Surgeons of England recognises only 2 dental surgeons as members.
Elite Dental Group is experienced in managing both adults and children, with Dr Jaclyn Toh and Dr Shawna D'dharan focusing on child dentistry. As an example of her dedication, Dr Shawna goes overseas to Cambodia to help set up mobile clinics and treat the children there.
4. Dentist@Orchard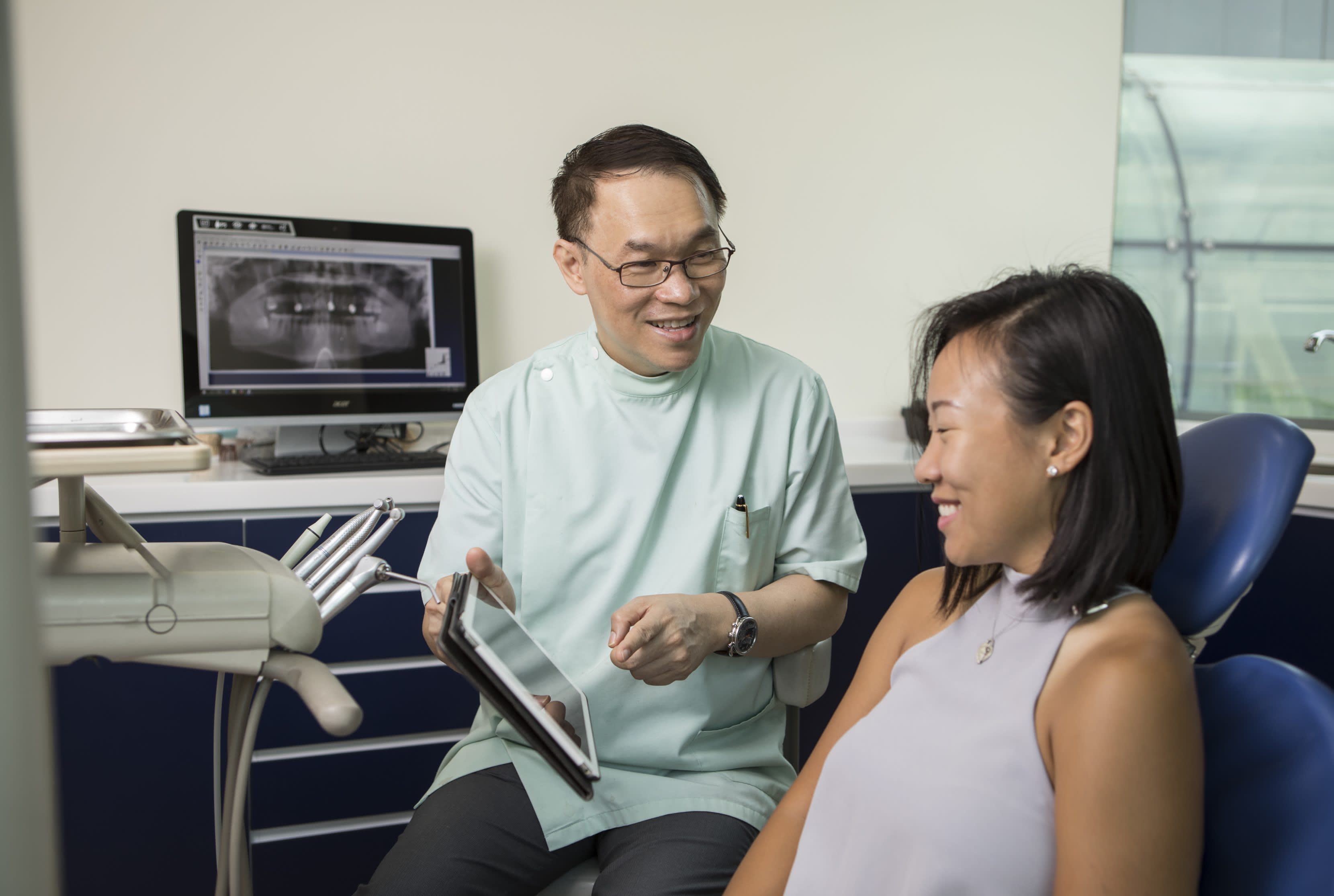 Dentist @ Orchard offers: Dental crowns, dental veneers, teeth whitening, dental implants, bridges, dentures, SmileDesign
Cost: $$$
Address: 277 Orchard Road #03-01, Orchard Gateway, Singapore 238858
Phone: 6738 5833
Opening hours: Mon, Wed & Fri 10AM-6PM | Tue & Thur 10AM-7PM | Sat 10AM-2PM | Sun & PH Closed
Focusing on aesthetic dentistry, Dr Kevin Ong is the dentist @ Orchard. What makes the Dentist stand out is Dr Kevin's very own creation of SmileDesign.
Created to address the difference between what patients want from what they need, SmileDesign helps you get the smile that's perfect for you. Dr Kevin believes there is no one-smile-fits-all and that you need it to be customised.
The idea is that once you've chosen SmileDesign, the dentist will create mockup smiles for your mouth that you can wear at home. You can check its colour and shape and after a while go back and make any necessary adjustments for the final smile!
Alongside this special procedure, Dentist @ Orchard offers a wide range of dental implants and crowning treatments for you.
5. Nuffield Dental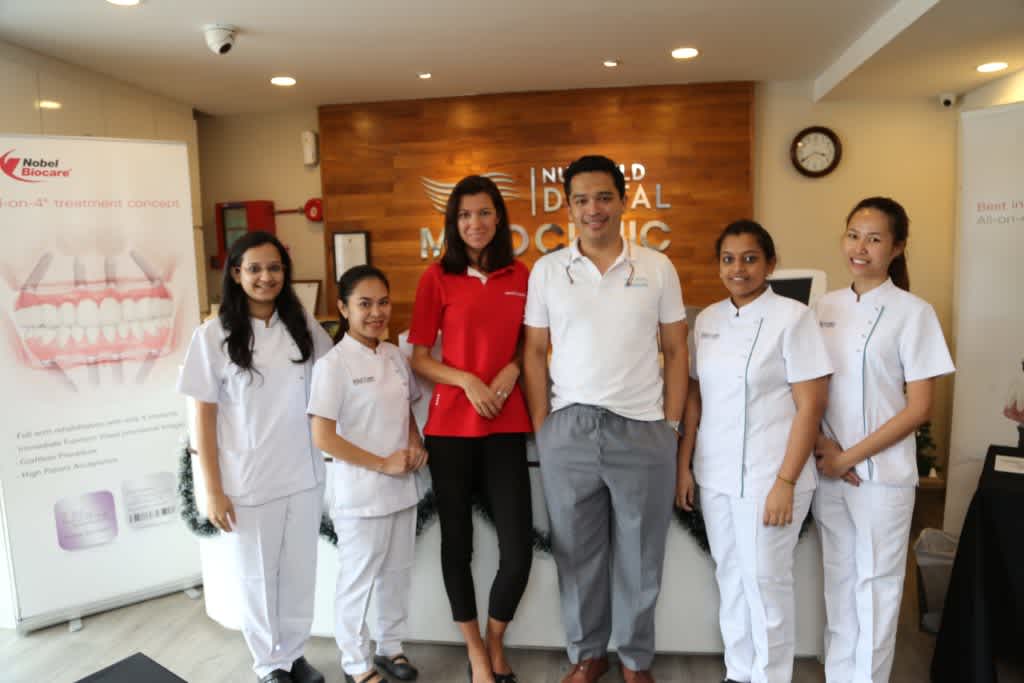 Nuffield Dental offers: Management of (severe) dental anxiety, infection control, root canal treatment, full mouth rehabilitation, All-on-4
Cost: $$$$
Address: 10 Sinaran Drive #09-26, Novena Medical Centre, Singapore 307506
Phone: 6397 2739
Opening hours: Mon-Wed 8.30AM-6PM | Thur 9AM-9PM | Fri 11AM-7PM | Sat & Sun 9AM-6PM | PH Open, but varying opening hours per holiday. Normally 9AM-5PM
With locations from Simpang Bedok to Harbourfront, Nuffield Dental has a wide range of dentists and branches on the Central to East side of Singapore.
While also being multi-disciplinary, Nuffield Dental offers a procedure called All-on-4. This procedure is an alternative to bone grafts and jaw rehabilitation when you are just about to lose, or have lost, all your teeth.
At the time of writing, Nuffield Dentist is one of the fastest growing companies in Singapore.
6. Canaan Surgery
Canaan Dental Clinic offers: General dentistry, fillings, scaling and polishing, orofacial pain and temporomandibular joint dysfunction, teeth whitening, braces, Invisalign.
Cost: $$
Address: 29 Upper East Coast Road Crescendo Building Singapore 455291
Phone: 6442 0293
Opening hours:
8.30am - 7pm (Mon - Fri)
8.30am - 5pm (Sat)
9.30am - 1pm (Sun)
Canaan Surgery's team of 4 dentists are known for their friendly and warm demeanour. Patients also love them for being especially caring and gentle during treatment.
A member of our editorial team had her fillings done with Dr Isaac Chong, and found him to be very detailed and meticulous. This treatment method tends to be much more time consuming, and hence is not commonly practised by many dentists.
Dr Isaac Chong is also proficient in treating orofacial pain and temporomandibular joint dysfunction, having pursued further training in the Orofacial Pain Center at the University of Kentucky.
7. T32 Dental Centre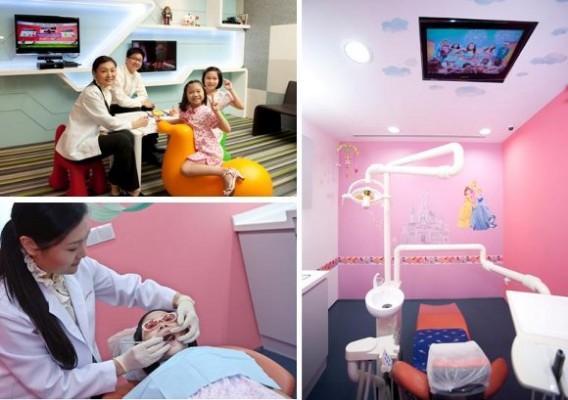 T32 Dental Clinic offers: Specialist dentistry, crowns and bridges, braces, implants, dentures, paediatric dentistry.
Cost: $$$$
Address: One Orchard Boulevard 17th Floor Camden Medical Centre Singapore 248649
Phone: 6733 1388
T32 Dental is one of the long-time players in the dental industry, with years of experience in specialist areas such as paediatric dentistry and implantology.
General dental practitioners regularly refer the complex crown and bridge cases to Dr Wong Keng Mun (a prosthodontist) at T32 Dental. Most dentists are also familiar with Dr Ang Chee Wan (a periodontist) as he lectures at the Faculty of Dentistry in NUS. Between the both of them, they run a specialised T32 Implant Centre that delivers customised implant care to patients.
T32 Dental also has a paediatric department as pictured above. It's one of the few dental centres in Singapore specifically put together with children in mind, and we won't hesistate to have them look after any of our own nephew or nieces.
8. Orchard Scotts Dental Clinic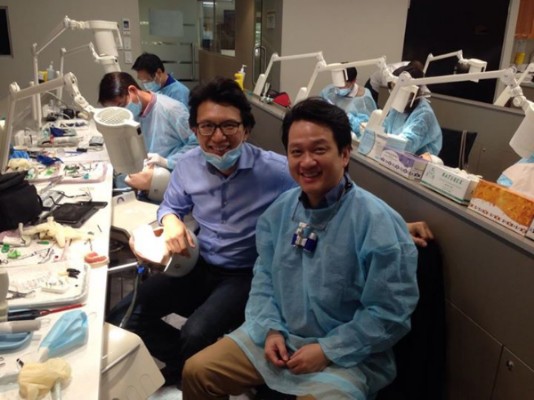 Orchard Scotts Dental Clinic offers: Aesthetic dentistry, smile makeover, Invisalign, veneers, teeth whitening, fillings.
Costs: $$$$
Address: 541 Orchard Road Liat Tower #07-01/02 Singapore 238881
Phone: 6732 9939
Orchard Scotts is one of the first dental clinics that comes to mind whenever we're asked for aesthetic dentistry recommendations.
Dr Jerry Lim and Dr Ronnie Yap regularly travel worldwide to deliver lectures pertaining to aesthetic medicine. Their rates are pricey, but as a result they have state of the art technology and machines - sometimes you can't have it all!
Fun fact: Orchard Scotts is the official dental clinic for Miss Singapore Universe finalists.
9. The Oral Maxillofacial Practice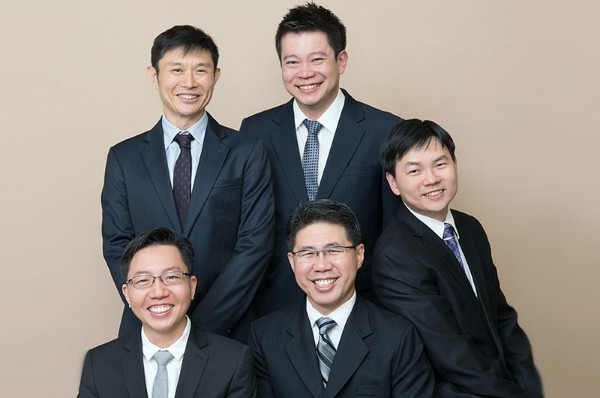 The Oral Maxillofacial Practice offers: Oral surgery, implants, wisdom tooth extraction.
Cost: $$$$
Address: 38 Irrawaddy Road #11-43 Mount Elizabeth Novena Specialist Centre Singapore 329563
Phone: 6737 1649
Opening hours:
This oral surgery practice has been established since July 2003 to provide comprehensive oral and maxillofacial surgery services.
If either of us ever needed to have our wisdom teeth removed, we would go to The Oralmaxillofacial Practice's Dr Gideon Wee or Dr Winston Tan.
Dr Gideon is a part time tutor at NUS. He is known for being gentle and caring with his patients, as well as reassuring and meticulous in his work. Dr Tan served as assistant professor in the Department of Oral Maxillofacial Surgery from 1997 to 2003. Both of them are renowned speakers in international circles, and conduct numerous workshops on dental implants and oral maxillofacial surgery.
As it turns out, a quick survey while we were writing this post showed that most of our friends had their wisdom tooth removed by either Dr Gideon or Dr Winston - their consensus was that "it didn't hurt at all!"

Dental On The Bay offers: Implant and restorative dentistry, aesthetic dentistry, Invisalign, pediatric dentistry, CAD/CAM dentistry, general dentistry.
Address: 1 Harbourfront Walk #02-230 VivoCity Singapore 098585 | 1 Raffles Link #B1-03/05 One Raffles Link Singapore 039393
Phone:
Vivocity: 6376 9001
Citylink Mall: 65133276
Operating hours:
Vivocity:
Monday to Friday : 10am to 9pm
Saturday : 9:30 am to 7pm
MBS:
Monday to Saturday: 10am - 9:30pm
With an easily accessible central locations at VIvoCity and Marina Bay Sands, Dental On The Bay utilises the latest dental technology and provides prioritised care for their patients.
Dental On The Bay focuses on providing holistic and comprehensive treatment to better suit each patient's needs. They also aim to ensure that patients are comfortable during treatment and consultation and hopes for patients to view them not just as their dentist but also as a friend.
Dr Chris Mak is available at both branches of Dental On the Bay and is especially keen and patient in treating adults and children. Dr Mak is clinically interested in Aesthetic and Restorative dentistry as well as Invisalign treatments.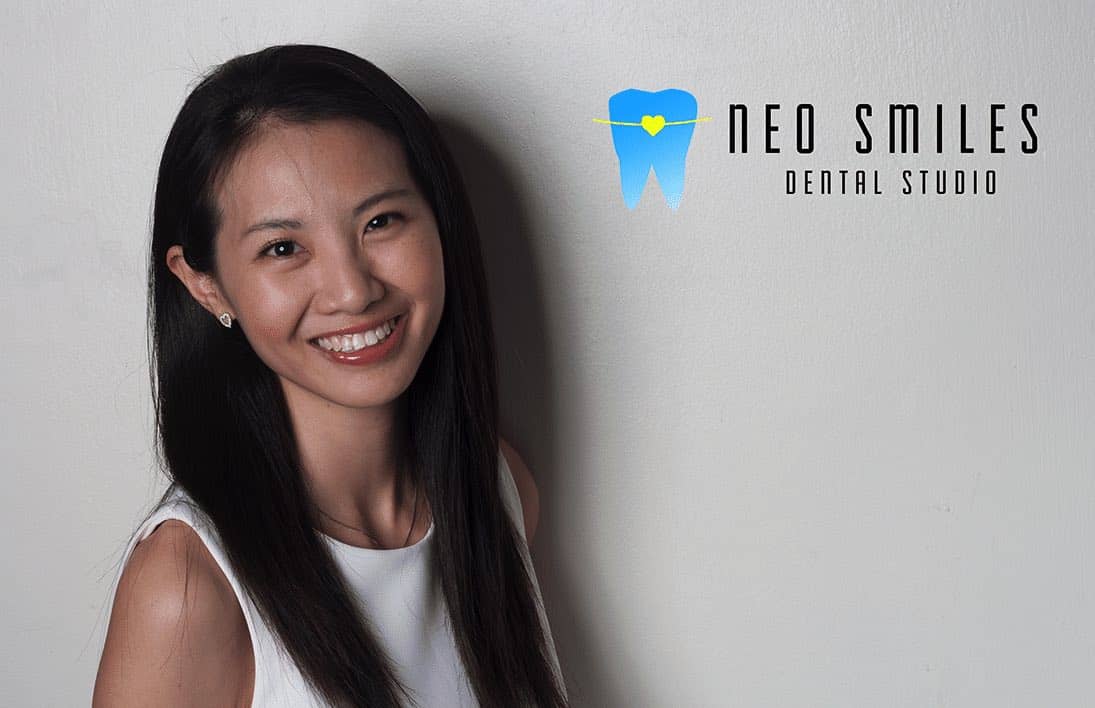 Neo Smiles offers: Braces, Invasalign, general dentistry, wisdom tooth surgery, implants, root canals, dentures, cosmetic dentistry
Address:
Bedok Branch: 214 Bedok North St 1, #01-153 Singapore 460214
Kovan Branch: 210 Hougang St 21, #01-273 Singapore 530210
Phone: 6481 0800 | 6386 0700
Operating hours:
Bedok: Mon - Thu : 10am - 8pm | Sat : 9am - 5pm | Sun : 9am - 2pm
Closed Fridays & Public Holidays
Kovan: Tue - Fri : 10am - 8pm | Sat : 9am - 5pm | Sun : 9am - 2pm
Closed Mondays & Public Holidays
Neo Smiles was established 5 years ago in May 2015 by Dr Neo Bijuan in hopes to better cater to the needs of children and parents.
Both clinics are equipped with advanced dental technology and aims to provide a comfortable treatment environment for patients
Dr Neo currently serves as the clinic Director of Neo Smiles and is a practising orthodontist. She had graduated from the National University of Singapore (NUS) in 2005 with a Bachelor of Dental Surgery and multiple awards for her outstanding performance. Following this, she went on to achieve a Master of Dental Surgery in Orthodontics.
Dr Neo is competent in the treatment of various dental malocclusions faced by adults and children and is passionate about treatment of dental conditions with the use of braces.
Also read this article comparing invisalign to other clear aligners.
---
This editorial section solely expresses the opinion of Human and is not endorsed nor commissioned by any external party. The list is non-exhaustive. At Human, we believe that your best provider of medical advice is your doctor. Please consult your doctor before undergoing any treatment or procedure. To find a comprehensive list of dentists and dental clinics, please click here.