Abdominoplasty or tummy tuck is one of the most well-known cosmetic surgical procedures in Singapore and around the world. You might have heard it mentioned in the media, in advertisements, and even in films. That said, do you know that a tummy tuck does so much more than just removing fat?
As a plastic surgeon, I have received a lot of questions about abdominoplasty. I am writing this article to help you understand everything there is to know about getting a tummy tuck in Singapore. Read on to find out more about the methods, costs, and also the factors to consider before getting a tummy tuck.
---
Read about male gynaecomastia, enlarged breasts, and how plastic surgery can help!
---
What is an Abdominoplasty?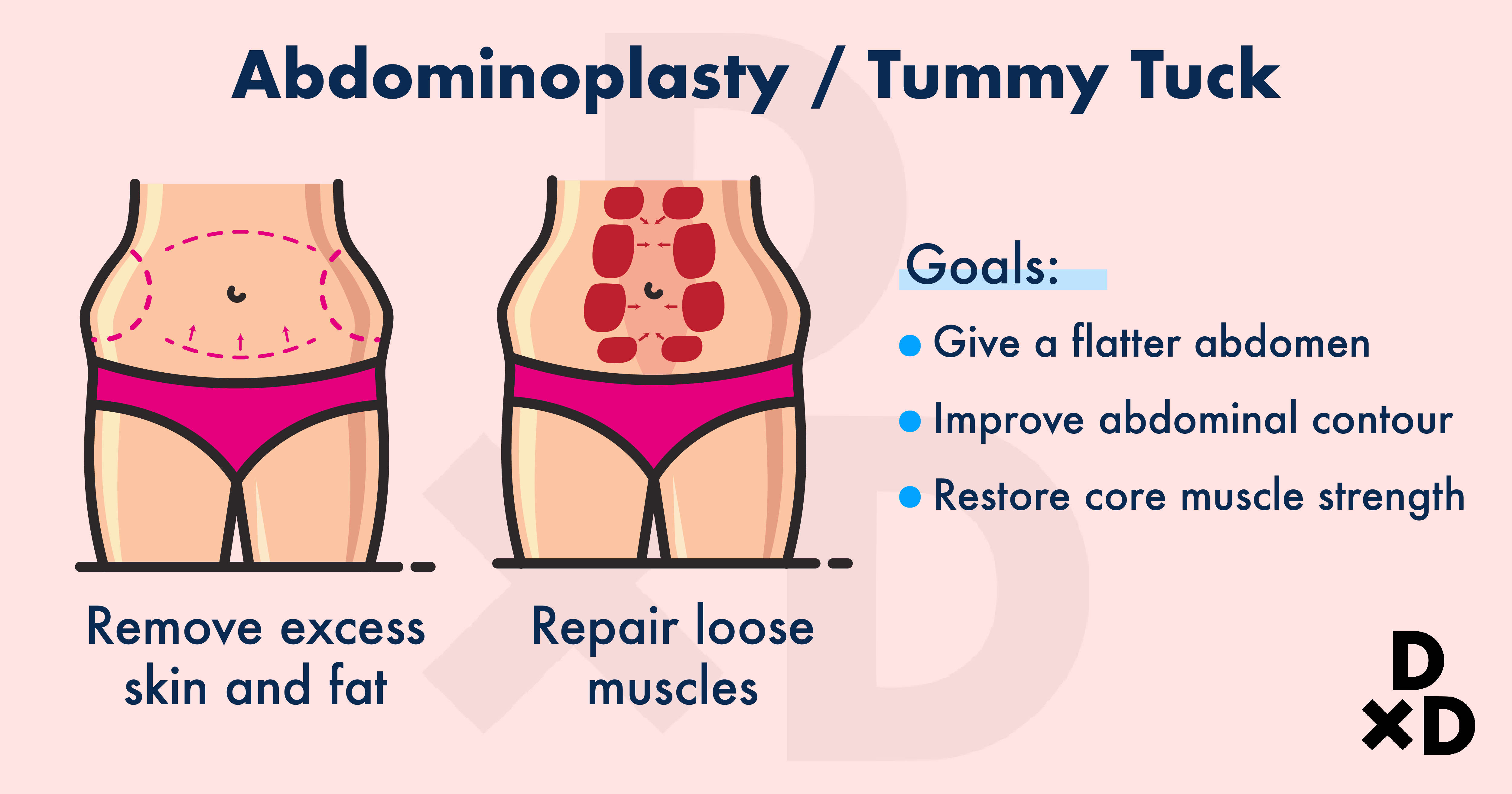 You might be more familiar with its other name, tummy tuck. From the name itself, you can figure out that it is a cosmetic surgical procedure to improve the appearance of your abdomen. This refers to the area from below your breasts/chest to the start of your pelvis.
The goal of an abdominoplasty is to:
Give a flatter abdomen
Improve abdominal contour
Restore core muscle strength
How does Abdominoplasty work?
Abdominoplasty can improve the contour of your abdomen by removing excess skin and fat. During the procedure, weakened or splayed abdominal muscles (rectus diastasis) can also be repaired [1].
Loose muscles are actually quite common. This is especially in:
Tightening these muscles would help people restore core strength and get a narrower waistline.
What are the Types of Abdominoplasty?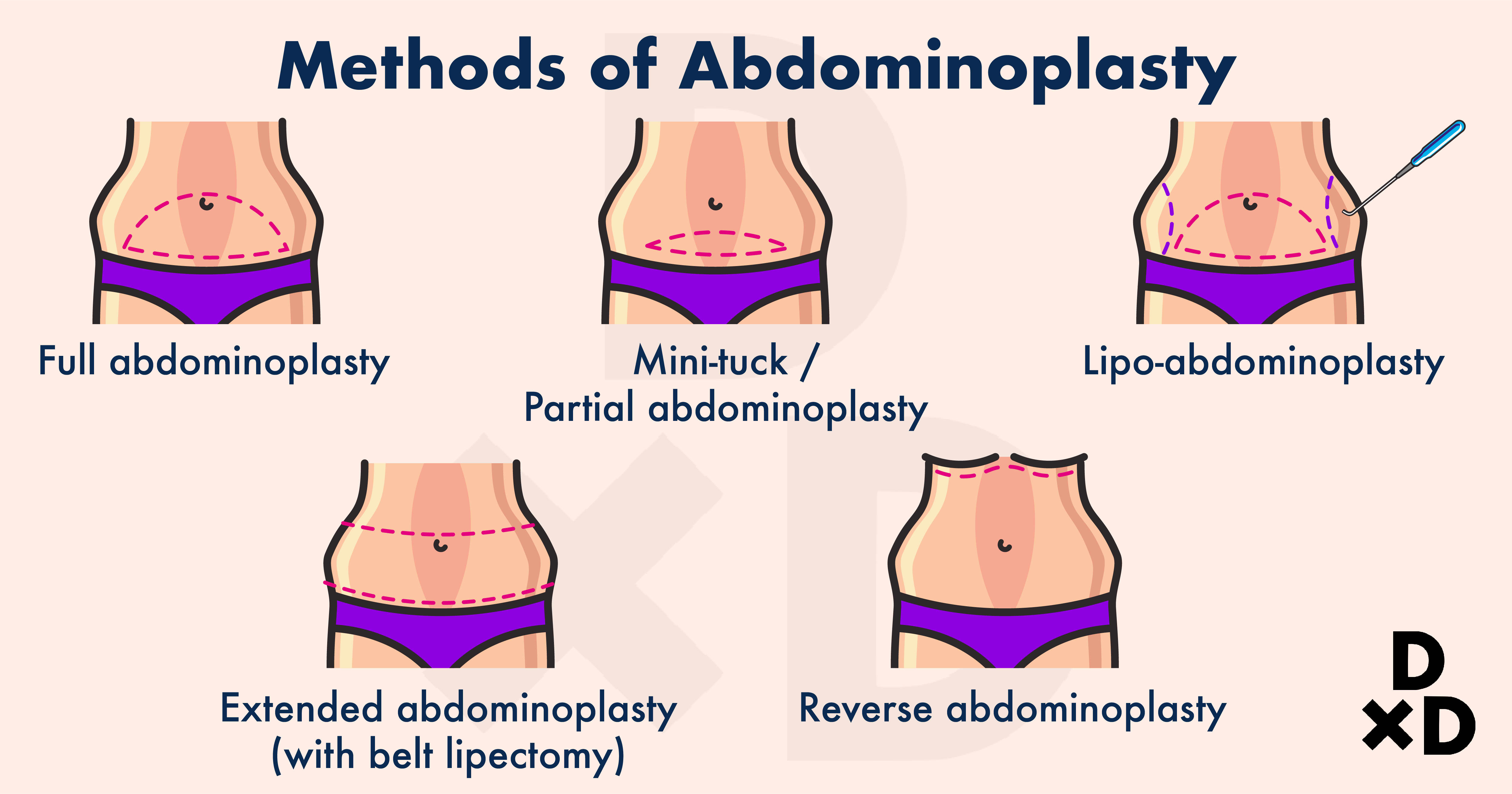 The tummy tuck procedure has changed a lot since it was first described in the 1890s [2]. Yes, that was over a century ago!
In Singapore, different methods of tummy tuck are available to help people receive optimal results. The different types can be done by itself, or as a combination with other procedures depending on your case.
Also read: Mummy Makeover: Everything You Need To Know About This Post-Pregnancy Surgery
Types of abdominoplasty include:
1. Standard Abdominoplasty [1]
The standard or full abdominoplasty involves an incision that goes across from one hip to the other and around the belly button. It is a procedure that helps shape your abdomen by removing excess skin and fat from the middle and lower abdomen. During this procedure, the abdominal wall muscles are also tightened.
2. Mini-Tuck [3]
A mini-tuck is also known as a short-incision abdominoplasty or partial abdominoplasty. The incision is much shorter, similar to the Pfannenstiel incision in a c-section.
A mini-tuck is ideal to address:
Bad scars from previous c-sections
Sagging skin or muscle only below the belly button
With a smaller incision, the recovery is generally much faster. However, there is a limited work area and is not as powerful as a full abdominoplasty.
3. Lipo-Abdominoplasty [4]
This is when a standard abdominoplasty is done together with liposuction. Liposuction is commonly and safely combined with abdominoplasty to improve the contour of areas above the belly button and flanks.
4. Extended Tummy Tuck (with a Belt Lipectomy) [3]
This is when excess skin on your sides and back are removed along with the standard tummy tuck. The procedure is recommended for patients who have loose skin around the sides and back. An extended tuck can also help improve the contour around the thigh and buttocks.
As you can imagine, the incision made is longer. This means the surgery results in a longer scar and may require a longer recovery period. However, some patients might need this method to achieve optimum results. This is the case for people who have undergone massive weight loss and also after bariatric surgeries.
5. Reverse Tummy Tuck [5]
In this method, the incision is made on the underside of the breasts. With that, excess skin is removed from the upper abdomen.
A reverse tummy tuck is ideal for those with loose skin only above the belly button.
It is always best to get a detailed consultation with a doctor before committing to a tummy tuck. I always tell patients to discuss and learn about the benefits and side-effects of all possible treatment options before committing to any of them.
What happens during a Tummy Tuck surgery?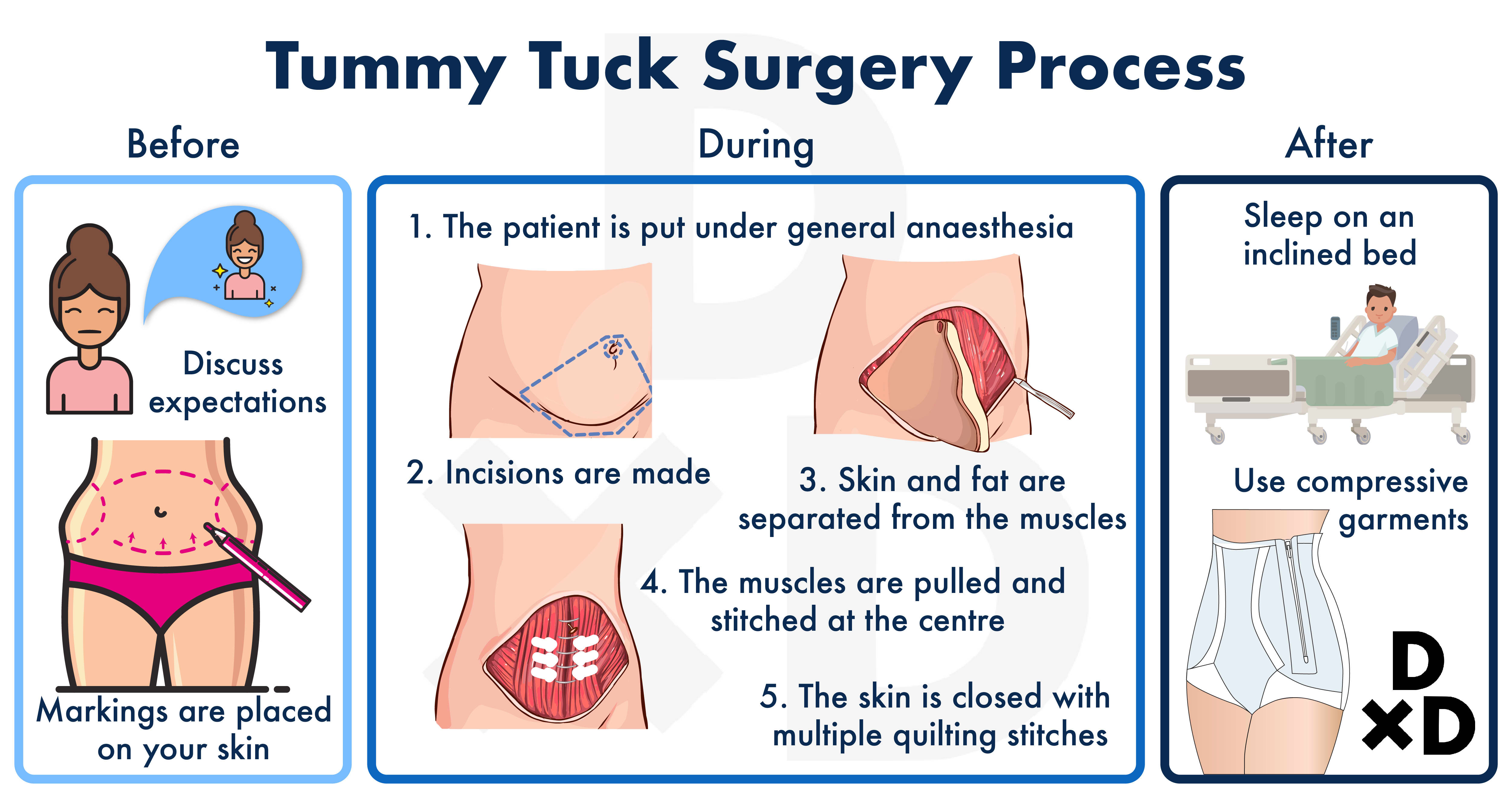 A tummy tuck is a major surgical procedure. The procedure itself is also quite invasive. It is best to prepare yourself by understanding what will happen before, during, and after the procedure.
Before the Surgery
You will be asked to stand while the doctor places markings on your skin. This is done to identify:
Areas for liposuction
Excess skin to be removed
Presence of any split in the abdominal muscle that will need a repair
During the Surgery
You will be placed under general anaesthesia for the procedure. The surgery itself can take 2-4 hours.
In the case of a full abdominoplasty, the doctor will then make 2 incisions placed:
Low on the abdomen from one hip bone to the other
Around the belly button
The abdominal skin and fats are then lifted off. This will expose the abdominal muscles and fascia that covers it. The fascia is a layer of connective tissue found directly below the skin. It separates the muscles from internal organs [6].
The abdominal muscles are then pulled towards the centre and stitched together. Currently, there are stitches that are strong enough to restore abdominal strength. They are also naturally absorbable by the body so that you will not feel any discomfort after they dissolve. This will help give patients:
Narrower waist
Firmer abdomen
Improved core strength
The skin is then draped over the lower incision and the operating table is bent into a V-position. This will allow doctors to remove the excess skin and fat, and close the incisions without tension.
The belly button will then be repositioned so that it looks natural. Finally, the skin will be closed with multiple quilting stitches to reduce the chances of fluid collection. This method may allow skin closure without drain and also a generally faster recovery [7].
After the Surgery
Most patients will need to stay in the hospital overnight. Generally, patients are discharged after 1-3 days, though this may vary.
Depending on your condition, doctors might prescribe pain medication, antibiotics, or blood-thinning medication for a few days after the abdominoplasty.
A temporary tube may also be inserted under the skin to drain excess fluids. Depending on your case, this might take a few days. That said, some patients can have their incision closed without drains.
During the recovery period, your bed should be inclined to reduce tension over the stitches. At home, you can use a pillow to slightly raise your upper body. This will:
Give time for the skin to stabilize in its new position
Prevent the scar from stretching
Reduce swelling
Prevent excessive pain
Most patients are able to resume normal activities after a week or two. That said, I would recommend that you skip out on heavy exercise until you achieve full recovery.
Doctors would also generally recommend that patients use a compression garment (abdominal binder) for up to 3 months after the surgery. This support garment helps to brace the abdomen during recovery, especial the first few days after the surgery! They help to reduce movement and pain, as well as prevent the accumulation of fluid to ensure a smooth recovery [8]. This will also help you get the optimum results.
In any case, always follow the recovery protocol and follow-up schedule from your doctor to prevent complications!
What are possible complications of Abdominoplasty?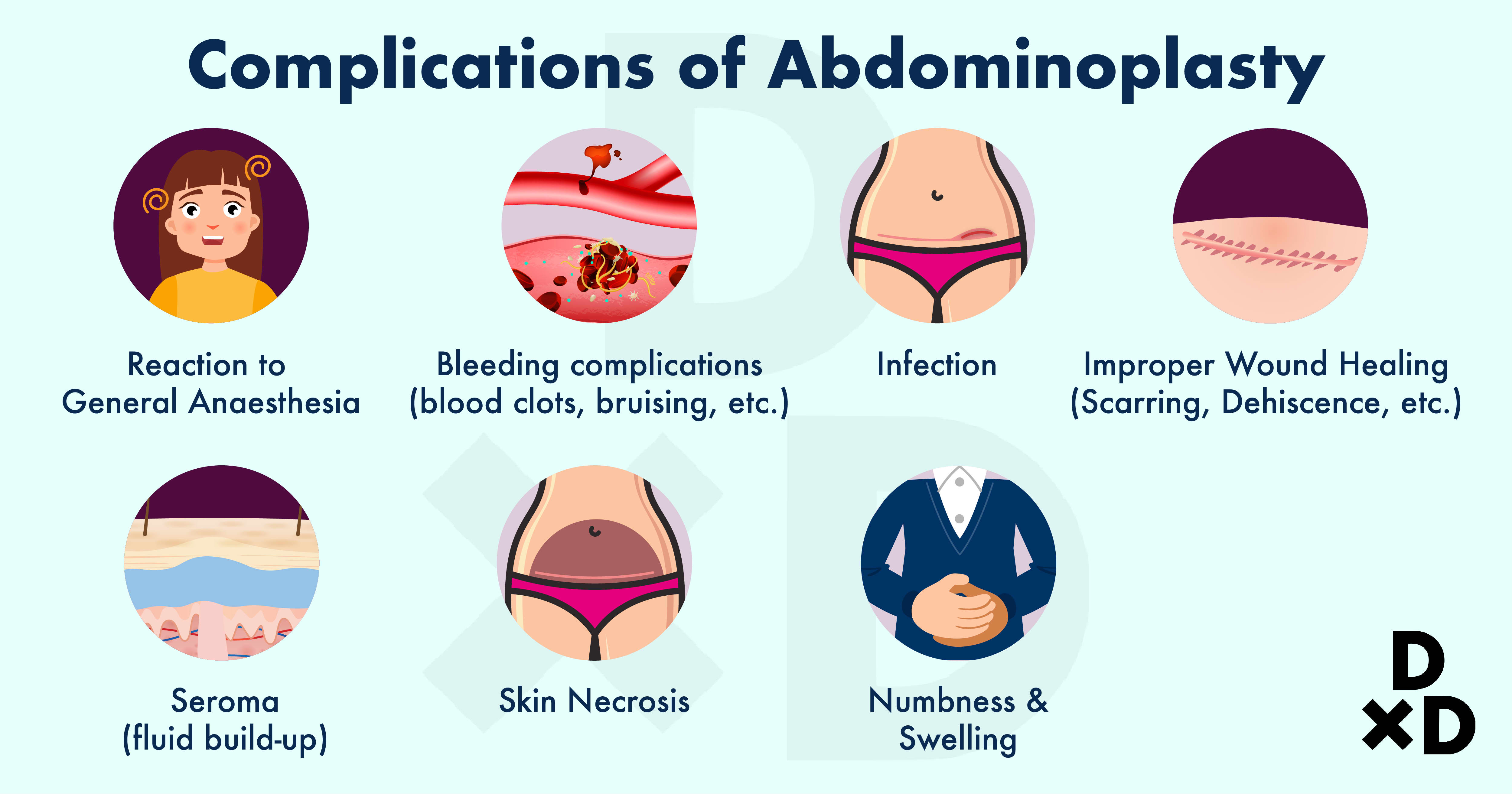 The procedure itself is generally safe. There should be minimal or no complications if the surgery is performed by an experienced surgeon.
That said, a tummy tuck is still a major surgical procedure. It does have certain possible complications that you might want to take note of. This includes:
Reaction to general anaesthesia
Bleeding complications such as blood clots and bruising
Infection
Scarring, which can be reduced with post-operative scar treatment
Accumulation of fluid after the surgery (seroma)
Poor wound healing or wound separation (dehiscence)
Skin necrosis around the lower abdomen and belly button
Numbness
Swelling from the surgery
Most of these complications are reversible and some might even resolve itself after a few days. If you see any prolonged side-effects, do consult your doctor as soon as possible!
How maintain optimum results after a tummy tuck?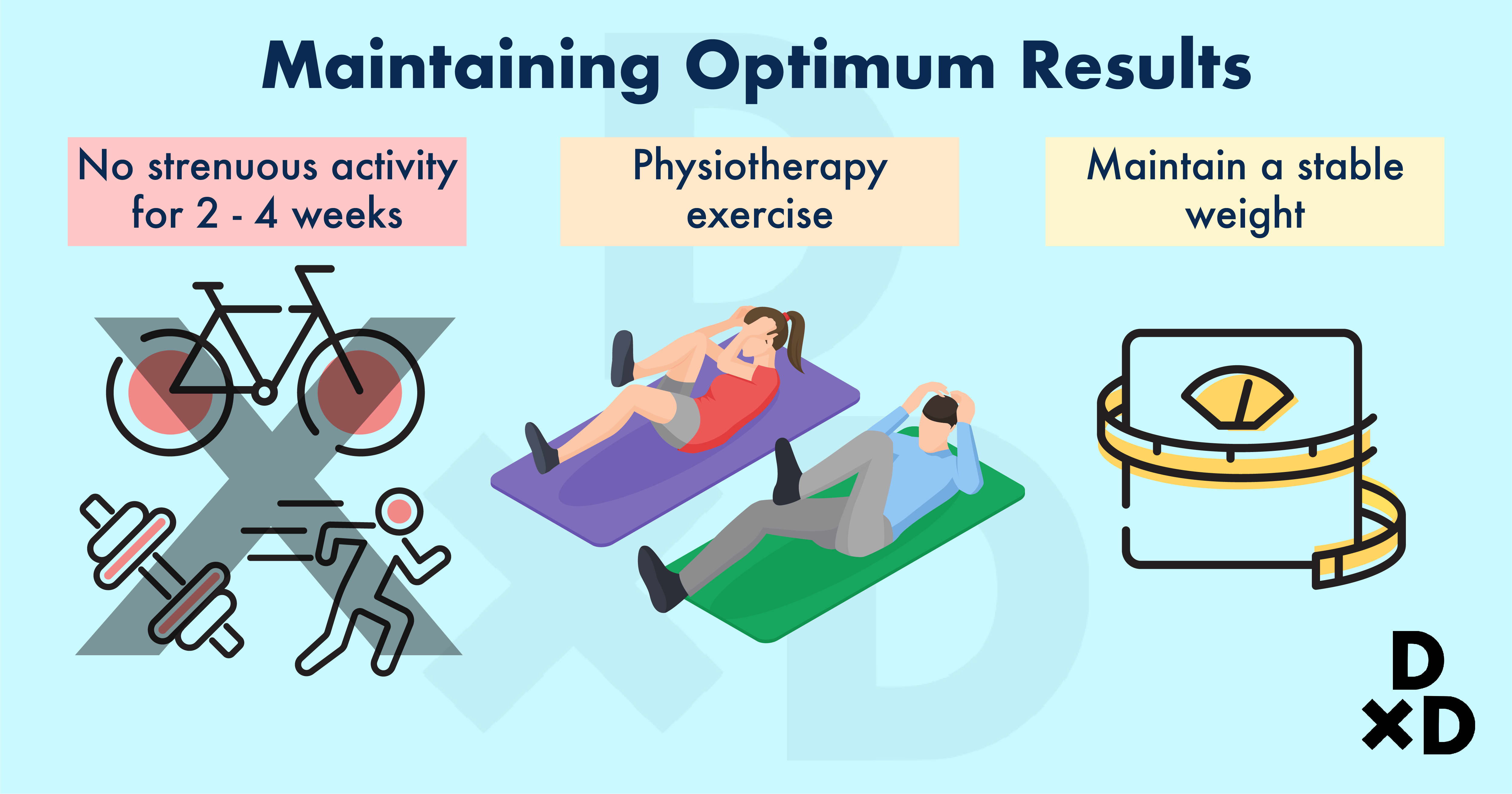 The first step is to follow the recovery protocol from your doctor. A good recovery after the surgery sets the stage for long-lasting results. The recovery process is just as important as the surgery. If you have any concerns, make sure to clarify them with your surgeon!
As a general guide, do not engage in strenuous activity for at least 2-4 weeks. This is to ensure that the wound is healed before moving on to the next stage of recovery.
An abdominoplasty often involves making changes to your abdominal muscles. After the procedure, they need time to recover and stabilize. For that, you might have to go through physiotherapy exercises to ensure that it heals correctly. It might take time, but a guided recovery would restore or even improve your level of fitness [9].
On top of that, it is important to maintain a stable weight. This ensures that the tummy tuck has long-lasting effects in improving the appearance of your abdomen. This could be done by:
How do I know I am a good candidate for abdominoplasty?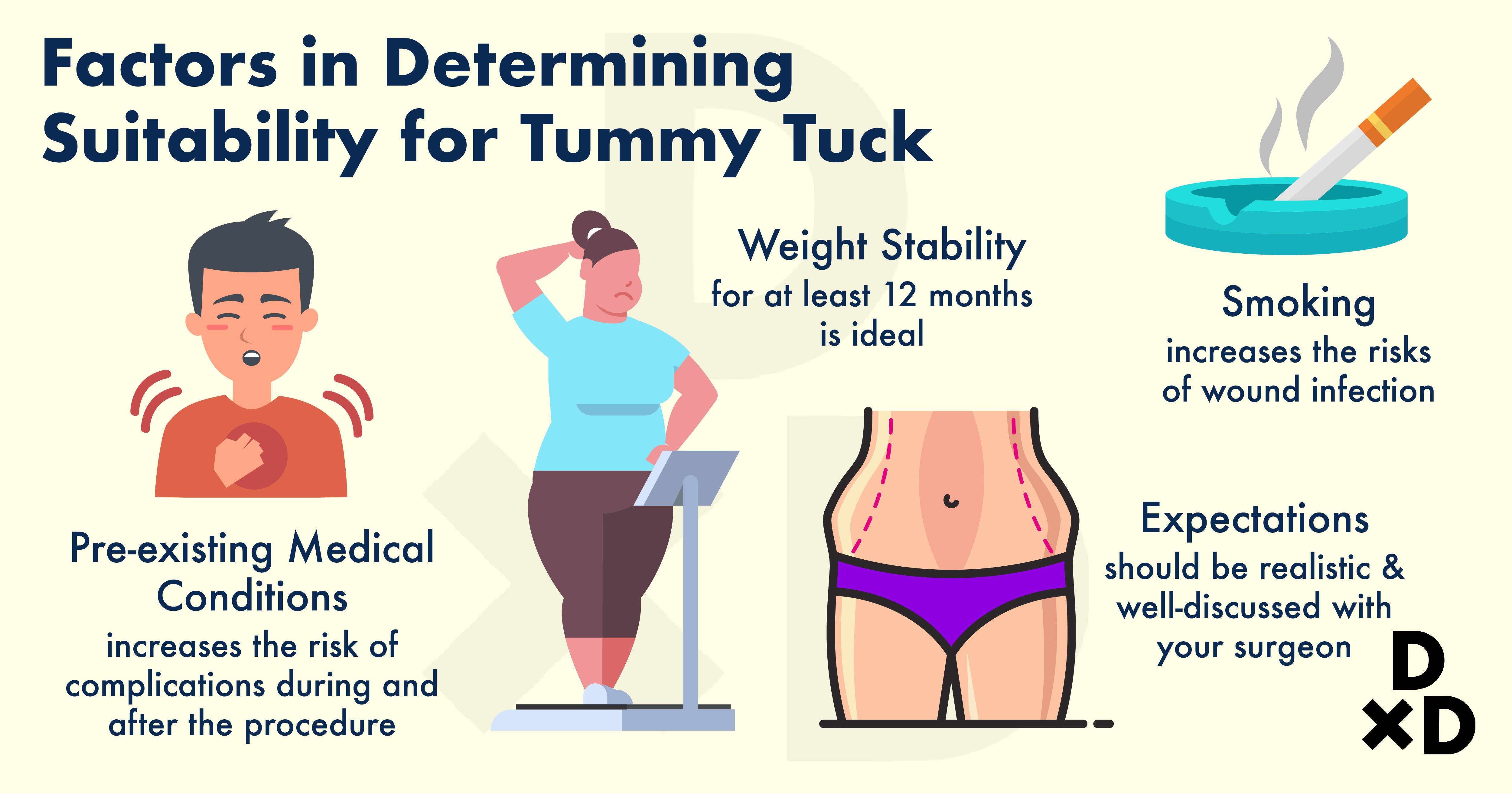 You might be considering a tummy tuck because you are bothered by the appearance of your abdomen. You might have loose skin and stubborn fat pockets that do not resolve even after exercise. Some patients may have also been told by their pilates or yoga instructors that they have weakened abdominal muscles after childbirth which causes a bulge in their tummy despite exercise.
A tummy tuck can help with those concerns but there are also other factors doctors usually consider before recommending the procedure. As a general guide, you should be physically healthy and have a stable weight for the last 12 months [10].
Other factors include:
Whether or not you smoke
Pre-existing medical conditions
Your expectations
If you are seeking a tummy tuck, it is best to consult an experienced doctor first. You should always declare all pre-existing medical conditions, as well as the medication and/or supplements you are currently taking. Through a physical check-up and consultation, your doctor would then be able to suggest treatment options that are most suited for you.
What are the contraindications of a tummy tuck?
An abdominoplasty is not for everyone. For some people, the possible risks brought by the procedure can be so much higher. I have listed below a few factors doctors usually consider.
Reason
Planning to conceive
Pregnancy can undo the effects of a tummy tuck by:
Causing separation of abdominal muscles
Re-stretching your skin
Unstable weight
Increased risk of wound recovery complications
Severely overweight
Increased risk of complications
Smoking
Increased risk of wound infections
Pre-existing medical conditions
Certain medications can increase the risks of excessive bleeding
This list is not extensive. There are many other factors that doctors consider depending on your medical history and current condition. The only way to know for sure is to go for a detailed in-person consultation.
How should I prepare for a Tummy Tuck in Singapore?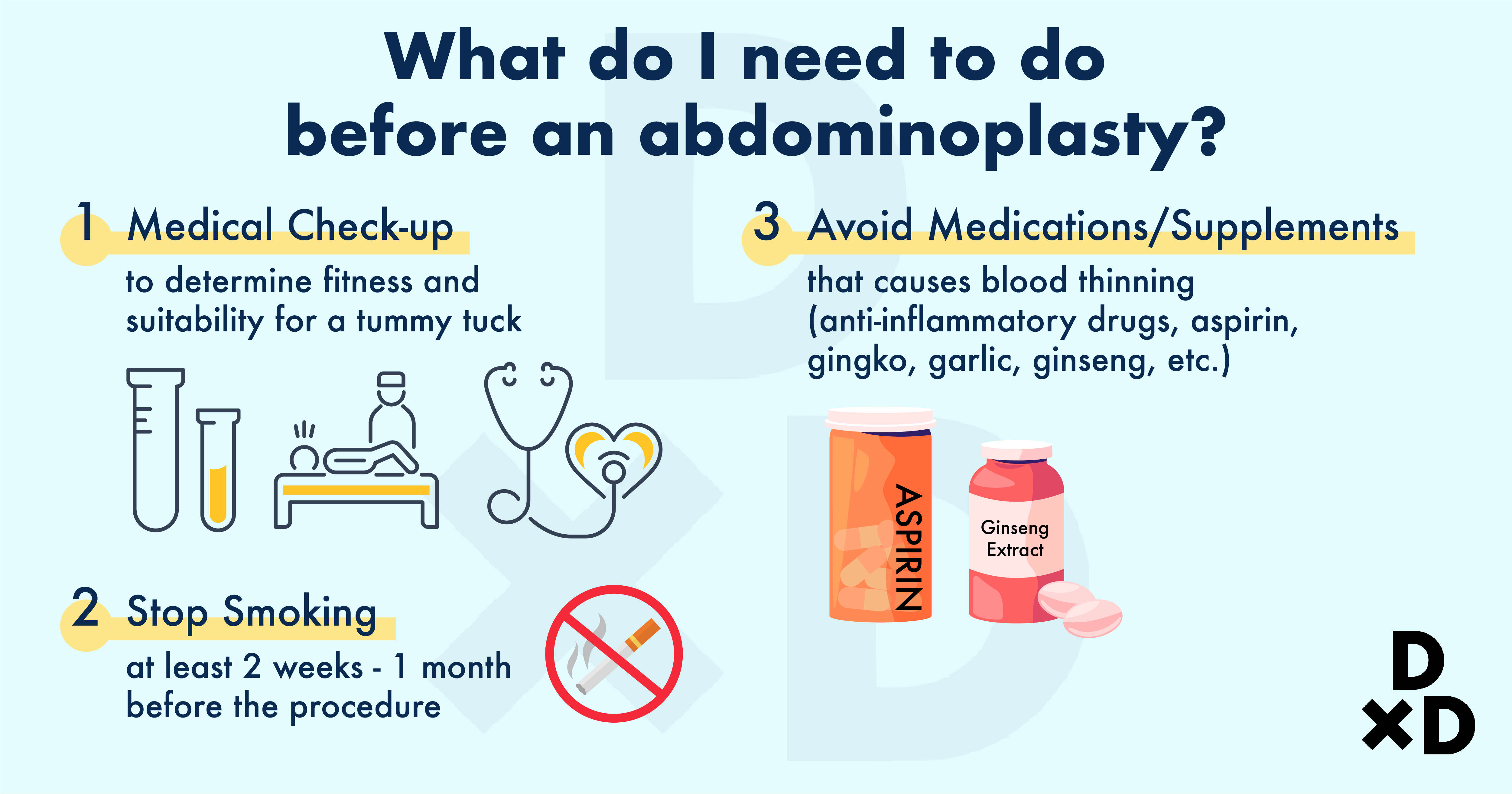 The first step is to consult and discuss the benefits and risks of abdominoplasty with your surgeon. You should get the details of your surgical plan before proceeding with the procedure.
Before getting the procedure, your doctor may ask you to:
Get a medical check-up

Depending on your age and medical condition, you might have to get a thorough medical examination. This includes a thorough history and clinical examination, as well as blood investigations to assess whether or not you are fit for a tummy tuck.

Stop smoking

As a general guide, smokers seeking a tummy tuck should stop smoking for at least 2 weeks - 1 month before the surgery. This is to prevent possible complications during and after the surgery.

Avoid certain medications

Some medications can cause blood thinning. Some examples include:

Anti-inflammatory drugs
Aspirin
Some herbal supplements (ginkgo, garlic, ginseng, etc.)

You should stop taking these medications at least 1 week before the surgery. If you are unsure, it is best to ask your doctor.
Once you are deemed suitable for an abdominoplasty, your doctor will give you a more detailed list of what to do or to avoid before the procedure. This might be different for each patient, so do check with your surgeon! Remember to follow the protocol to ensure that the surgery runs smoothly.
Tummy tuck, a solution to loosing weight?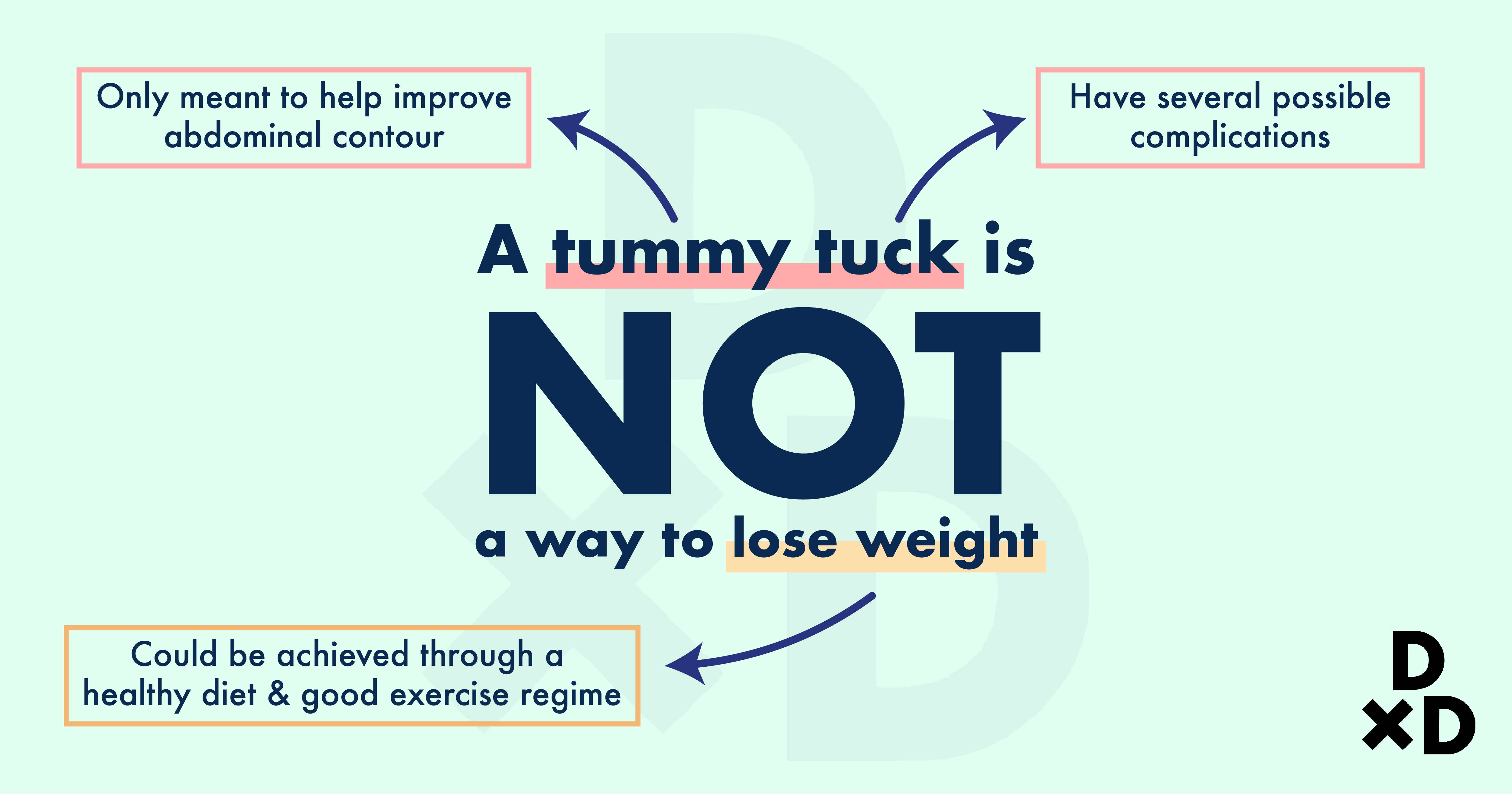 Please note that a tummy tuck and liposuction are NOT tools to lose weight. They are only meant to help you get a better abdominal contour. In any case, a tummy should never replace a healthy lifestyle with a balanced diet and regular exercise regime.
Related: What's the difference between liposuction and a tummy tuck?
That said, research has shown that some patients continue to lose weight after their abdominoplasty [11]. This is likely to happen because they are motivated to maintain a healthy lifestyle and a good exercise regime after getting the procedure.
A tummy tuck is a major surgery and that comes along with some possible complications. For that reason, you should never consider this a quick fix to losing weight!
If your main aim is to lose weight, I would still recommend exercise and a change in your diet. You can consult a doctor or nutritionist if you need help!
Also read: A Doctor's Ultimate Guide To Effectively Losing Weight
What other similar procedures are available?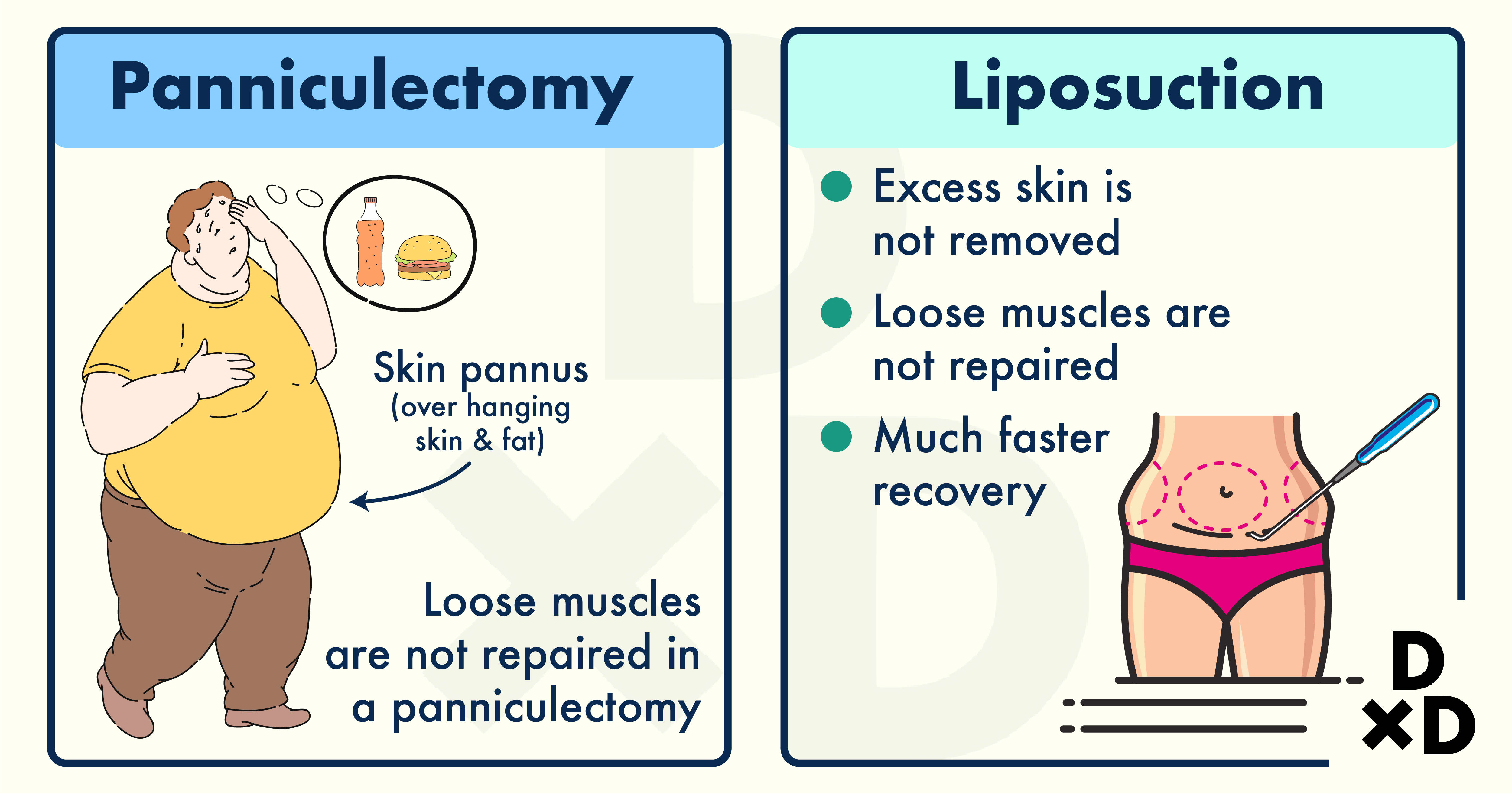 Panniculectomy [12]
This is a procedure done to remove excess skin and fat below the belly button. It can be considered as an alternative if you are not suitable for a tummy tuck.
Overhanging skin and fat (pannus) in severely obese patients can cause skin infections and rashes. This is because they tend to cause irritation and sweating. Doctors can recommend a panniculectomy to help with this problem.
Unlike an abdominoplasty, this procedure does not involve the belly button. There is also nothing done to change the position of the abdominal muscles.
Liposuction [13]
The main difference is that there is no removal of excess skin in liposuction. The abdominal muscles are also not repaired.
Liposuction can help improve the appearance of your abdomen by removing excess fats from small incisions placed along the pubic line.
Because the incisions are much smaller, the recovery time is also much faster. However, the results are not as dramatic as a full tummy tuck.
---
Read more: The Essential Guide to Liposuction in Singapore by a Plastic Surgeon (2020)
---
Where can I get a tummy tuck in Singapore?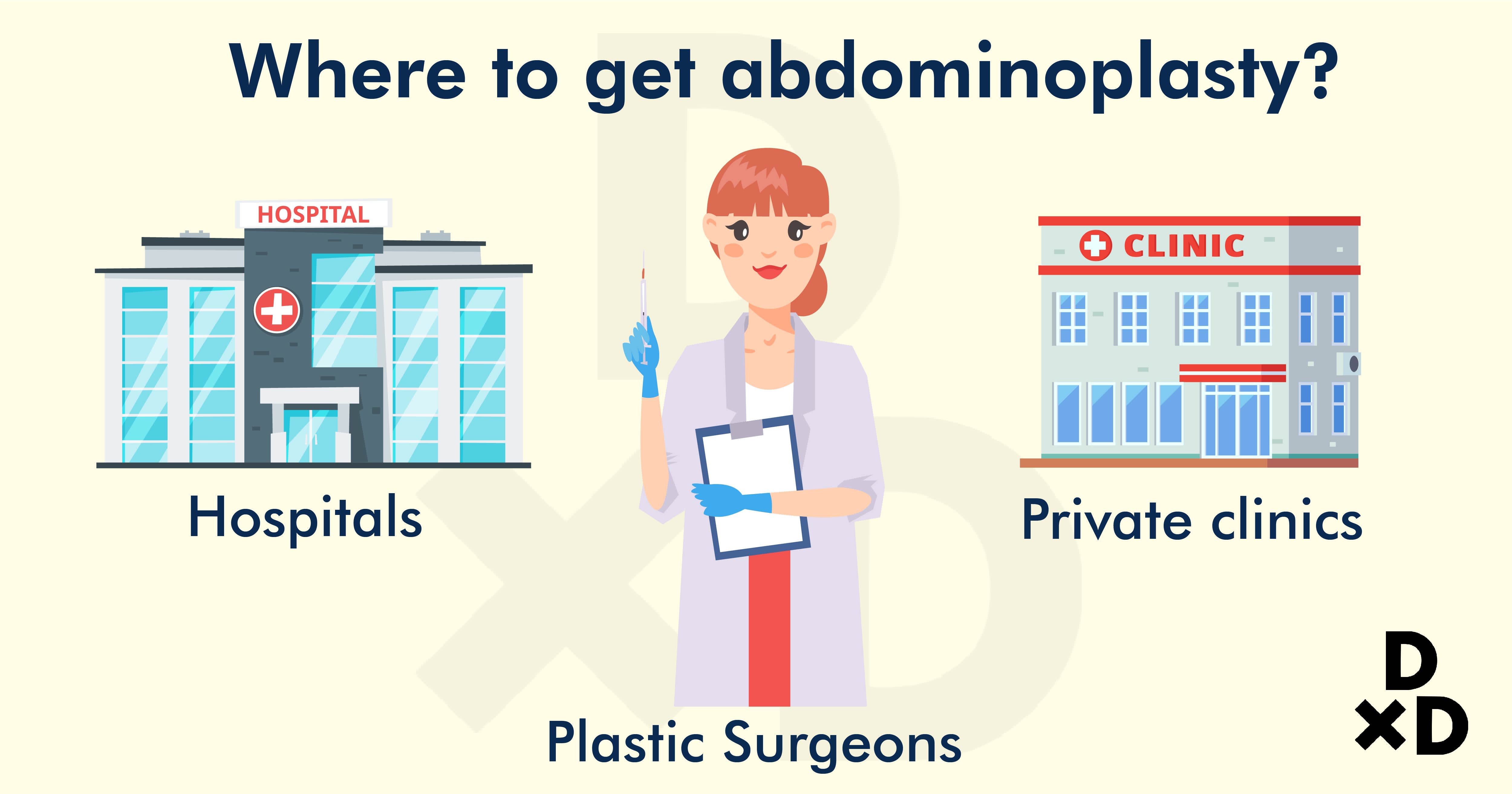 An abdominoplasty can only be done by Plastic Surgeons [14]. You can find them in hospitals and private clinics all around Singapore.
I always recommend that you find a surgeon that can understand and agree with your concerns and expectations. As mentioned before, you should always discuss all the risks and benefits of the procedure before getting them. You can also ask for pictures of his/her previous patients to see whether or not it matches your expectations.
What affects the cost of abdominoplasty?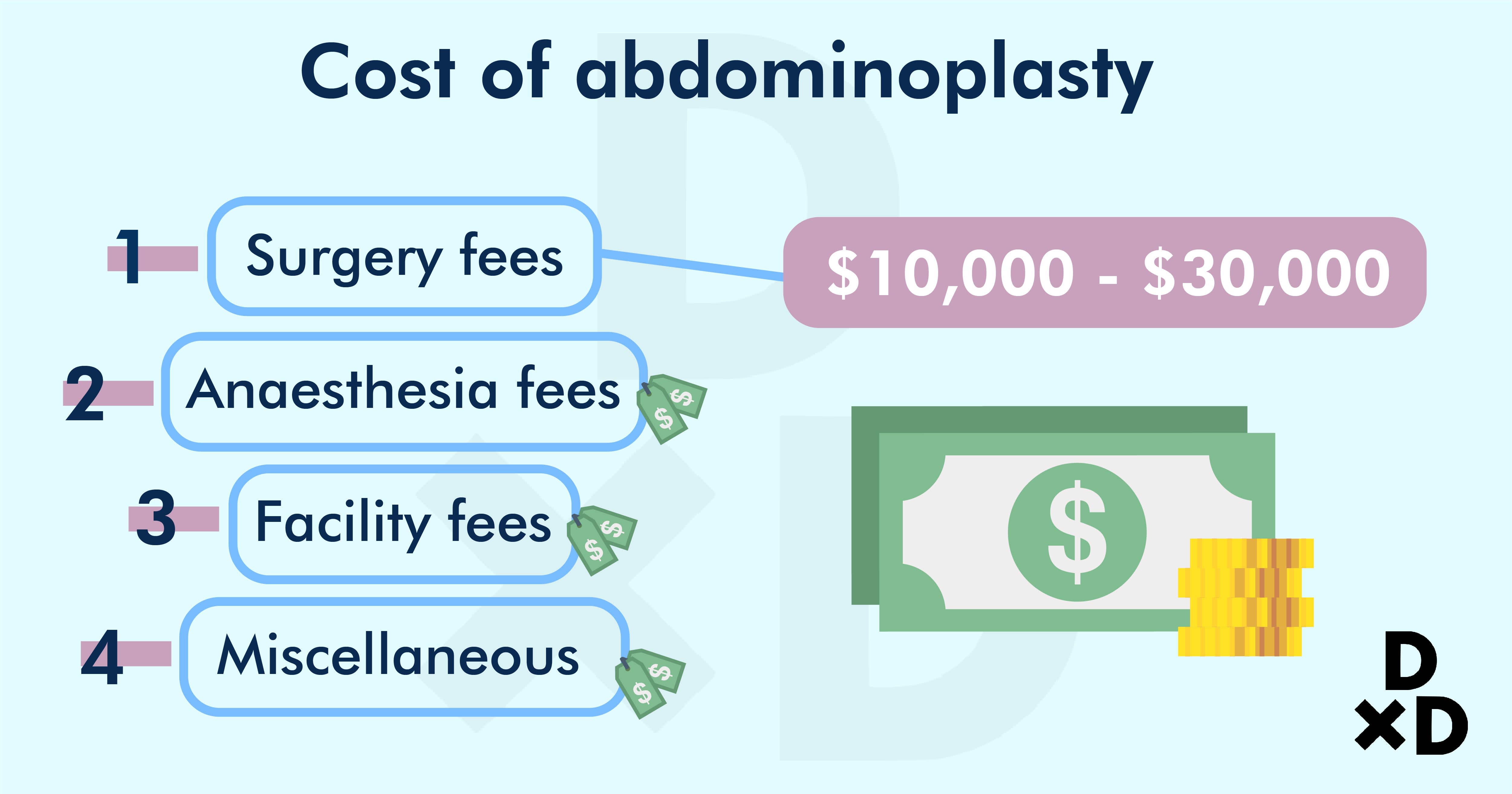 Depending on the type of abdominoplasty selected, the surgical fees itself will range between $10,000 - $30,000.
An accurate estimation of the abdominoplasty can only be determined after your doctor has assessed your condition during the initial consultation. The fees can be broken into:
Surgery fees

This depends on the complexity of the surgery. Based on the first consultation and your expectations, the doctors will recommend the areas to target. This is why it is important to see the doctor in person and get a thorough consultation so that they can advise the surgical plan.

Anaesthesia fees

Almost all tummy tuck surgeries are done under general anaesthesia. The anaesthesia fees would most likely depend on the duration of the surgery.

Facility fees

This depends on which hospital you go to and how many nights you stay before getting discharged. This might vary so do check with your surgeon!

Miscellaneous

After the surgery, you might need to take medications, scar creams, and even physiotherapy to help you recover. You will also need to wear pressure garments. This also might vary depending on where you get the tummy tuck, so do check with them during your consultation.
Is tummy tuck surgery covered by insurance in Singapore?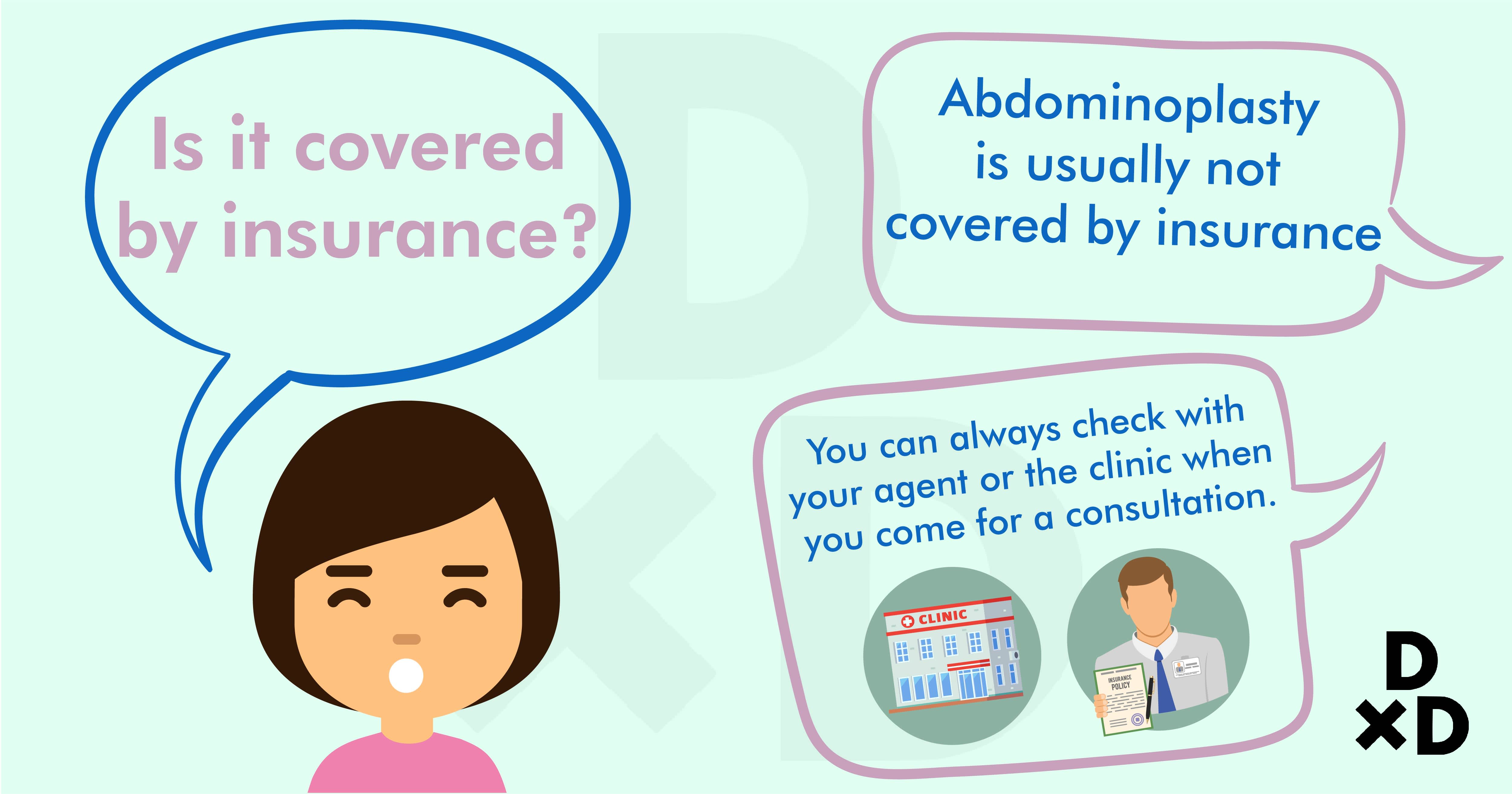 An abdominoplasty is usually not covered by insurance. An exception might be if you need to repair abdominal and umbilical hernias. Those are medical indications and might be covered by insurance.
This will differ for every patient depending on your insurance policy. You can always check with the clinic or your insurance agent when you come for a consultation.
---
I wrote this article based on my experience as a plastic surgeon in Singapore. Out of everything, the most important note is that your treatment plan will be different from another person. Abdominoplasty is only one treatment option. There are also different types of tummy tuck.
Choosing the correct treatment might be hard and confusing. But do not worry, doctors are here to help you solve your concerns! If you searching for a treatment, consult your doctor to find out which one is most suitable for you.
I wish you the best of luck!
---
Dr Terence Goh is a Plastic Surgeon at AZATACA Plastic Surgery and is currently the president of the Singapore Association of Plastic Surgeons, and the vice-chairman to the Chapter of Plastic Surgeons, Academy of Medicine, Singapore. His area of practice is in reconstructive microsurgery, which includes breast reconstruction, complex head and neck reconstruction, lower limb salvage, and lymphatic reconstructive surgery.
Read more of Dr Terence Goh's QnA here.
Would you like to ask any related health questions?
You can Ask A Doctor right away, or request for treatment quotes from doctors.