Are you looking for an aesthetic clinic to remove your eyebags? Join us in our webinar as we explore the non-surgical alternative to removing eyebags permanently.
Title: Consult an Aesthetic Doctor: Non-surgical Eyebag Removal
Date: 20th January 2021
Time: 8pm
Register Here: http://bit.ly/37l7B6d
---
In recent years, there's been an ever-increasing number of aesthetic clinics in Singapore. This makes picking a trusted aesthetic clinic in Singapore extremely challenging.
Many people rely on Google with searches such as "best aesthetic clinic Singapore" and "aesthetic centre Singapore". This isn't the ideal solution! Most clinics in the top results inadvertently spend large amounts of money to get there.
It covers commonly asked questions such as:
How to find an aesthetic centre in Singapore that caters to your specific needs
How to determine whether an aesthetic doctor is experienced in the specific treatment
What affects the costs of aesthetic clinics in Singapore
Having spoken to many of my patients on a personal level, the best way to find an aesthetic doctor best suited to your needs is to physically explore the options available.
Marketing teams often paint an image of clinics and doctors online, giving a persona that might not be true to real life when you actually get there.
From my interactions with my patients, these are the key factors that affect their decision when they are choosing a doctor.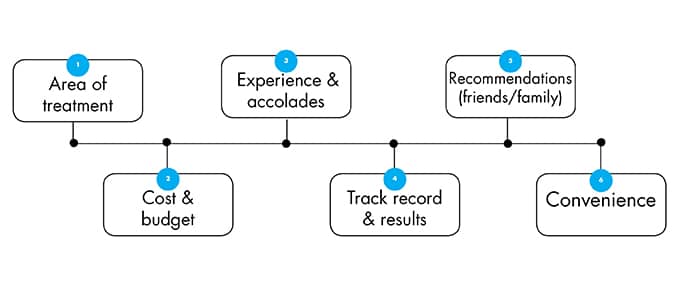 1. Start with online research on Singapore's aesthetic clinics
I'd advise you to begin by reading extensively about your concerns online.
It's important to have an in-depth understanding of your condition. With that, you'll be able to ask your doctor the right questions that help him/her determine your needs.
You should also do your research on your clinic options. There are many clinics in Singapore that offer similar aesthetic treatments.
It's best if you look these up:
Qualifications of the doctor performing the treatment
His/her online reviews
The clinic's treatment philosophy
2. Get word-of-mouth recommendations
However, much of what is online can be skewed. To get an all-rounded perspective, ask your friends and family for recommendations. Word-of-mouth is a good way of attaining opinions.
You'd be able to get valuable insights from the people you trust. You might also be able to see the end-result of the doctor's work in real life.
3. Know the doctor through your consultation
Consultation is a very important process. This is the best time for you to get to know your doctor and vice versa.
Ask all the questions you want during your consultation. This allows your doctor to tune procedures to your preference. If necessary, prepare a list of questions prior to your appointment so that you don't miss anything out!
To align your expectations, ask for before-and-after pictures. While results often vary, doctors do always try to get best results possible.
When you are aware of what you are looking for and expecting, the choice of doctor and clinic becomes obvious.
4. Pro-tip: try not to doctor-hop
When you do find a doctor you're comfortable with, it's best that you stay with him/her throughout.
From my years of being a doctor, I have realised that the relationship and trust built is important in a continued fruitful care. My patients stay with me for years because they know that their interests are very much ours too.
5. Who can perform aesthetic procedures in Singapore?
Many doctors perform aesthetic procedures. They are:
Plastic surgeons
Dermatologists
Obstetricians
Hand surgeons
General practitioners with special interest in aesthetics
Dentists
The degree of invasiveness will vary for each doctor depending on their training. As for experience, it's largely proportional to the time he/she dedicates to performing these procedures.
6. Types of aesthetic procedures available in Singapore
1. Surgical procedures – only surgically certified surgeons are permitted to perform them, with a handful of exceptions.
2. Aesthetic procedures – some examples of these procedures are:
Lasers
Injectables
Minimally invasive procedures
Minor surgical procedures
Non-surgically certified physicians are permitted to perform them as long as they have the Certificates of Competence (COC). This is an accreditation from the Singapore Medical Council.
7. Does having a COC imply that the doctor is very experienced?
No, it doesn't necessarily translate into experience. It's only a certificate that allows a doctor to perform the stated procedure.
Therefore, during your consultation, communicate with your doctor to ascertain his experience in the specific procedure.
If you've been to aesthetic clinics, you might have noticed certificates hanging on the walls of some clinics. These training platforms are important in furthering the doctors' capabilities and experience.
However, they are not strictly recognised or required by governing bodies to practice here.
8. Doctors might have little relevant experience in the procedure you want
It takes time to earn experience. Some of us dedicate more time to certain procedures than others. Thus, our skill is not a uniform absolute throughout the range of procedures.
Even seemingly simple procedures such as lasers and HIFUs require experience that is developed over a fair amount of time. Ask your doctor on his experience in the relevant skill sets.
Some of us may be gifted at these despite having spent less time on it, before-and-after photos might serve to prove the point.
9. Does inferior/outdated technology make a huge difference in outcomes?
I would like to preface this by saying, if we are talking about the same equipment, the doctor's handling is definitely the deciding factor in result delivery.
Advancement in technology has been rapid, so new updates occurs frequently. Usually, these updates are minor and largely inconsequential to clinical outcomes. (I am assuming that the doctors are well versed in the usage of their current devices)
10. Then, when is new technology impactful?
Before being approved for use by the doctors, all devices would have to go through tests for efficacy and side effects.
After the device is released into the market, the manufacturers continue to monitor the results produced. They use this data to optimise outcomes, reduce side effects, and the rendered downtime.
These upgrades can make medical devices:
More efficacious: Updates can render devices more effective, delivering more consistent and improved outcomes

Less prone to causing side effects: These advances typically also aim to reduce side effects with treatment.
11. Don't judge a clinic only by their equipment
Getting the latest piece of equipment is a huge financial investment for doctors. Many of us have reasons for not buying into the new fad.
We might be confident with our experience in our given equipment, or we might not see the marginal value in purchasing the new equipment.
Speak to your doctor on this if you have concerns. It's not wise to judge a clinic or doctor solely by the equipment offered or displayed online.
12. What is the difference between aesthetic clinics and beauty spas?
Many of my patients started off as clientele of beauty spas. They spent thousands a year on treatments which were of minimal use.
I tell my patients this: If you want to feel pampered, go to a beauty spa. However, don't expect proper results.
13. Spas tend to overpromise results
Many spas overpromise and tend to make false claims on the results they can deliver. Often they use fake devices with names or technology similar to true medical devices. These devices are severely underpowered.
Some of them do use strong devices, or even lasers. However, usage without a medical practitioner licence is illegal and dangerous.
Recent occurrences have been published in the press and emphasises the prevalence of such activity.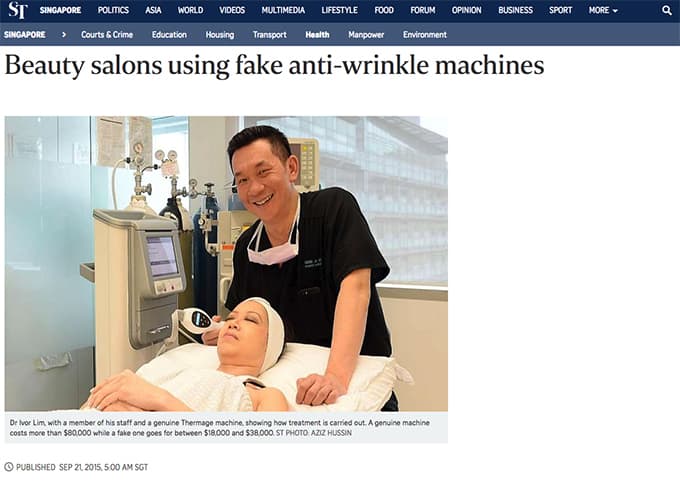 Screenshot from The Straits Times
Dr Ivor Lim, with a member of his staff and a genuine Thermage machine, showing how treatment is carried out. A genuine machine costs more than $80,000 while a fake one goes for between $18,000 and $38,000.
14. Why are spas allowed to make such claims?
This happens because spas are not under the regulation of the Ministry of Health. They aren't subjected to the same scrutiny as medical clinics and doctors.
The devices they use are not regulated, and therein lies the danger. These devices can be as strong as medical devices! They often either provide poorly effective treatments, or risk causing harm to you. Many of those (literally) scarred by the ordeal go underreported.
15. A licence is needed to own/use medical devices
The usage as well as mere storage of medical devices (HIFU, lasers, etc) require licences from the relevant authorities (NEA, MOP, HSA, etc).
Without the presence of a medical practitioner, they are not legally permitted to house or use many of these devices.
At the end of the day, aesthetic work is still a medical practice. It requires care, knowledge, regulation and ethics.
16. Hard selling of products and services can happen at aesthetic clinics too!
Aesthetic medicine is a business as much as it is a medical practice. It's the doctor's duty to ensure that operations are within ethical boundaries. Your well-being should be protected.
Much of this authority, however, is taken away at Medi-Spas. These spa-based clinics blur the line between the beauty spas and medical aesthetic clinics.
They are largely run by non-medical businessmen with only one goal in mind – profit.
17. Medi-Spas are profit-driven
Medi-Spas often place earnings over your wellbeing. They overpromise, oversell, and frequently sell the wrong treatments. If you have been to one, you might recall speaking more to the sales assistants than you did with the doctors.
Their goal is to sell you a treatment, regardless of its effectiveness. They will go as far as to push treatments that are cheaper but ineffective to patients. Reason being, some patients are unwilling to purchase the treatment that actually works as it costs more.
If the clinic makes you feel pressured, take a step back to re-evaluate your options.
At my clinic, the medical plan for my patients is of utmost importance. My team and I ensure that the practice of aesthetic medicine here adheres to the same professional standards as all other branches of medicine.
18. What types of aesthetic clinics exist in Singapore?
1. Medi-Spas – These are medical aesthetic clinics created as an extension to a beauty spa.
2. Mass-market chains – They offer lower prices for the larger population. Time spent with you is less, and you generally get what you pay for.
3. Doctor-managed and doctor-run medical aesthetic clinics – These clinics typically charge more for consults and treatment. In return, you get more time and insight into your treatments with closer follow-ups. More often than not, they give you better outcomes.
19. What should you be prepared to share with your aesthetic doctor?
The most important thing you should share would be your medical history. Concurrent conditions or medical/surgical forms of management can affect aesthetic procedures.
Here's a personal example that I'd like to share:
Case 1: A patient came to me for non-surgical eye-bag reduction. She was noted to have moderate bulging of the eye (exophthalmos) with a history of hyperthyroidism 10 years ago.
Uncontrolled hyperthyroidism affects the anatomy of the eye region. That affects any attempts at reducing under-eye fat pseudo-herniation. Recognising this allows me to pre-empt response to treatment and timing of intervention.
A deep proper discussion of your medical history is as, if not more, important to your aesthetic doctor as your aesthetic history is.
Other important things to share with your doctor would include:
Aesthetic history (procedures done before, last time they were done),
Current skin care regimen
Concerns and expectations from treatment
20. How much does it cost to see an aesthetic doctor in Singapore?
A consultation costs anywhere from $40 to hundreds of dollars. It depends on whom you're seeing.
Surgically qualified doctors have higher consultation fees. Reason being, the procedures they talk about will require more time in planning and explaining to you.
21. What affects the costs of aesthetic clinics in Singapore?
This a recurring question we get. Many factors, including location and cost price of procedures are factored in. In a brief summary:
Experience of the clinic and doctor ---------------------------------------
More experienced practitioners typically command a higher rate.
Newer or better equipment tend to have better outcomes, hence they cost more. New or top-end equipment cost up to 3 to 5 times more than lower-end devices. Higher end devices also have more expensive expendables and are also factored into each treatment.
Time spent with each patient --------------------------------
Allocating more time to each patient allows for a more thorough process of consultation and follow-up. When your doctor understands you better, he/she is able to provide you with a better overall experience and outcome. This invariably means a smaller patient number for the clinic daily and hence higher prices per patient treated.
Clinics in prime locations incur a significantly larger rent. Recurring rental fees come just under equipment price in terms of costs to the clinic, and thus affect price points significantly.
At the end of the day, the price-point might be a mere strategy of the managing bodies – some will choose to lower prices to increase the volume load of their clinic, while some are comfortable maintaining a certain minimum value to their work.
22. "I heard from some friends that aesthetic treatments are super expensive!"
All of us have a different benchmark on price points. Some of us might be willing to compromise on certain parts to pay less. Invariably, good work does not often come cheap.
I often find that patients complain that treatments are expensive as they are not:
Made aware of the underlying problem they have - i.e. the underlying diagnosis
Informed of the most impactful treatment for their diagnosis
There are many different types of treatments available. Some of which will tackle issues head on, and some of which serve to compliment the treatments. These treatments are synergistic but not a necessity.
23. Cheap treatment doesn't mean value for money
Settling for the cheapest option is not the best solution. It is fair to compromise on some aspects of the experience, but you do get what you pay for. It's important to note that treatments are not instantly replicable by any physician!
To further explain the difference in prices, you should know that there are many devices out in the market.
Companies produce several variations of the same machine that varies in power.
Lower powers for spas, hence lower prices
Hgher powered devices for medical practitioners, hence higher prices
If you are paying less, do question whether you're getting the full appropriate treatment you need.
24. What about cheap prices for the same branded procedures?
If you intend to go to them, you should ask the about the:
Exact products used
Approximate number of treatments required
Don't fall for the initial cheap price that's advertised! You might be left under-treated and persuaded to spend more to get tangible results.
Quality skills and technology that produce optimal results will invariably be slightly more expensive.
25. You shouldn't choose a doctor based only on price
Don't choose a doctor or clinic based entirely on the prices listed. While cheap treatments might not the best, the same logic applies to expensive treatments too.
You shouldn't have to drain your finances to manage your aesthetic concerns. You might very well be comfortable compromising on some of the areas to get your issues addressed.
26. Start by understanding your own condition
These are the two most important things you need to do:
Have a good understanding of your condition
Know what to expect from treatment
Acne scarring, for example, typically requires a combination of necessary procedures that can cost you $2,000 to $5,000 over the course of a year.
Then, there are additional treatments that can optimise your results. However, these may cost you several thousands more.
Depending on your budget, you can wisely choose your desired modalities (after recommendation by the doctor, of course).
27. Be clear of your end goal
You should also be able to identify your end goal. Scar treatment is largely permanent. There's no need to repeat the procedures once you have attained your desired outcome.
This is in contrast to temporary treatments, such as fillers, botox, HIFU, etc. These treatments are repeated every few months to a year. In the long run, the costs add up.
In any case, even for face sculpting where procedures are repeated yearly, certain procedures provide more evident results (fillers/botox).
Other procedures (HIFU/radiofrequency stimulation) provide more long-term care and stimulation than it does immediate or obvious change.
28. It's not necessary to invest in all the treatments available
Whilst it's most ideal to combine therapies for optimal results, not everyone has the finances to invest in everything available.
Meaningful, satisfying results can be attained without spending a bomb. But if you are in for more than just the base-line recommendations and want the best, you can expect higher overall charges.
At the end of the day, it is wise to remember that cosmetic treatments are afterall non-essential medical services.
These treatments can make a significant impact on your life, but they are typically for those who can afford it. It shouldn't be your only priority and consume too much of your expendable income.
29. Important questions to ask the clinic
No concerns should go unaddressed. You're undertaking a medical procedure that has its inherent risks. You are also paying a significant sum to have it done. A proper consult would involve time dedicated to this.
Some questions you might want to explore include:
How experienced is this clinic/doctor in the procedure?
Have there been any adverse effects experienced by your patients? And if so, how were they managed?
What results can I expect? And are there ways to further my results if I am not totally satisfied with it? If so, what is the timeline and expected cost?
What are the alternatives to this treatment?
Are there any dos and don'ts after I undertake these procedures?
Have you tried any of these treatments yourself?
Opening up with your doctor is an important process.
Once you have formed that relationship of understanding, the journey through this often confusing landscape will be more easily navigated. Hiccups can also be pre-empted and managed well.
If you require to move on with other treatments later, it would also be easier as you already have the relationship to work with.
Conclusion
We are all different and require a personalised plan by an experienced practitioner. Managing aesthetic patients also includes the recognition of real medical issues too, as this can affect treatments.
Furthermore, medical aesthetics is as much about the doctor-patient relationship as it is the delivery of results.
Find a reputable clinic with an experienced doctor of whom you can relate to and you can be assured you will be taken care of well.