What tests are required to determine whether my rash is papular eczema or urticaria? (photo)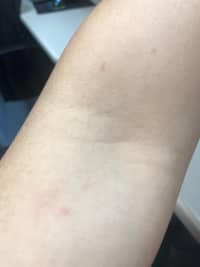 Sorry, but this question has no answers yet.
Your description sounds typical of angular cheilitis, which is a fairly common inflammatory condition affecting the corners of your mouth. It can be caused by several things, eczema being one of them. It could also simply be due to dry, chapped lips. Occasionally, it can be caused by a type of infection due to bacteria, yeast, or virus. Depending on the underlying cause, it may persist indefinitely if you don't seek help from a doctor. GPs will be able to start you of with the right treatment, and they may refer you to see a dermatologist if necessary.
Thank you for the question. The photo of the rash can go for eczema. The rash in eczema is usually itchy, and aggravated by scratching. Persistent scratching or reaction to certain creams applied can cause the rash to be recurrent or persistent, so your mother should refrain from scratching as far as possible. If the rash is still persistent despite treatment, you may want to consider seeing your doctor/dermatologist to rule out an underlying cause for the persistence, such as a fungal infection or allergic contact dermatitis.