How do I treat a rash on my premature baby's foot where his NICU bp cuff was taped? (photo)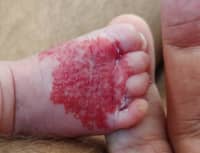 Sorry, but this question has no answers yet.
It does sound like your son may have hives or urticaria and has been prescribed with telfast. Telfast is a second generation antihistamine which is a non-drowsy antihistamine as it does not cross the blood brain barrier. While there are not many studies on the long term use of the antihistamines, it is generally believed that the 2nd generation antihistamines are safe for use in the long term. We must always weigh the risks vs benefits of taking the medicines for the long term, but the risks with long term antihistamines is low.
Hello Wan Thank you for your question. A simple way will be to stop using your current body wash and change to another brand that you used before in the past. If the rash improves and subsides after you change your body wash, then it is the likely culprit. If not, you should follow up with your skin specialist and see if there is a need for further investigations to find the cause of your rash. You can consider using regular moisturisers and mild steroid creams for symptomatic relief in the mean time. Hope this helps!