Because our last insider post on Invisalign costs in Singapore proved so popular, we are back with the next article in our series on dental costs in Singapore.
This time, we are here to break down wisdom tooth extraction costs when you see a dentist in Singapore.
1. How much does wisdom tooth extraction cost in Singapore?
The Ministry of Health website will tell you that the average fee per tooth costs $700 in government hospitals, and $1500 in private.
There are also differences in price depending on whether you choose to have a general dentist or oral maxillofacial surgeon (OMS) extract your wisdom tooth.
Realistically, you can expect to pay about $1200 - $ 2000 in total for wisdom tooth surgery by an OMS, if it requires surgery. This fee is Medisave claimable (more about that later!).
You can also send in a free enquiry to a few trusted dentists to get a better estimation of the costs for your wisdom tooth surgery.
Here's an example of a wisdom tooth extraction cost breakdown:
PROCEDURE
COST
Consultation
$100
X-ray
$150
CT Scan (if required)
$400
Wisdom tooth extraction
$800 per tooth
Wisdom tooth surgery
$1500 per tooth
2. What determines how much wisdom tooth extraction costs in Singapore?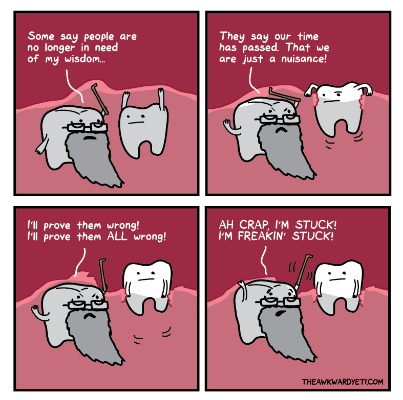 The costs of wisdom tooth surgery vary primarily due to how complex the case is. This is dependant on factors such as:
Age: Younger patients have softer bone, which makes wisdom tooth extraction easier.
Position of gum tissue: A wisdom tooth is easier to extract if it has fully emerged, compared to if it was underneath your gum tissue.
Submerged level of wisdom tooth: If your wisdom tooth is completely buried within the bone, this will require drilling into your jaw to extract.
Proximity to nerves: Deeply buried wisdom teeth are closer to nerves, which makes extraction more difficult.
Root shape of wisdom tooth: A wisdom tooth with an irregular root shape is harder to extract.
3. Local anaesthetic versus general costs in Singapore
Okay, so you're terrified of pain like I am. Wisdom tooth extraction is almost always done with local anaesthetic, which means that we use a small needle to put some pain blocking agents into your gums. The costs of local anaesthesia are included with the surgery (ie you will not have to pay extra).
However, you may also choose to undergo wisdom surgery while completely conked out (general anaesthetic). This tends to be more common amongst patients requiring 4 extractions at a go.
If you are keen on general anaesthesia, it will cost an additional $800 (on average) for an anaesthetist to administer the sedation.
4. A dentist or oral maxillofacial surgeon for a wisdom tooth extraction?
Wisdom teeth surgery is taught in NUS, and students have to complete at least 1 case before they graduate. As such, general dentists in Singapore are able to do wisdom tooth extractions.
When the cases are more complex, dentists tend to refer the patient to oral maxillofacial surgeons for extraction.
For example, your wisdom tooth may be very deeply buried. Other times, it may be located very close to the mandibular nerve or other sensitive areas near the jaw bone.
5. Medisave for wisdom tooth extraction in Singapore
You can claim between $350 to $2700 from your Medisave for wisdom tooth surgery. Why the discrepancy? I'll explain in a bit!
The average patient can claim up to $950/tooth.
If you are undergoing general anaesthesia, you can claim up to SGD $1600/tooth.
6. How come my neighbour managed to claim $2000 from Medisave, while I was only allowed to claim $950?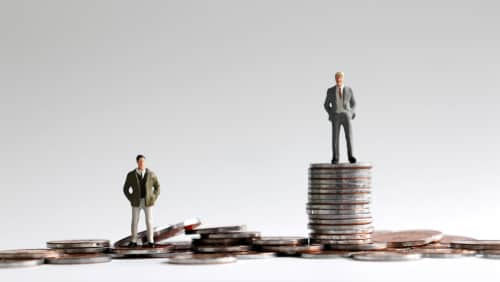 The amount claimable from Medisave depends on:
Complexity of the case
Number of wisdom teeth requiring extraction
Complexity is in turn dependant on whether tooth division or bone removal is necessary.
The most common scenario for wisdom tooth surgery involves 1 impacted lower wisdom teeth. This requires both removal of bone and division of teeth and is Medisave claimable for $950.
In the most complex type of case, the wisdom tooth needs to be separated from a nerve - this rare scenario is eligible for the highest Medisave claim.
7. Medisave claim limits for wisdom tooth extraction in Singapore
The more wisdom tooth you need extracted, the more you can claim from Medisave. For example, if you require 4 teeth to be removed, the Medisave withdrawal limit is increased to $2150.
Without division of tooth
Cost
1 tooth
$350
2-3 teeth
$1550
4 or more teeth
$2150
With division of tooth
1 tooth
$950
2 -3 teeth
$1850
4 or more teeth
$2600
With division of tooth (completely buried in bone)
1 tooth
$1250
8. How do I make a Medisave claim for a wisdom tooth extraction?
Just bring along your Singaporean Identity Card on the day of your wisdom tooth surgery to prove that you are a Singaporean Citizen or Permanent Resident.
The clinic staff will do the rest, including submitting all the necessary paperwork for Medisave claims.
I hope that this post helps to shed some light on the costs of wisdom tooth extraction in Singapore!
_You might also be interested to read:
_
---
Originally from England, Dr Joanne Lam completed her dentistry education at the University of Leeds in 2012. She went on to work in general practice with a focus in aesthetic dentistry. She is a firm believer in constantly educating oneself and is presently in midst of finishing her Diploma of Membership of the Joint Dental Faculties at The Royal College of Surgeons of England (MJDF RCS Eng).
Outside of work, Dr Lam enjoys jogging outdoors, skiing, hiking and exploring. She is also a huge fan of travelling the world, attempting things she has never before and taking snapshots of her adventures.
Find her at Lam Dental Surgery.
---