Human met up with Gentle Dental's Dr JD Tan late after work at his Tanjong Katong clinic. The outlet had just opened 2 months ago, so everything was still nice and shiny!
This review is not sponsored.

1. Secret alleyways for covert operations
There are 3 Gentle Dental branches in total, located at Bukit Timah, Tanjong Katong, and River Valley. The first clinic was opened at River Valley 18 years ago.
I was surprised to find that the clinic rooms were all connected by a "back-alley" - or what I often rely on in hospital to perform my ninja act between patients (nurses and doctors use these secret passages in hospitals to move around, out of sight of patients waiting outside. Now you're in on our little secret).
The benefit of such link-ways is that it allows nurses and doctors to bring equipment and move between rooms quickly for consultation. JD explained that these link-ways were necessary as Gentle Dental clinics were generally overstaffed, to ensure that all their patients received plenty of TLC.
Now imagine all those nurses and doctors bumping into each other, and trays of dentures and retainers flying everywhere – not a pretty sight!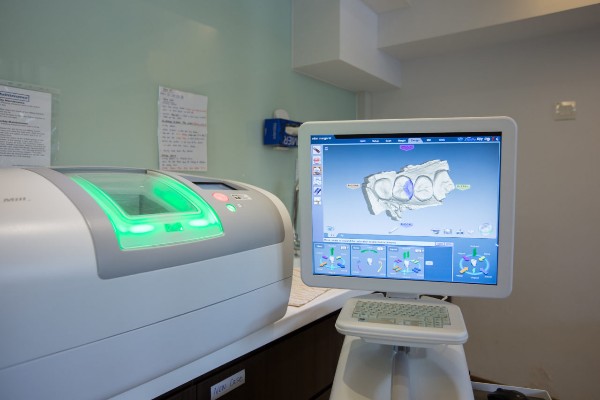 2. Dentists get cool toys - Not Tony Stark cool, but still very cool
What originally piqued our interest in JD's invitation was the premise of playing around with the clinic's CAD-CAM machines - it's one of his special interests, which he was keen to demonstrate to us.
Both the Tanjong Katong and River Valley outlets have CAD-CAM capabilities - meaning they are able to build an all-ceramic dental crown within a day.
CAD-CAM's 3D scanning technology can also be used for braces work, including Invisalign.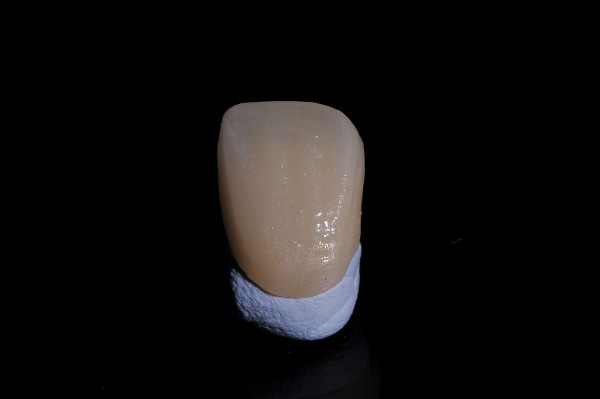 JD pointing out details of his work - notice the ridges on the tooth surface to make it look more "real"?
3. CAD-CAM champs
While I noted that many other dental clinics also make use of CAD-CAM in their daily work, JD explained that Gentle Dental take particular pride in their CAD-CAM work.
He further qualified that Gentle Dental were amongst the first few clinics to embrace CAD-CAM technology, and he was also a CAD-CAM trainer himself.
This usage of modern techniques and materials translates into long-lasting dental work for patients.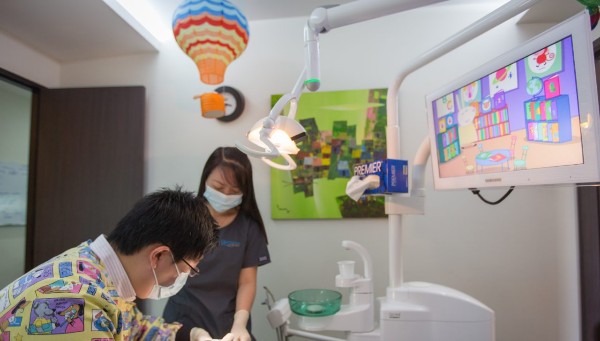 4. Not an assembly line
As for Gentle Dental's name, I guess that part's a no-brainer. JD explained that the group prides themselves on having the most gentle hands when it comes to dental treatment.
To quote JD: "The practice of dentistry can't be run like a business, like an assembly line. If we try to do it fast, we may end up cutting corners with the patient experience."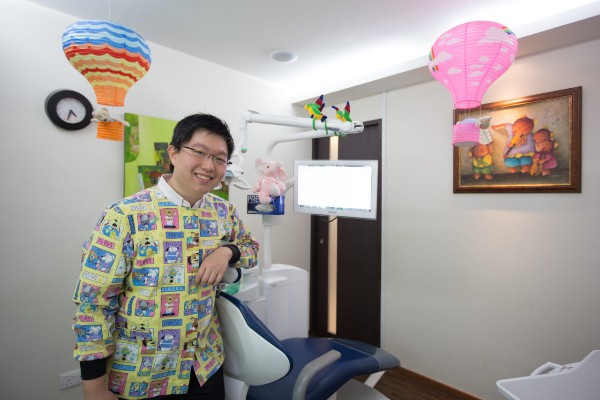 5. Kids
Gentle Dental have a thriving practice treating children, with JD and Dr Joanne Ou seeing a lot of younger patients.
Many dentists have an aversion towards paediatric patients, as an uncooperative patient who doesn't understand what's going on can be a nightmare to treat at times.
JD was candid that not all Gentle Dental's dentists enjoyed treating children. So if you bring your child down, be sure to call up first to book your child in with a dentist who has a preference for treating children!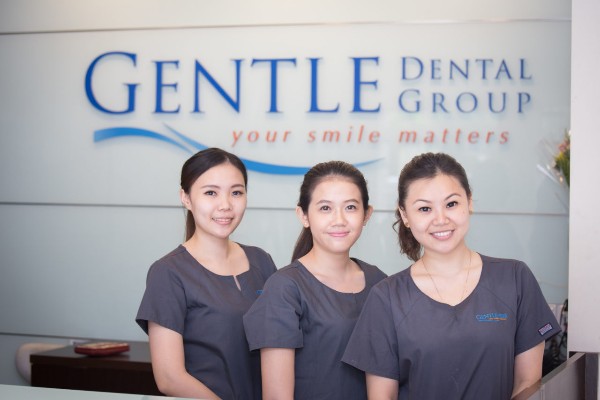 6. HR memo: No overly-ambitious dentists
To ensure the quality of staff, JD explained that their group hires at a very slow rate. Dentists who worked with Gentle Dental have to fit a compassionate personality profile, and are also not "overly ambitious".
The new staff are generally also guided via a mentoring system, which included feedback received from experienced nursing staff and patients.
According to JD, Gentle Dental receives minimal patient complaints, nor has had any nurses quit in the last 5 years (signs of a happy workplace!)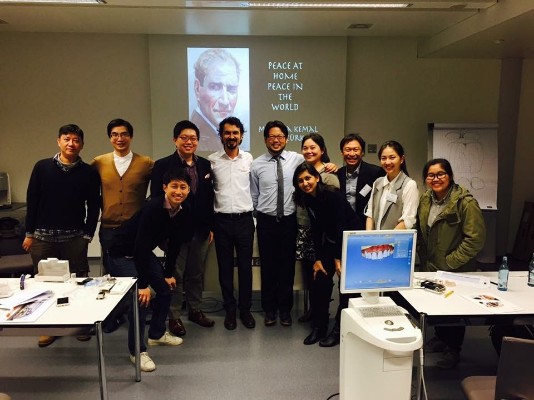 D in Bensheim, Germany, attending the Sirona Trainers Course.
7. Tech stuff
Gentle Dental has 8 GPs and 4 visiting specialists across the 3 clinics. JD himself is an NUS clinical teacher, as well as a Sirona CAD-CAM trainer.
The rest of the team includes 3 visiting oral surgeons, as well as a visiting orthodontist.
On the equipment front, Gentle Dental have intra-oral scanners, digital X-rays and lasers in all 3 clinics. They also have a cone-beam CT machine at at both their Bukit Timah and River Valley branches.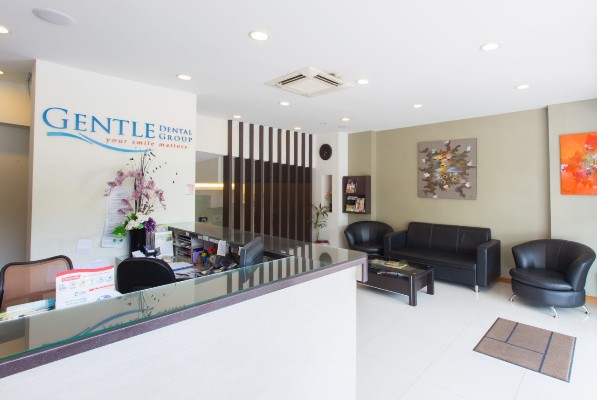 8. The flip side
If you are thinking of paying Gentle Dental a visit, bear in mind that their opening hours generally do not cater to the public's convenience -- ie they are closed most nights, Sundays and public holidays.
To book a regular dentist, there's a high chance that you may need to take time off work during the day.
The relatively shorter opening hours are because most of Gentle Dental's staff have young children, and they value a work-life balance to spend more time with their families - a notion the European in me can certainly identify with!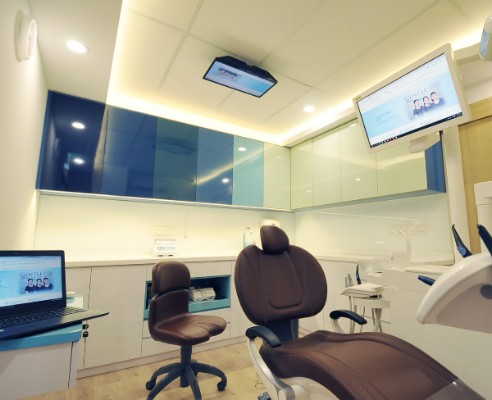 9. Cost
Gentle Dental last adjusted their pricing 3 years ago. JD believes that their clinics provides "outsized value", meaning that even though they are a little more expensive than the regular HDB practice, "Gentle Dental aims to offer better technology and patient experience".
I'll let you decide that for yourself - Here's a price list that Gentle Dental has shared exclusively with Human, if you are considering dental treatment at one of their outlets:
Gentle Dental price list:
Consultation: $30 – 50
Specialist: $50 –80
Scaling and polishing: $80 – 150
Invisalign cost: $4000 – 5000 for lite, $7000 - 9000 for full
Zoom teeth whitening cost: $950
Root canal treatment cost: $400 – 900
Veneers: $300 - 1500
Plastic restorations: $70 - 200
Ceramic Restorations: $800 - 1000
Ceramic Crowns: $1200 – 1500
Implant surgery: $3000 – 5000
Tooth extraction: $80 - 300
Wisdom tooth surgery: $850 – 1250
At the Tanjong Katong clinic only, they are currently running a comprehensive dental check-up at $158 if you quote "Human". This includes an oral health examination, diagnosis & treatment planning, intra oral photography, scaling and polishing/prophyjet, panoramic and bitewing x-rays (if medically necessary).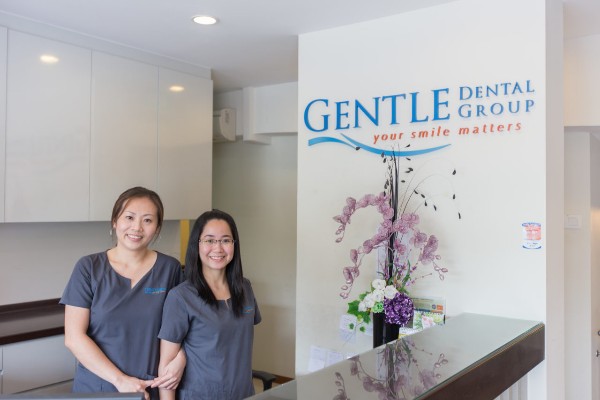 ---
10. TLDR
In a nutshell, Gentle Dental prides itself in 3 main areas:
Gentle touch – Care for their patients and good customer service.
Quality treatment – Utilising modern materials and technology, with plenty of time spent per patient.
Good value – Ethical business practices with reasonable prices.
Gentle Dental Group contact details:
Tanjong Katong Branch
Address: 354 Tanjong Katong Rd, Singapore 437118
Phone: 6344 0148
Email: ask@gentledental.com.sg
Opening hours:
Mon - Sat: 9:00 am to 5:00pm (Call for evening sessions)
Bukit Timah Branch
Address: 110 Jalan Jurong Kechil 01-01, Singapore 598606
Phone: 6466 6110
Opening hours:
Mon - Sat: 9:00 am to 5:00pm
River Valley Branch
Address: 401 River Valley Road, Singapore 248299
Phone: 6887 4456
Opening hours:
Mon - Sat: 9:00 am to 5:00pm