This article is a guest post by Dr T C Phua, President of the College of General Dental Practitioners (Singapore).
Looking to straighten your teeth? Perhaps you've come across cheap "teeth alignment kits" sold on Carousell that look similar to Invisalign, with prices ranging from $8 to $20.
You may also be confused as to whether you need to see a general dentist or an orthodontist for braces treatment in Singapore. This post will hopefully help to clear things up!
You can read an example Carousell listing's description here:
The First Period Alignment Brace is soft and elastic, and can be applied to various teeth position alignments. Suitable for more profound displacement with protruding tooth and uneven alignment. Generally, need consistent wearing of 6 - 8 months to see results. The Second Period Alignment Brace is less elastic and harder. Suitable for uneven teeth with mild disposition of certain tooth, slight awkward protruding tooth that needs re-alignment back to neat file and row. Basically, consistent wearing for a few months will yield good results. Great for kids/teenager with early crossbites and wearing teeth brace and adults that need a perfect smiling teeth!
1. Will these "alignment braces" on Carousell work?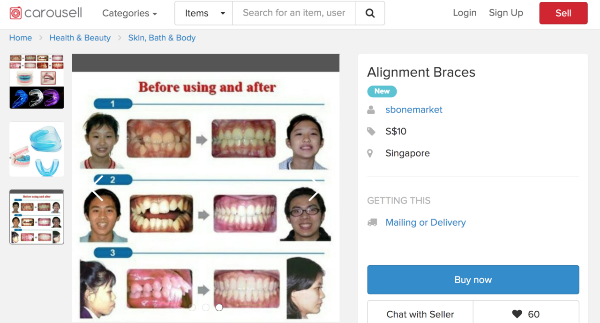 The "plastic aligners" sold on Carousell are meant to be worn overnight, and supposedly straighten your teeth over a period of 6 - 9 months.
Contrary to their claims however, it ONLY works to a certain degree for young children with developing teeth (if it even works at all).
I'd strongly advise against buying these so-called aligners, and I explain why below.
2. What's the worst that could happen?

The "aligners" sold on Carousell are one-size-fits-all. If the sizing is wrong, it can cause your teeth to move into wrong positions.
The resulting problems will likely cost a whole lot more than $7.90 to fix. Examples include:
Exposed teeth roots
Loss of tooth
Incorrect jaw development
Worsening bites (eg. underbites, open bites)
Protrusive lips
Ulcers from poor fit
Gum recession
Moreover, these "aligners" are not HSA-approved, so you'll never know if the plastic used to make them are even safe for use in your mouth.
3. How are dentists any different if they also offer me clear aligners to straighten my teeth?
When dentists offer clear aligner treatments, the aligner braces that we prescribe are customized to fit perfectly. Proper fitting braces exert a gradual and constant force to move your teeth into position.
We cannot offer any form of braces treatment without first performing a proper physical examination. The examination also includes any necessary scans, such as X-Rays, which allows us to come up with the best treatment plan for you.
4. Ok, you've convinced me. No Carousell sellers. Can a general dentist perform my braces treatment in Singapore?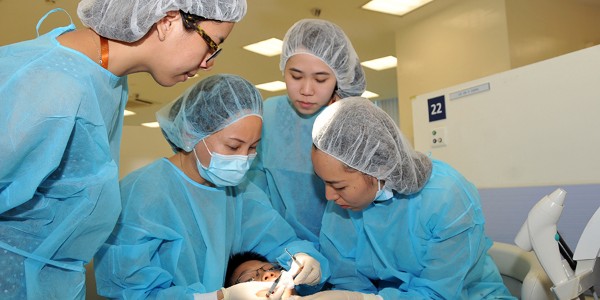 General dentists can practise all aspects of dentistry in Singapore, which includes braces.
Dentists who offer braces treatment typically undergo a 1 - 3 year part-time training course in orthodontics. Some also hold certificates and diplomas in orthodontics from overseas universities.
This training not only enables dentists to treat simple and moderate cases, but also allows us to recognise the more complex ones. These complex cases are referred to, and seen by our orthodontist colleagues.
It's worth noting that a general dentist who offers you braces treatment, even if only for simple cases, is expected to do it to the same level as a specialist.
5. So when do I need to see an orthodontist?
Orthodontists undergo at least 3 years of full time studies to qualify as a specialist. They are the best professionals to treat difficult malalignments of your teeth.
Examples of difficult orthodontic cases include those that require surgical correction of your jaw. Your dentist will be able to advise you if you require a referral.
Unsure if your case is difficult? Just ask your dentist! If he says yes, ask if he has experience treating similar cases, and request to see some of his previous work.
If your condition isn't complex, either a well-trained general dentist or orthodontist will be able to help you.
6. Which dentist should I pick for my braces treatment?
Ideally, you should first seek out the opinion of a dentist whom you trust. This could be the dentist that you or your family see regularly.
As with all skills, practice makes perfect, so you'll want to find a dentist who's experienced. If in doubt, don't hesitate to seek a second opinion!
Here are a few other factors to consider when choosing a dentist for your braces treatment:
Rapport and trust with your dentist. Braces typically take 2 years to complete, and you'll be seeing your dentist very often. Find someone who listens to you, and is able to understand your needs.
Convenience. You'll have to visit the clinic regularly every month, so find a place which makes it easy for you to keep to this commitment. If you miss your appointment, it will delay your treatment.
Before/after examples. As above, feel free to ask your dentist if he can show you the cases that he's done in the past. Dentists cannot display before and after photos in public, but can show them to you during a private consultation.
---
TLDR:
Avoid buying "aligner braces" from Carousell sellers online.
General dentists and orthodontists can both perform your braces treatment. Pick a dentist whom you trust!
Difficult brace cases should be handled by an orthodontist.
Dr T C Phua graduated from the National University of Singapore with a BDS in 1981. He then spent 2 years with the military, principally as a dental officer in the Republic of Singapore Air Force before embarking in private group practice in 1983. He is the Past President of the Asian Academy of Aesthetic Dentistry, President of the College of General Dental Practitioners (Singapore) and Vice President of the Medico-Legal Society Singapore. Dr Phua has a special interest in the field of aesthetic dentistry.