Missed our webinar on Life-Changing Smiles: A Patient Speaks about Life After Dental Veneers? Watch out for more webinars or the highlights on Sessions and Videos!
---
Having a bright smile is a dream of most people. However, drinks that we consume such as coffee or tea can change the colour of our teeth and make them look unpleasant.
Nowadays, people are interested in getting dental veneers to improve their appearance in order to gain confidence.
I have written this article to tell you what you need to know about dental veneers that are available in Singapore, as well as what you need to consider before choosing a procedure.
In this article, I have included information about dental veneers, including the types of dental veneers, cons, possible side effects, cost, and also the Smiledesign procedure. I hope this article can help you make the best decision.
What are dental veneers?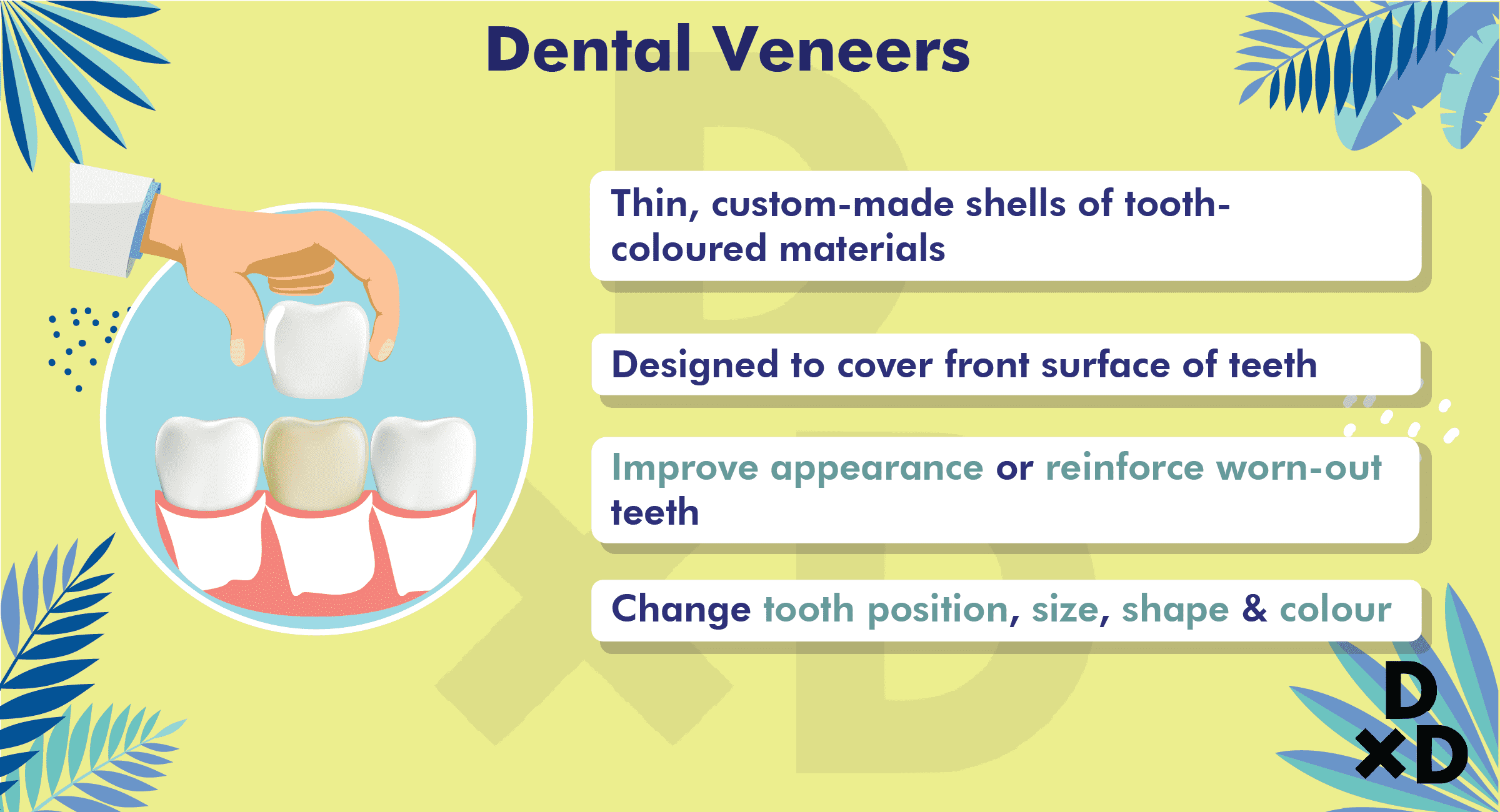 Dental veneers are typically thin, custom-made shells of tooth-coloured materials designed to cover the front surface of the teeth to improve the appearance or reinforce worn-out teeth.
Unlike braces, veneers can be used to change not just tooth position but size, shape and colour.
Are dental veneers permanent? How long do they last?
Veneers are not permanent; they have a lifespan. On average, with proper care, the veneers can last from 20 to 30 years!
Veneers that our patients had done at our clinic 15 to 17 years ago are still in excellent condition. There is no need to replace them in the foreseeable future!
What are the types of dental veneers?
Various materials are used in the placement of veneers, such as:
Porcelain Veneers:
Feldspathic porcelain is made from porcelain powder and fired in an oven. This may be the most aesthetic type of porcelain but it tends to be weaker and may not stand up to normal biting.
Pressed porcelain is made from semi-hardened porcelain blanks. This is very strong and has good aesthetics. It's also the material of choice in our clinic.
Milled porcelain is trimmed by computers from hardened blanks of porcelain. Its strength is excellent, but aesthetics are not as good and tends to be more expensive.
Ultra-thin, no-prep veneers have been on the market for many years. These veneers limit the changes that can be achieved. They are only used for improving the colour of the teeth, but because of their thinness, the final colour is very opaque and the results tend to be unnatural.
Direct Resin Veneers:
In this process, the dentist uses normal composite fillings to enhance the teeth. It requires only one visit and is the cheapest option for patients. However, the final restorations are weaker, so you can only bite food that is very soft. They tend to stain and will discolour over time.
The result depends very heavily on the skill of the dentist.
Indirect Composite Veneers:
These are made with the same filling material but in a laboratory. They are slightly stronger but with a minimal cost difference from the porcelain veneers. They also possess many of the drawbacks of direct resin veneers. Hence, we do not use them in our practice.
CAD-CAM (Emax) Veneers:
Emax Veneers are made from a type of ceramic called lithium disilicate. Emax Veneers are specially designed and manufactured using the latest computer technology, allowing for precise and accurate dimensions, little structural defects and the ability to match the shade and colour of your adjacent teeth.
Apart from its durability and longevity, Emax Veneers can also be fitted on without tooth etching, which can reduce the time taken for the procedure.
The price breakdown of dental veneers
Type
Cost/tooth
Porcelain dental veneers
$1000-$2500
Direct resin dental veneers
$200 — $300
Indirect composite dental veneers
$250 — $1500
In our practice, the cost depends on the number of teeth. Our standard price is $1,300 per veneer, with some discount for multiple teeth.
This price includes all impressions, design, temporaries and, usually, a routine scaling and polishing.
Cons of dental veneers?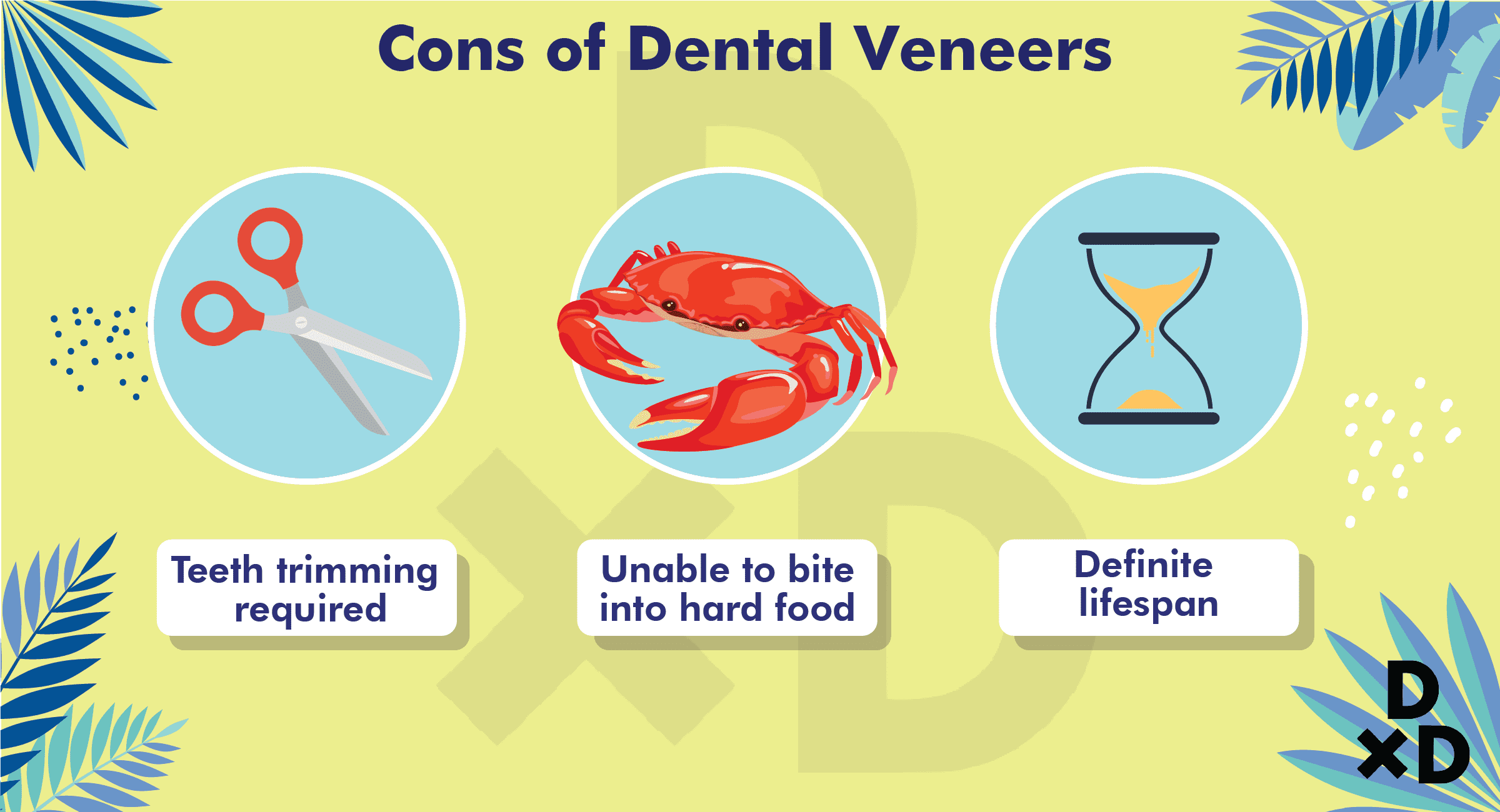 Trimming of teeth is usually required
The veneers reinforce the teeth, but care should be taken not to bite into very hard things (such as crab claws, bones, bottle caps…). Veneers should be durable enough to take normal eating.
They have a definite lifespan (20 to 30 years)
What you need to consider before getting dental veneers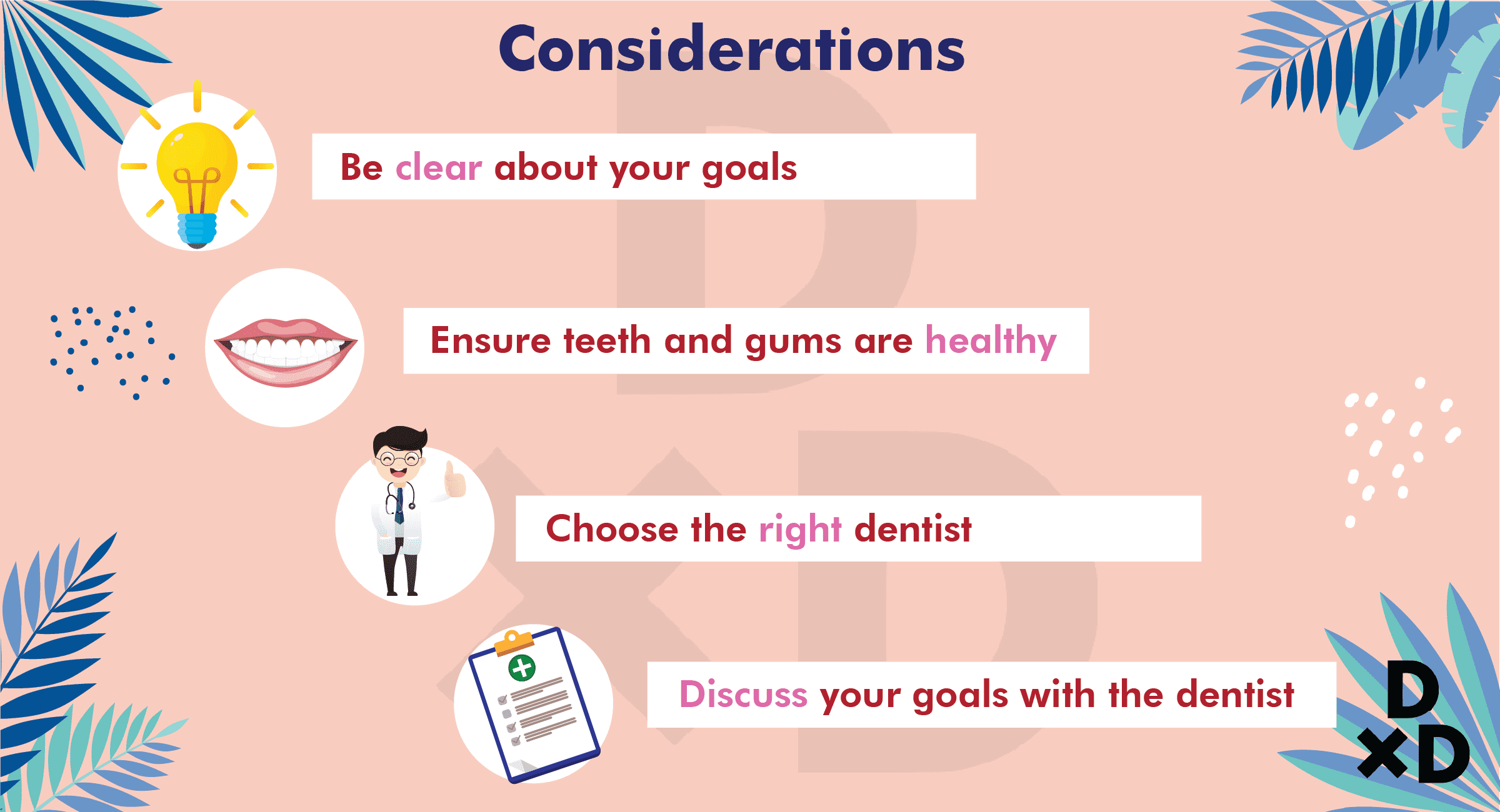 Be very clear what your goals are for the process.
Ensure your teeth and gums are healthy before proceeding. This will allow you to achieve a long-term, hassle-free result.
CHOOSE THE RIGHT DENTIST!! Seek recommendations, check reviews, ask to see examples of previous smiles the dentist has created.
Discuss your goals, a detailed treatment plan, cost and timeframe with the dentist.
Are there any complications or side effects?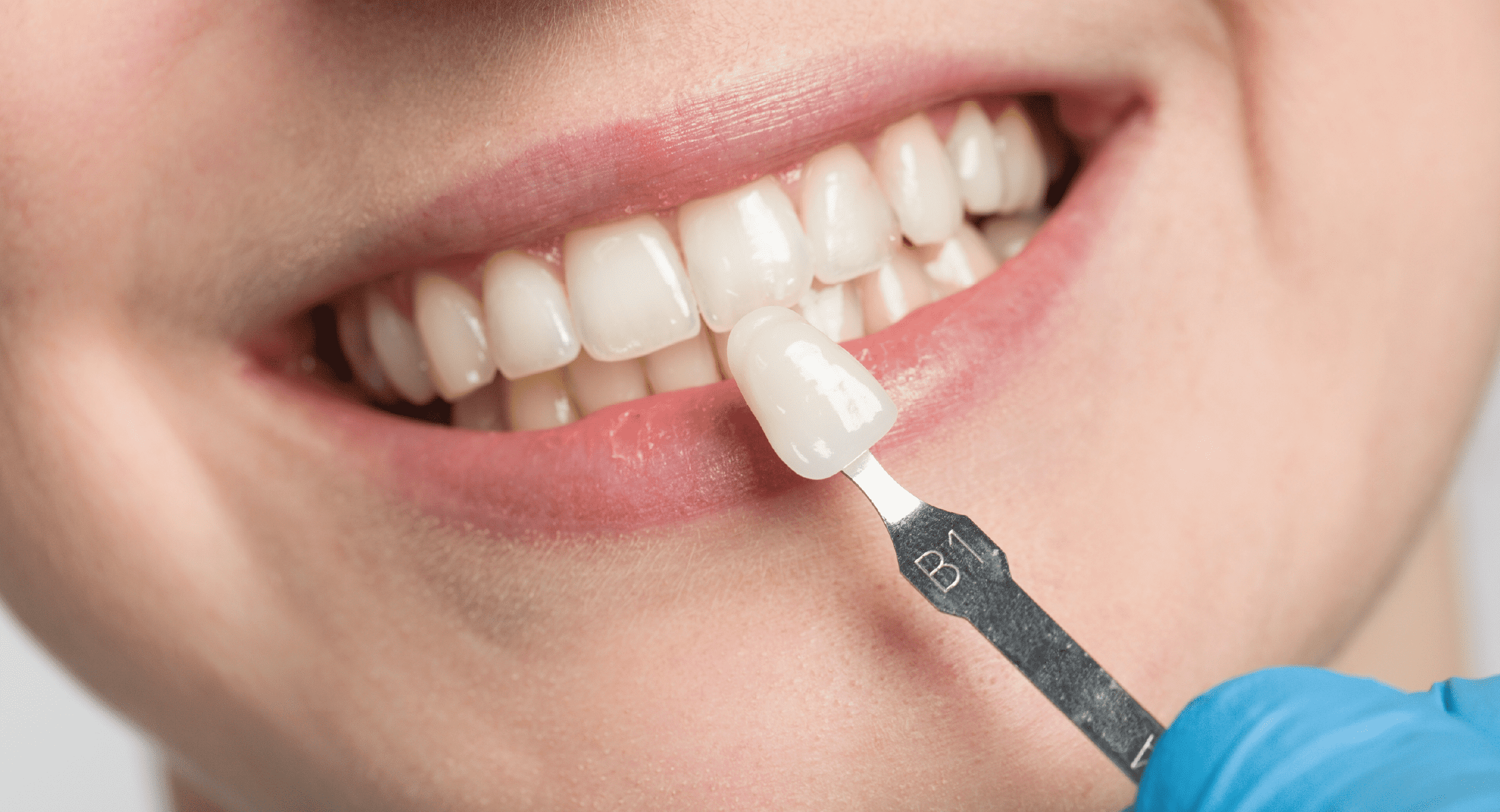 Because veneers are added just to the surface of the tooth, properly placed veneers have no side effects. Properly bonded veneers should not stain, change colour and they should protect the teeth from tooth decay.
In the long term, the margins may discolour, and at some point, the veneers may need to be replaced.
Are dental veneers for everyone? How do I know I'm suitable?
Veneers are a wonderful treatment option for many people. However, care should be taken with very young patients. Because their teeth have not fully erupted, veneers should only be placed on girls aged 16 and above, and 17 years onwards for boys (as boys mature a little bit later).
Veneers are the treatment of choice for discoloured teeth, patchy staining, and damaged teeth.
How do dentists make dental veneers look natural?
The standard procedure for installing veneers does not allow the patient to have much input into their final appearance.
However, with aesthetic procedures, we feel that it is important to work with the patient to get their optimum smile, by discussing desires and limitations with regard to their teeth.
We always ensure that the dentist personally designs the smile for each patient. This allows the dentist to work out an initial proposal for that patient and also understand how much tooth reduction is required and where.
The initial proposal is presented to the patient, which allows the patient to be more confident in the result. A mock-up of the smile is also placed directly onto the patient's teeth to check for alignment, size, shape, colour, lip support and how the smile works with their face.
What is Smiledesign?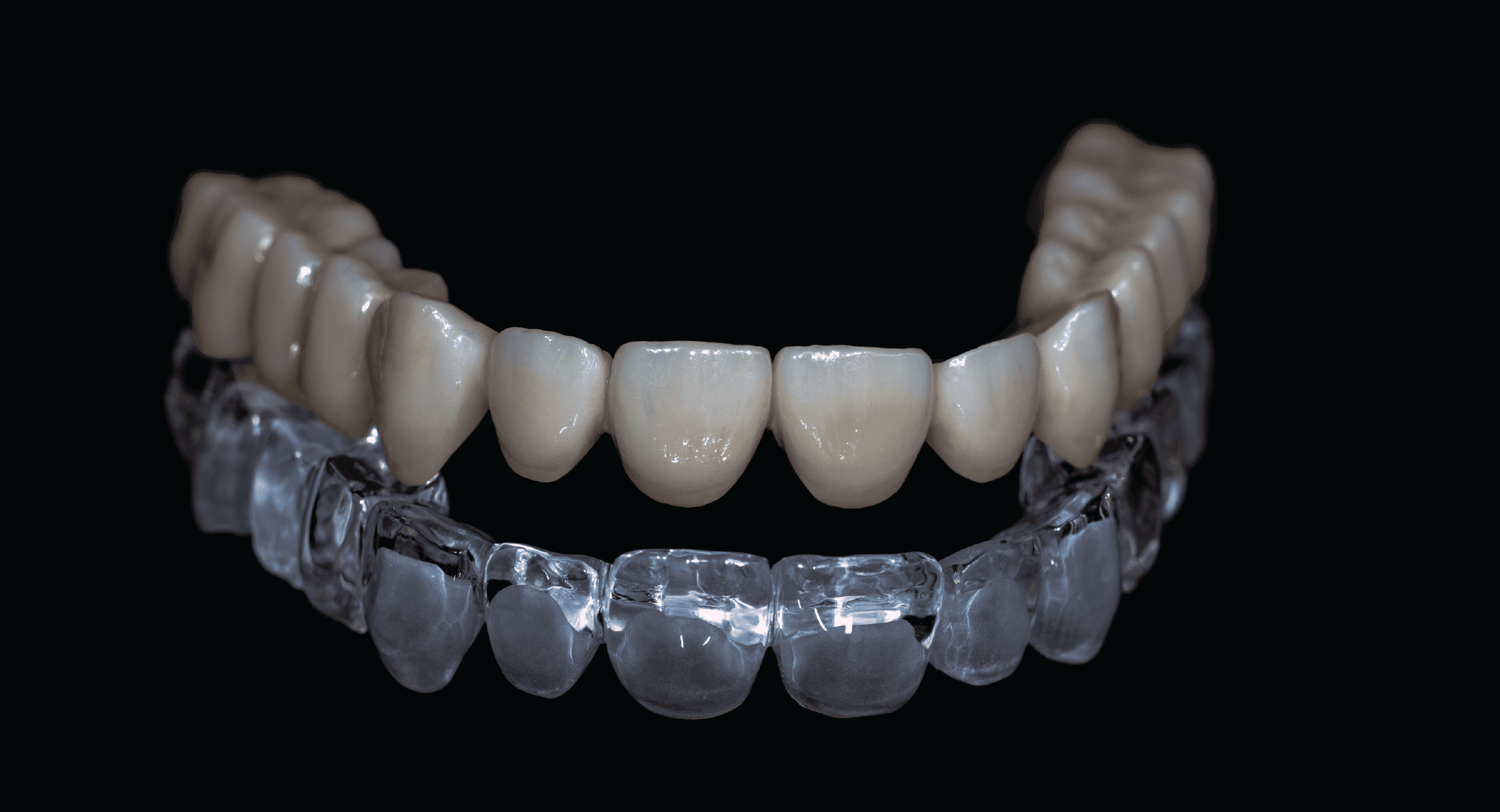 Smiledesign was developed by Dr Kevin Ong in 2001. As conventional veneers and orthodontics did not involve the patient in the process of designing, there had to be a way for patients to approve their smiles before touching their teeth.
Most patients only have a general idea of what they want their smile to look like. It is very difficult for the patient to explain to the dentist what they want in any detail or for a dentist to explain the design for the patient to visualise their new smile.
Smiledesign allows the dentist to work out the smile with regard to the existing teeth, the patient's age, sex, race, face shape, lips, gums, other teeth and personality too. It also allows for a valid design that is achievable in the patient's mouth.
The ability to create a mock-up of the smile in the patient's mouth also means that you, the patient, has the ability to check all aspects of the proposed new smile.
Ultimately, our goal is not to give our patients straight teeth but to make each patient look good!
What is a dental veneer procedure like? A step-by-step process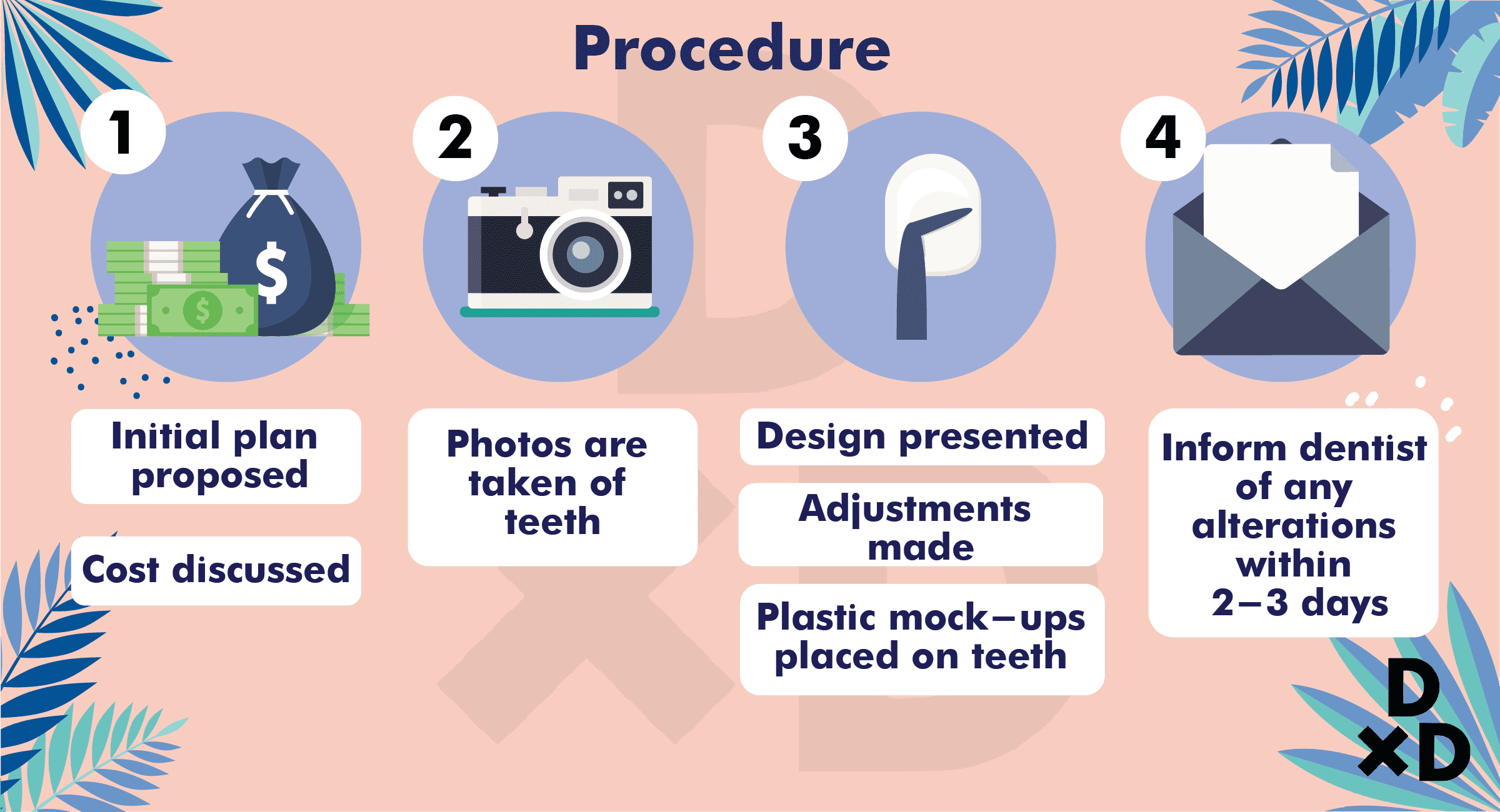 With Smiledesign, there is an initial consultation and the whole procedure, including its pros and limitations, is clearly presented to the patient.
An initial plan is proposed and the cost is discussed with the patient.
On approval, initial impressions are taken of your teeth and pre-operative photographs are taken.
On the production of the initial design, the design is presented to the patient and any adjustments made on the spot. Once the patient is happy with the design, the teeth are prepared, impressions of the prepared teeth are taken and plastic mock-ups are placed on the teeth.
Finally, the veneers are fitted and fine-tuned.
The plastic veneers protect the teeth and allow you to carry on with your daily life. You are also able to check all features of the design, including the colour of the new teeth.
Should there be any alterations that are required, you are advised to inform us within the first 2 to 3 days so that the design or colour can be altered.
Typically, veneers may need up to 10 days for manufacturing, after which the patient returns, the temporary veneers are removed and the final restorations checked in the mouth.
Once you and the dentist are satisfied, the porcelain is prepared at the chairside and the veneers bonded to your teeth. More adjustments are possible at this stage, but you can start eating with the veneers immediately.
We do recommend a follow-up review so that the final fine-tuning of the smile can be carried out.
ENJOY YOUR SMILE!
Aesthetic dentistry vs cosmetic dentistry
We do consider ourselves aesthetic dentists. Cosmetic dentistry, like lipstick, does make the patient look better (prettier?), but it is obvious that something has been altered.
With aesthetic dentistry, the patient obviously has to look better, but there must also be an element of naturalness. The teeth should be fully functional, it should not cause health issues, and the veneers need to be durable and long-lasting.
Are dental veneers claimable from MediSave?
Unfortunately, MediSave rules only allow deductions for surgical procedures. As Smiledesign does not normally involve surgery, it is not claimable from MediSave.
How are dental veneers maintained?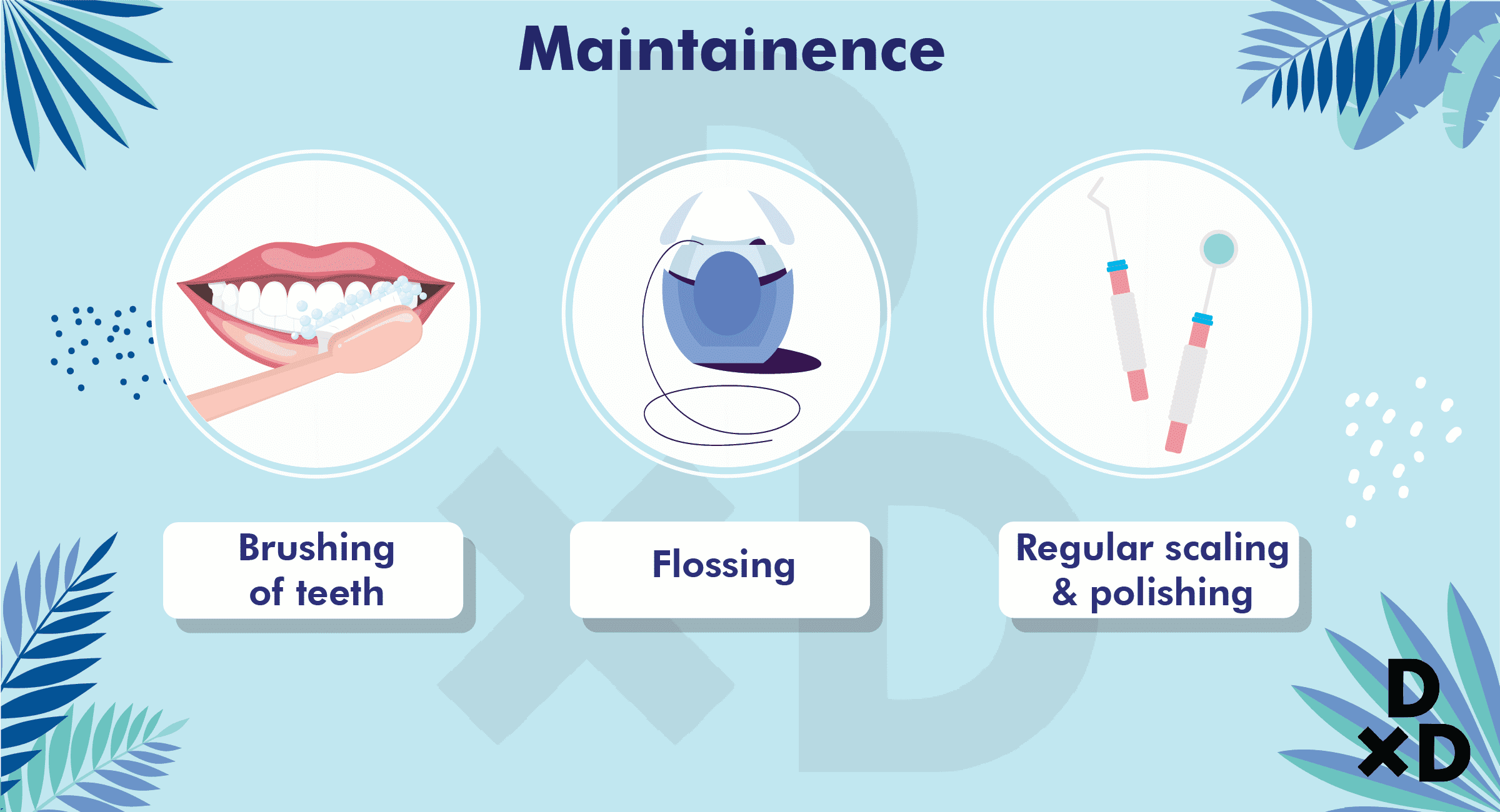 Veneers are extremely low-maintenance. We recommend patients brush and floss their teeth, and come for regular scaling and polishing.
Veneers do not stain easily and will not discolour. With regular maintenance, teeth will not decay under the veneers if they are bonded properly.
In addition, veneers have been proven to protect the teeth in the event of a heavy impact. One of our patients tripped while running after a bus and landed on the pavement, hitting one tooth. The impact fractured a quarter of the veneer, but the fracture dissipated the force of the impact, so her tooth was completely protected. We repaired the veneer at no cost, and 8 months later the tooth is doing fine!
The importance of a smile
Dental veneers can be a good option to help enhance your looks and bring your confidence back. Nonetheless, it is not a small investment either. Therefore, a good amount of research is needed to make sure you are making the right choice.
Smiledesign is a wonderful concept that allows us to beautify our patients' smiles quickly, comfortably and with minimum hassle. Veeners are the most-used treatment option.
Dental veneers have proven to be one of the most reliable treatments we can offer. Having placed dental veneers since 1992, the veneers we have placed run into the thousands with minimal long-term issues.