There are currently 631 confirmed cases of the Covid-19 as of 26 March 2020, 2.05am. With thousands of confirmed and suspected cases worldwide, the coronavirus outbreak has become a global concern.
What is it and how does it spread? Knowing the key facts will be helpful to determine the various ways to protect yourself and those around you.
1. Its origin is not yet determined
Scientifically, the coronavirus is called SARS-CoV-2 and it is a new type of coronavirus that is very similar to the 2003 SARS virus. Scientists initially suspected that the virus originated from bats and that a Wuhan seafood market selling illegal wildlife was the epicentre of the outbreak. [1] While we do have studies that give us confidence that the SARS-CoV-2 originated from bats there is no recent evidence that the virus originated from the market. [2]
Coronaviruses belong to a group of viruses that typically infect mammals and birds. Some of these viruses can cross the species-barrier and cause diseases in humans. SARS-CoV-2 can infect humans via human-to-human transmission even before the first symptoms appear.
The media initially called it the "Wuhan coronavirus", because the first cases were identified in Wuhan, China. According to the Centers for Disease Control and Prevention (CDC), the outbreak began in early December 2019. [3] However, with the naming of the virus and disease associated with it, it is now commonly referred to as Covid-19. Note that technically, Covid-19 is the disease associated with the virus.
2. Main symptoms are similar to those of other respiratory illnesses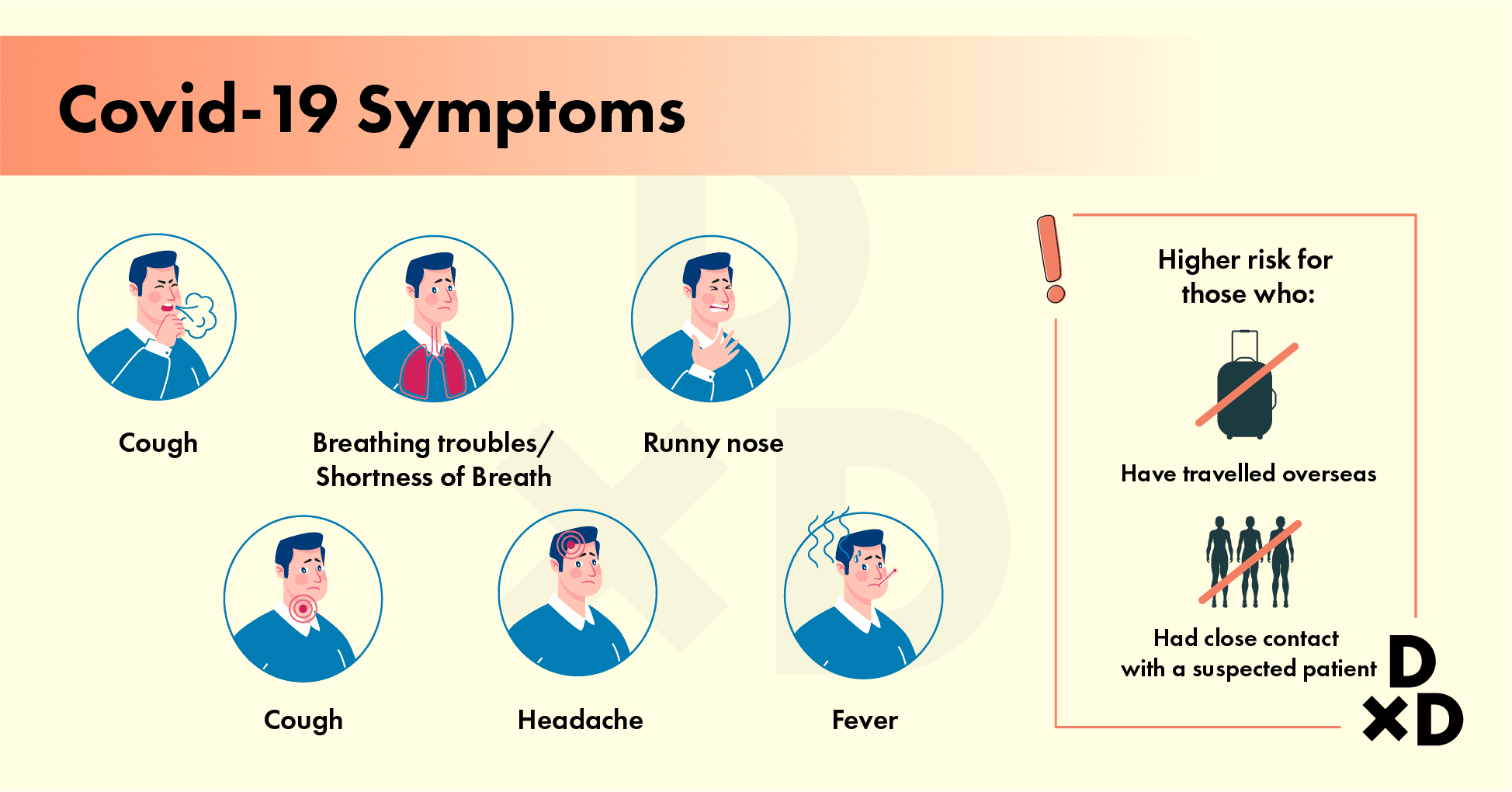 Initially, health authorities could not predict how severe the illness would be for each individual patient. Some patients have no visible symptoms at all [4] or display mild ones, others fall severely ill and die. [5] Now we know that people who are infected with SARS-CoV-2 might not show symptoms for the first 2-14 days. Older people and people with underlying medical problems, such as respiratory problems, are more at risk of developing complications.
Reported symptoms for Covid-19 include:
Fever
Cough
Shortness of breath
You may be at higher risk if you have:
Travelled over the last 2 weeks
Had close contact with someone with the virus
If you have been travelling over the last 2 weeks and develop any of the symptoms above, please seek medical attention immediately.
The Covid-19 infection can display similar symptoms as influenza (the common flu). Scientists at the Imperial College in London estimate that it is roughly as infectious as the annual influenza outbreak.
Both influenza and Covid-19 can lead to severe illness and should not be downplayed.
However, when it comes to Covid-19 we are talking about a novel virus with very thin data. We simply do not know this virus. Hence, comparisons with influenza are not helpful in significant ways.
3. There is no known vaccine available.
There is currently no vaccine for Covid-19 at this time. There is hope on the horizon, however.
As of 26 March, China has begun human clinical trials for a vaccine, although this is in its early phase. [6] Other universities and private pharmacy companies, such as Osaka university and Anges respectively, have started their own clinical trials of vaccines on animals. [7]
While there is no vaccine yet, there are ways to manage its symptoms. If you experience any symptoms mentioned above, please visit a doctor as soon as possible with your mask on.
4. Get medical care if you suspect you have the virus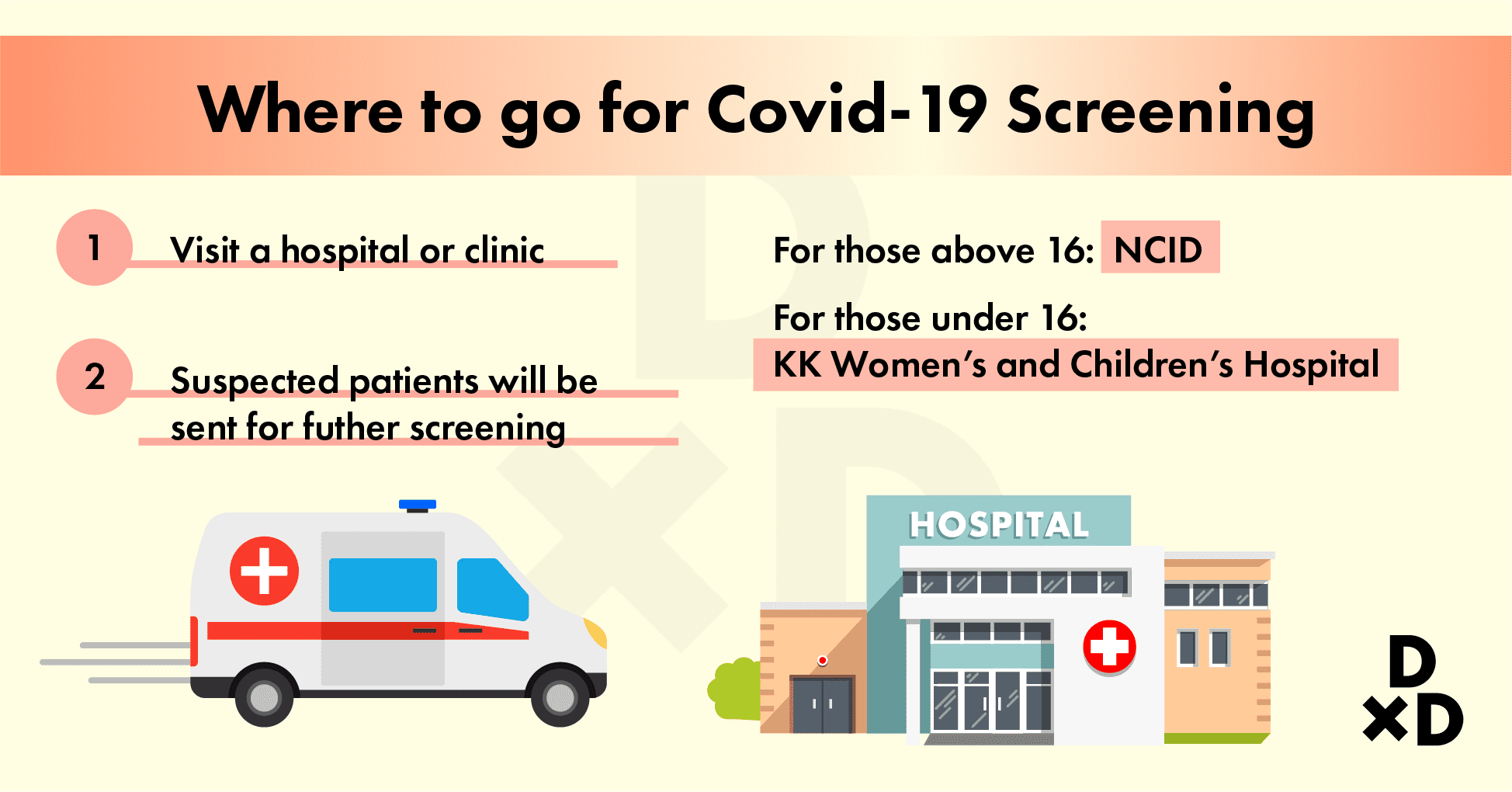 No, essential oils, Vicks and Panadol are not it. If you are feeling unwell, visit a hospital or clinic as soon as possible. As of 18 February the Government has reactivated the Public Health Preparedness Clinic (PHPD), which means that certain General Practitioner (GP) clinics will provide subsidised fees if you show any respiratory symptoms. There are around 940 clinics participating in this scheme as of 26 March and you can find your nearest PHPD clinic here.
All public hospitals in Singapore are also on outbreak response mode. When doctors suspect a case of the Covid-19, they will directly inform the National Centre for Infectious Diseases (NCID). If you are above 16, a special ambulance will bring you straight to NCID for a thorough screening. If you are under 16, you will be taken to KK Women's and Children's Hospital.
All suspected patients will be placed under isolation. Once there, they will be screened for the virus. It may involve two tests: [8]
General coronavirus infection; the results will be available in 4-8 hours
If the above is positive, genetic sequencing will be done to determine the exact strain; this will take 24 hours
5. This outbreak is not as severe as other medical pandemics, but it is affecting us in other ways
Dr Zhong Nanshan, a doctor under China's National Health Commission, said that this outbreak was not going to be as severe as the SARS outbreak in 2003. This is because the first case was detected way earlier and the whole world had been alerted [9]. However, certain European countries and American states were not as prepared as could be hoped for and many people have been infected in a short period of time. [10]
At home, Professor Leo Yee Sin, executive director of the NCID had said that the impact would not be as huge as SARS because Singapore has become much more prepared since then [11]. MOH and NCID have been actively monitoring and implementing precaution measures. All travellers arriving at Changi Airport who have travelled anywhere out of Singapore have to serve a 14 day stay-at-home notice. Anyone showing symptoms of fever, acute respiratory illness, or pneumonia will be subjected to isolation and screening [12] [13].
Singapore's economy has contracted by 2.2% in the first quarter of 2020 [14] while globally the economic consequences will stay with us for many years [15].
6. The SARS-CoV-2 coronavirus timeline: how it happened
The outbreak was suspected to occur at Huanan Seafood Market around December in Wuhan, Hubei province, China. Allegedly, the source of the virus was from the wild animals that were sold at the market. Following the outbreak, the market has been closed for disinfection and the government officials are trying to find the source.
From Wuhan, the virus has spread to other regions in China, the US, Thailand, Vietnam, Japan, South Korea, Philippines, Australia, and Singapore [16]. From 24 February to 7 March, the virus spread very quickly in South Korea. On 8 March, Italy overtook South Korea in cases. From 13 March to 26 March, the virus spread exponentially quickly and just has 5000 fewer cases than Italy's approximately 74 000 cases [17].
The first case of the coronavirus in Singapore occurred on 23 January, involving a 66-year old man from Wuhan. As of March 26, 2.05 am, there are 631 confirmed cases in Singapore, coming from several clusters. The latest cluster at the time of writing is the one at Fengshan Sparkletots. They are all being monitored closely at NCID [18].
7. Tips to prevent the spread of the Covid-19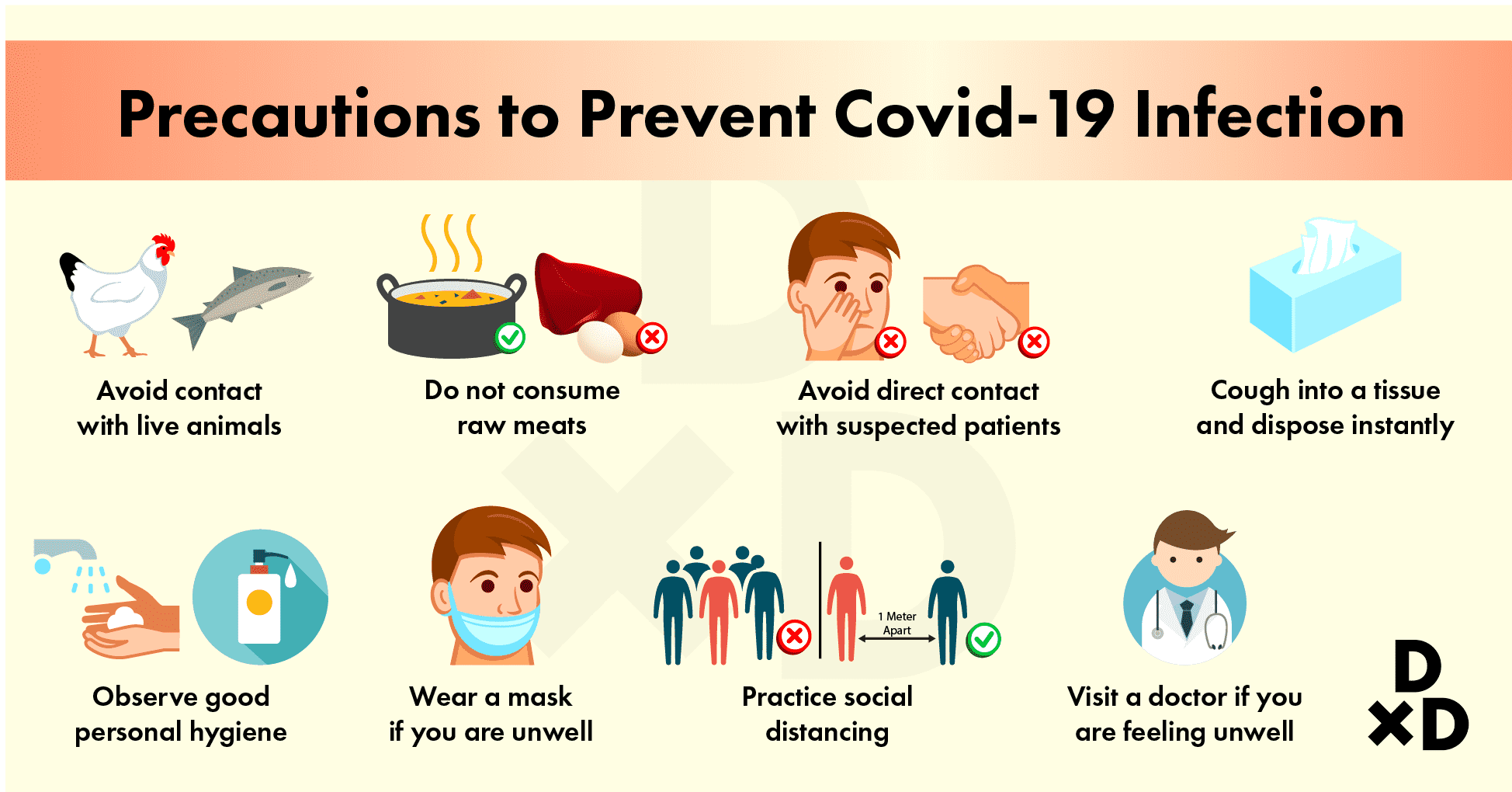 MOH recommends that travellers should avoid non-essential travel. If you do travel, you should be careful and pay close attention to personal hygiene.
On return, all travellers must stay at home for 14 days. If you are feeling unwell, visit a doctor as soon as possible. Be sure to declare your travel history. If you are experiencing respiratory symptoms, wear a mask and inform the clinic before you go.
A measure that you can practice is 'social distancing'. This means that aside from general advice like staying away from crowds, you should ensure that there is a certain amount of distance (1m to 1.5m) between you and another person. You can also avoid physical greetings like handshakes and, if your office is very big, encourage a staggered working schedule so not everyone is in the office at the same time. [19]
As of 27 March, the Singapore government has made social distancing mandatory, defined as keeping 1m apart from one another. If you intentionally sit closer than 1m next to another person, you can be fined up to $10,000 and jailed for up to 6 months. [20]
Below are some other general precautions: [21]
Avoid contact with live animals
Do not consume raw or uncooked meats
Observe good personal hygiene
Frequently wash your hands with soap and water
Wear a mask if you have respiratory symptoms (sneezing, coughing, or shortness of breath)
Cover your mouth and nose with a tissue when you sneeze and dispose of the tissue immediately
Consult a doctor if you are feeling unwell
8. Have questions about Covid-19 and health conditions, masks, or pregnancy?
Covid-19 and Heart Conditions
Covid-19 may seem scarier when you have a health condition like cardiovascular disease, but there are steps you can take to minimise your risks of complications. In this article, Dr Nandakumar Ramasami tells you how a virus affects patients with heart conditions and what you can do.
Covid-19 and Dentists
The disease might also raise questions about whether you can still visit other health professionals such as dentists. If dentists need to be close to your mouth, doesn't that increase the risk of infection? Dr Jaclyn Toh discusses this question and more over here.
Covid-19 and Mental Health
With borders closing and social distancing in full effect, many people have to work from home. While this may seem like a long-awaited dream come true, the truth is that working from home has the potential to cause many potential mental health issues. See what Dr Lee and Ms Lai have to say about setting up boundaries for your mental well-being.
Covid-19 and Pregnancy
Finally, you may be pregnant or know someone who is pregnant. Are mothers more prone to the virus? Find out here with Dr Tan Thiam Chye.
Covid-19 and masks
You may be wondering what the differences between masks are. What is the difference between surgical masks and N95 respirators and which is better for you? We discuss these questions in this article.
Covid-19 and hand sanitisers
Hand sanitisers have become very popular and for good reason. But what limits do hand sanitisers have? Do antiseptic wipes work as well? We tell you what you need to know here.
---
Keep up to date with Human's resources for news about SARS-CoV-2 here.
---