Having worked as a dental surgeon in the public and private sector for a good number of years now, I've seen a lot of strange practices in the dental industry.
In particular, social media platforms have seen an explosion of irresponsible dental marketing. Examples include:
Influencers promoting DIY teeth whitening kits of unknown origin
Smile therapists offering teeth whitening at beauty parlours
Aesthetic doctors who open spas and hire beauticians to offer dental treatment to patients
The latest sensational news involves a "Carousell Dentist" offering braces treatment for $350 and teeth whitening for $300, presumably done at her own home. For the full details, read the ad's listing here (update: aiza_88 has since deleted her account/got banned).
Otherwise, you can read it here for convenience:
Let me give a brief introduction to my profile, my name is Aiza, I live in JB but I do have many clients in Sg! The braces shown in this pic is done by me. It's a home service. I can go to anywhere that's convenient for you to get it done :) It's real braces, the brackets are individually glued to your teeth with LED bonding before placing on the wire and lastly a coloured rubber band of your choice :) I've been in this line for 2 years & learnt it from a professional certified Dentist. I'm charging cheaper as I do not have a shop rental. My products are Dentist certified & are from the USA. Feel free to enquire more if you need help:)
Here's my 2 cents on the situation:
1. How many types of dental professionals are there?
In Singapore, there are 4 groups of dental professionals who are legally allowed to administer dental treatment to the public:
Division 1 Dental Surgeons
Division 2 Dentists (their skills and knowledge were obtained by apprenticeship from barber dentists. The most famous of Division 2 Dentists still practices in Geylang)
Oral Health Therapists
Dental Hygienists
Each group's scope of practise has clear guidelines and restrictions.
2. On a scale of 1 - buying a baby on Carousell, just how illegal are we talking about here?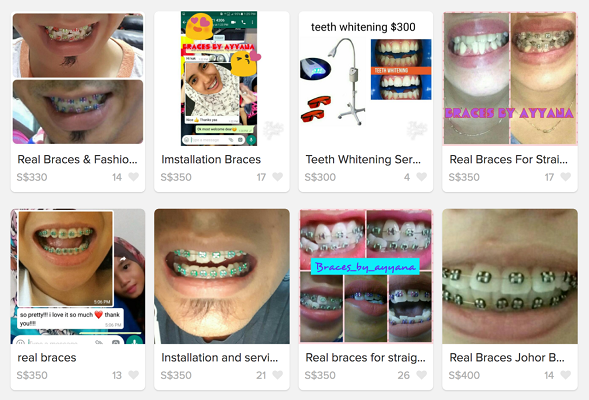 If you're not registered with MOH or SDC (Singapore Dental Council) under one of the above 4 categories, it's illegal to offer dental treatment.
However, one view is that "Carousell Dentists" fall under the category of beauty parlours, spas and salons, and are therefore not governed by MOH nor SDC. MOH and SDC have not issued an official statement to this effect, but you may want to bear this consideration in mind.
If an official complaint is made to MOH or SDC, an investigation might take place, and a warning or fine will be issued. But if no complaint is made, then usually nothing is done.
3. What can I expect at the Carousell Dentist's "home dental clinic"?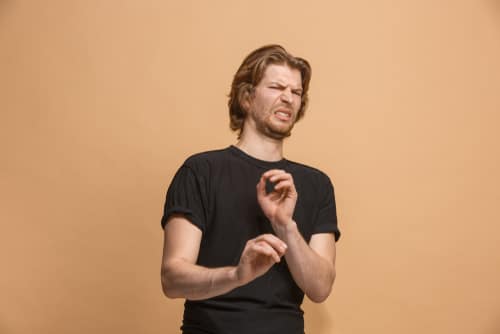 Non-dental professionals often provide dental treatment without using gloves and face masks.
General handyman tools are also commonly used. Due to lack of proper sterilization, saliva and blood from the previous patient may stick to the equipment used in your mouth.
Wiping equipment with a cloth, rinsing it with water, or soaking it in certain solutions DO NOT destroy bacteria and viruses spores, as opposed to the stringent methods of sterilization required in MOH-registered dental clinics.
4. But this particular Carousell Dentist has 100% positive reviews!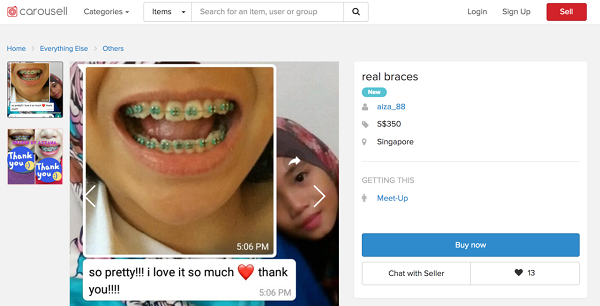 Non-dental professionals:
are not trained to discern whether dental treatment is appropriate or inappropriate for your condition
have no access to the full array of proper dental equipment and X-rays needed to administer treatment safely and effectively
do not know how to manage bleeding or infection following treatment
For every patient that receives treatment from a non-dental professional, not all will show signs of complications right away. Even if they do, complications are often brushed aside if deemed to be minor. This can result in long-term irreversible damage.
5. What's the worst that could happen?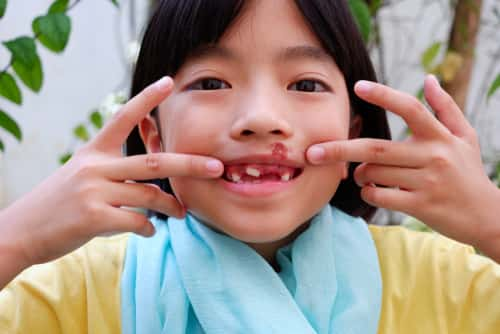 Illegal dental brace placement services pose serious health risks due to the lack of equipment disinfection. This includes HIV and Hepatitis B infection.
It's also not uncommon for complications to arise much later on from such dental treatments. In my own practice alone, I've seen examples of complications such as:
Chemical burns
Infection causing swelling and pus in the affected area
Constant toothaches from permanently damaged nerves
Malaligned bites (ie your teeth ends up even more crooked than before)
Injury to the jaw bone, teeth, lips and chin
These complications can only be managed by further treatment that is often expensive, extensive and unpleasant.
Therefore, if non-dental professionals mess up, very often patients come to me with a pinch of regret, and accept that more time effort and money has to be spent for corrective treatment done the proper way.
---
To sum up, it's your choice, but be wise! All dental professionals like us can do is to educate the public on the potential risks that often come with seeking treatment from a non-dental professional.
Dr Gerald Tan is a past president of the Aesthetic Dentistry Society of Singapore and Global Head, Novena Global LifeCare Dental Division and Founder of Elite Dental Group Singapore. Besides that, he has a special interest in bespoke cosmetic dentistry, dental implantology and digital smile design. In addition, he enjoys basketball, tennis and looking after his pet cockatoo in his free time.